There's a quote from a minor character in the film that really captures the essence of this charming romantic comedy, and although the part she plays is small, the impact of her words is huge – "you can't live in a world without The Beatles." Whether you're a die-hard fan or someone who screams the chorus to 'She Loves You' at a wedding after a few bevvys, the very thought is terrifying, and we have Danny Boyle (Slumdog Millionaire) and Richard Curtis (Love Actually) to thank. Yesterday is the story of a struggling singer-songwriter Jack Malik (played by EastEnders' Himesh Patel), who gigs around his hometown of Lowestoft with his manager, best friend and biggest fan Ellie (Lily James in a delightful whimsical form) by his side. After being knocked out by a bus during the precise moment of a freak worldwide power blackout which upsets the space-time continuum, it's not long before Jack regains consciousness and discovers that he has not only lost his two front teeth but is also the only person in existence who knows the true identity of John, Paul, George and Ringo.
When christening the new guitar Ellie gifted him after his accident with his rendition of 'Yesterday', his friends are astonished by this song they've never heard before – "when did you write that?!" A quick Google search resulting in only insects and bell peppers quickly confirms his crazy theory. After re-constructing the Fab Four's entire back catalog from memory (apart from 'Eleanor Rigby', which remains an ongoing endeavor in remembering the lyrics), it doesn't take long for the rest of the world to finally pay him the attention he so desperately craves, propelling him straight into his lifelong dream of global superstardom. Yesterday Jack struggled to get more than ten people to show up to his set at Latitude Festival, now he's playing to some of the biggest crowds around the world. However, drinking from the poisoned chalice of fortune and fame always comes at a price, putting a strain on his friendship with Ellie and further distracting him from the obvious truth that she has been madly in love with him since they were just kids.
Himesh Patel plays a self-deprecating lovable underdog in Jack, and among his many frustrated outbursts and cute gags, we are also introduced to his musical talent for the very first time. He performs The Beatles biggest hits with such a humble nature that it's almost believable that he penned all these tracks himself despite never being able to explain the inspiration behind them.
'Yesterday' is a delightful tribute to The Beatles discography, showcasing their biggest hits from 'I Want To Hold Your Hand', 'Hey Jude', 'A Hard Day's Night' and 'All You Need Is Love' to beloved fan favourites 'The Long And Winding Road', 'Back In The USSR' and 'I Saw Her Standing There'. Jack takes to his childhood piano in his parents living room and attempts to play them 'Let It Be', but he gets interrupted at every new line with common everyday occurrences such as the kettle boiling or a phone call. Frustrated at this pivotal moment being ruined he tells them, 'It's as if Da Vinci was painting the Mona Lisa in front of your bloody eyes!" Having these transcendent songs stripped down and heard for the very first time in a contemporary world reminds you just how much their music would be missed, and not just as an art form but also it's cultural impact.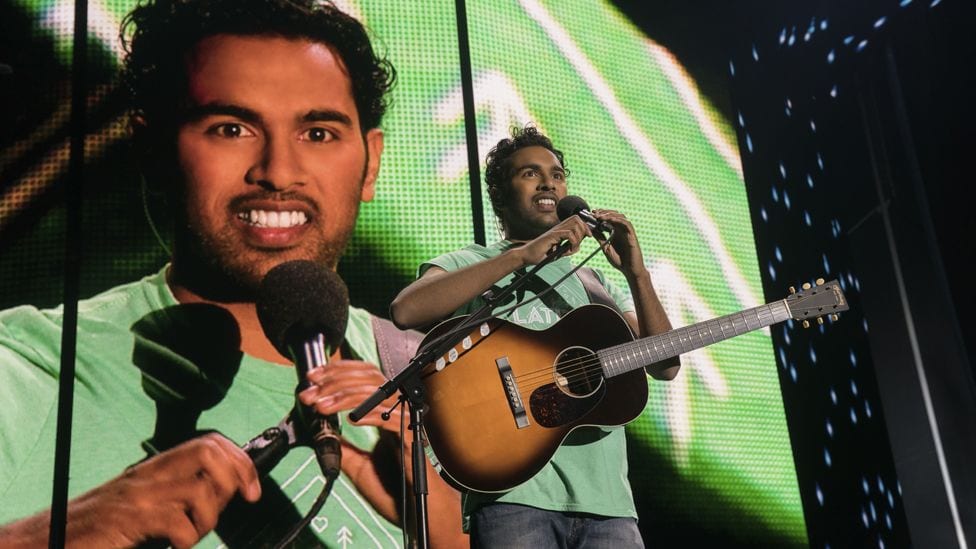 Ed Sheeran (played by himself) finds himself back on the silver screen as the superstar who discovers Jack and invites him to be the support act for his latest tour. His wife Cherry also scores a cameo in the film, but blink and you'll miss it so keep your eyes peeled. It is on tour where he's approached by venal Hollywood agent Deborah (played by a brash Kate McKinnon) and is groomed from head to toe to become the biggest star in the world. Her character is a pure representation of music-industry corruption, one who's driven by money and success but also full of sass and class. However it's not long before Jack's growing realisation of riding on the coattails of a thieved discography has blinded him from the true life he wants, which is to be with Ellie.
Jack finds himself on stage in front of a sold-out crowd at Wembley stadium, he wears the exact same shirt from his bleak Latitude Festival set, proving that he is still the same Jack Malik who Ellie fell in love with when he had no front teeth and no fans. Underneath the nostalgia of The Beatles soundtrack is the rejection of celebrity culture and how it's the art and music itself that truly matters the most. Yesterday is a heartwarming film that cleverly displays the importance that soundtracks can play in our lives to capture those fleeting moments.