It's been five years since we've heard anything from the Arctic Monkeys and in that time they've managed to travel to the moon, build a hotel-casino and look back on planet earth with a crooning disdain. An isolated Alex Turner sits in a hotel room in space and befriends a grand piano in a lounge pop atmosphere laced with satirical social commentary and intergalactic escapism.
Alex Turner wrote Tranquility Base Hotel & Casino, the band's sixth record on a piano that was gifted to him from his manager for his 30th birthday in his spare room in Los Angeles. As the record began to materialize, he adequately titled his home-studio the Lunar Surface, after the theory that Stanley Kubrick faked the Apollo moon landing. Turner's lyrics have evolved from intelligent sleaze to heavy suave and obscurity. He once sang about the lust of youthful nightlife in LA, the guy who always seemed to end up in the middle of an alcohol-stained pub dance floor, but now he's hung up his sneakers for vintage loafers in a lavish hotel-casino bar. As one of the most immersive songwriters of our generation, this new material showcases charisma and bravado that nobody else but Turner could pull off.
Tranquility ditches their previous shadowy guitar riffs that defined their triumphantly successful 2013 album AM, for a new natural progression sound that we've never quite seen before from this four-piece. Guitars were not the only instrument giving Turner inspiration anymore, the piano "changed everything really" and became "the center of the universe" for the album. Band members Jamie Cook (guitarist), Nick O'Malley (bassist) and Matt Helders (drummer) are all still present but remodelled, all contributing in slightly unconventional ways. With the retirement of the guitar from most of the 11 tracks, Cook lends his hand in other ways, such as aiding Turner with the idea process. Helders holds off on breaking your neck with incessant drum beats instead experimenting with lethargic, dreamy synths, while O'Malley drops in sparse seductive basslines.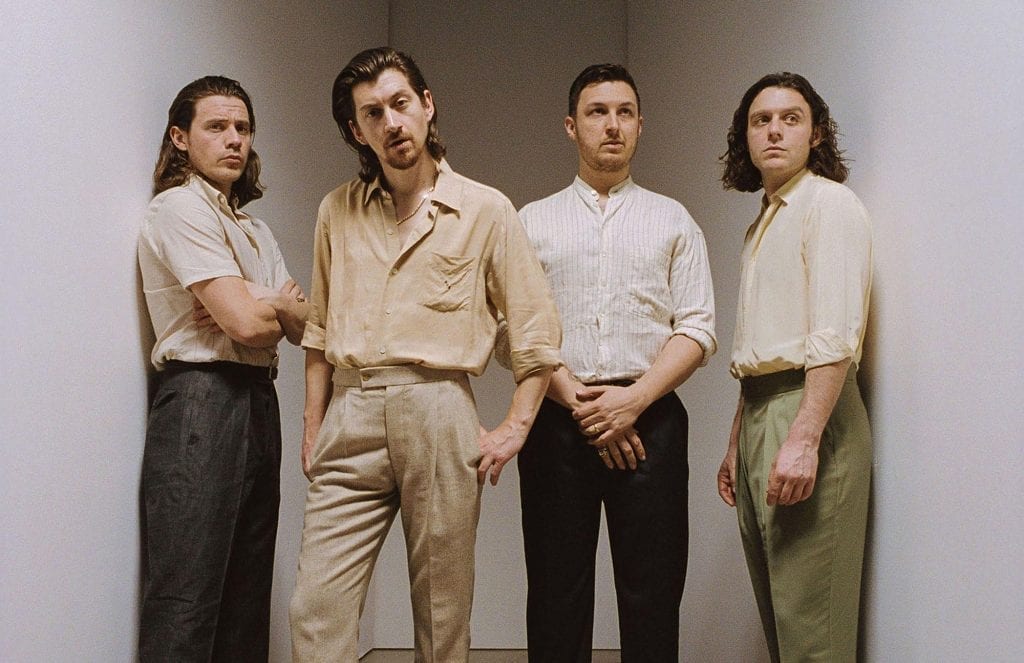 One would usually think that an album drop with no preceding promotional singles would be blatant idiocy, but for Tranquility it made total sense – instead reaffirming that the record must be devoured as a sonically cohesive body of work, rather than various tracks appearing on a mediocre shuffled playlist. It requires more than one listen, with follow-up reading and visual references a must.
Tranquility sees an agitated Turner sitting at a piano attempting to narrate the world as he sees it, through themes of gentrification, consumerism, technology and politics. His makeshift Lunar Surface home-studio represents this analogy, as well as the album cover itself – a miniature model of a hotel-casino, similar to the scaled-down replicas that hotels display in their own lobbies. Lyrics from tracks such as "American Sports" ("they take the truth and make it fluid"), "Science Fiction," and "Batphone" ("I launch my fragrance called 'Integrity' I sell the fact that I can't be bought") back up his sentiments as he prances around these heavy topics with witty word disguises. Good luck at trying to consume all of the hidden references intertwined in Turner's genius lyricism on first listen. The album is filled with enigmatic sci-fi references from 60s and 70s soundtracks, cult films and European songwriters.
The opening number "Star Treatment" recalls a time where Turner himself "just wanted to be one of the Strokes, now look at the mess you made me make," almost as if he himself is unsure how he got to this point in his career: "the golden boy's in bad shape." It's equally unnerving and intriguing to hear Turner's poetic visionary oscillate between reality and representation in an age of technology. "One Point Perspective" combines extravagant strings with generous piano keys and Turner's polished vocals making for a track which recalls the aftermath of a global apocalypse: "The chimes of freedom fell to bits. The shining city on the fritz. They come out of the cracks, thirsty for blood."
The track "American Sports" sees Turner getting slightly political, "breaking news, they take the truth and make it fluid," referencing the phenomena of 'fake news' in a world driven by media consumption. "Golden Trunks" is one of the few songs where guitarist Jamie Cook really shines, confirming that traditional Monkeys riffs still live in their DNA. The closest any track gets to a traditional chorus is "Four Out Of Five," a song that flinches at gentrification, bragging about it's four out of five stars rating as if the perfect score is almost unattainable. Turner sings about Neil Postman's infamous "information-action-ratio," a reference to the idea of how we have endless knowledge at our fingertips without quite knowing what requires the most importance and what actions to take. Turner sits atop the "Information-Action Ratio" rooftop taqueria overlooking modern day society's bad decision making and American political discourse. If "Science Fiction" were to be a room in the hotel-casino it would be the lobby. It ties the whole album together exploring the theme of, wait for it.. Science Fiction. Science and technology have taken on a form of reality that almost feels fictional, making it even harder to secure true ever-lasting relationships, "so, I tried to write a song to make you blush, but I've a feeling that the whole thing, may well just end up too clever for its own good."
Where Tranquility Base Hotel & Casino makes a departure from the Monkeys previous sound, it rejoices in its cryptic lyrics and slick satirical references. Turner has never been more himself than when he is merely expressing his grim admiration on the transformation of modern day society and how he fits into it – he's not just the creator of this grand hotel-casino, he is the bellhop, the housekeeper and the bartender, and it's likely there will be no-vacancy for some time to come.
Do yourself a favour and board the rocket ship to the Tranquility Hotel Base & Casino… this album needs to be consumed in a live setting. The Arctic Monkeys are returning to New Zealand this year for one show only at Spark Arena on March 6th. Get your hands on a ticket here.