Lana Del Rey is about to hit us with her well-awaited Chemtrails Over the Country Club album release.
As this album is a dignified MAIN event, I need us to be fully prepared.
The following details a suitable preparation list, based on what we know about the album to come, and what we can only guess to be in store from our gloriously mysterious purveyor of glamorous and tragic Americana, Elizabeth Grant.
A fastened seat belt
It is known Lana's outspoken releases tend to split listeners down the middle on what to make of her. Her apparent lack of care for criticism is exactly why she continues releasing music that makes people talk, leaving us lavishing in the crumbs of what will be her 7th studio album. Chemtrails Over the Country Club has already caused a stir with both the choice of Gatsby-esque cover and caption. Lana preempted the controversy that would come with the tease, and swiftly addressed alleged criticisms of the cover photo regarding inclusivity. Take a peek:
View this post on Instagram
An icy beverage
I don't mind what on earth it is, but just have a damn cold drink handy before indulging into this red hot masterpiece. There's a lot to get through, with eleven new songs proposed on the tracklist; nine of which haven't ever entered our ears before. The ones we can be ready for are 'Let Me Love You Like A Woman' and the pre-released title track 'Chemtrails Over the Country Club', which came with an accompanying new video. The vintage-style 60's visuals featured Del Rey and her posse driving around town in a sports car, the ladies then transforming into a pack of werewolves upon nightfall, howling at the sky after setting her car alight. In classic Del Rey fashion, you truly never knew what to expect – and we can only hope the consistency of a smooth refreshment offers us some comfort with this new album.
View this post on Instagram
Tissues
I don't think I've listened to one album without a box at the ready so please don't reach for the March 14 download without one, you can't escape the drawn emotion of Del Rey's woeful ballads. Some of these titles, 'Breaking Up Slowly', 'Dance Till We Die', 'Dark But Just A Game' carry some heavy 'Hollywood sadcore' weight. We know Del Rey writes a lot on her own, poetry especially, so we can guarantee everything we hear comes straight from the heart of hearts, which makes for some teary eyes. Check out her 2020 debut poetry book 'Violent Bent Backwards'.
A friend for support
From what we know from the title track 'Chemtrails Over the Country Club', Lana's not sticking to her usual game. She begins with her lower register on the chorus, then ascends into her golden upper register, a showcase of her finest vocal versatility. I'm unsure if she's holding any piece of her back on this new work, with old-time music partner Jack Antoff producing with her. As we dive into her new creative vein, we might just need another fan in the room to hold us tight through the journey. When asked if Chemtrails was an album about revisiting the past, Lana denied. "Not so much where I've been, but more like where I'm going. It makes me anxious listening to it, because I know it's going to be a hard road to get to where I want to be, to do what I want to do." Sounds like we've got some juice on our hands.
The Merch
CD, vinyl, double disc, digital album, Country Club t-shirt, or oversized black crewneck jumper. The only way to listen to this release is with the proper gear.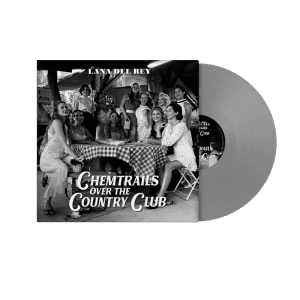 Your finest silverware
To digest it all, of course. How else are we going to get through Lana's most recent array of divine melodies. Her vocal delivery isn't exactly an easy swallow, you need to sit on her songs for a while, studying the lyrics, taking in the videos. Nothing is ever going to be straight-forward with our Lana, so tuck on in, we might be here for a while.
SEE ALSO: 'Ultraviolence': How Lana Del Rey Revealed Her Killer New Direction