There are many reasons why Billie Eilish is intriguing – the most prominent being how she isn't your typical pop star. Just when you think you know her she'll make you realise that you really don't and tell you to just stop trying. But we never will, because we just can't get enough of the American teen. In fact, we've even gone so far to write a list of the things we love about her.
1. She's only 16.
It's hard to believe considering all that she's accomplished, but Billie really is still a teenager. If anyone can prove age is just a number it's certainly Billie. Her maturity, talent, attitude and lifestyle definitely scream adult. But it's pretty awesome that someone so young is absolutely killing it. We can't wait for what future years bring.
2. She's 'edgy'
But not in the cute way – in the downright scary way. There aren't many stars, or people in general, who would casually have a spider crawl in and out of their mouth but that's just another day for Billie. The girl is less pop star and more horror movie character, and we can't stop watching her (even if we're peeking through our hands).
3. She used to be a dancer.
In fact, dancing may just be responsible for her success in the music world. Her dance instructor had asked her to create a song for class, and together with her older brother Finneas she created Ocean Eyes, and posted it on Soundcloud for her teacher to hear. The rest is history…
SEE ALSO: Welcome back to NZ, Billie Eilish!
4. Her voice doesn't match her aesthetic at all.
The two could not be more opposite and there's a humour in that that we absolutely love. Billie's tough, spooky, nonchalant exterior covers a silky, innocent and very girlish voice that you would never expect. We told you, just when you thought you knew her…
5. Her style.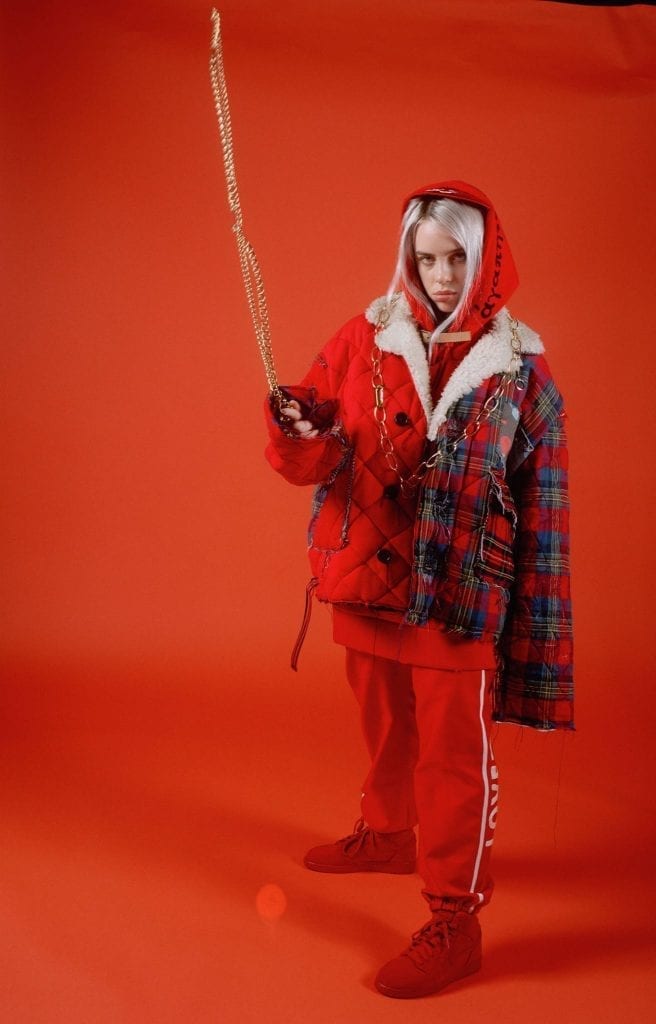 A big part of Billie's success is being a fashion icon. Her thrifted and oversized streetwear aesthetic has become an inspiration and the centre of many mood boards. She's admitted that she wears men's sizes and clothing and also designs her own clothes. She isn't afraid to rip things apart, attach new accessories, cut up shoes, and sew things back together.
6. Where ARE the avocados??
We didn't really expect a casual @billieeilish as an IG handle, but @wherearetheavocados is definitely as weird as it gets. We hope she finds them nonetheless.
7. Her IDGAF attitude.
This one is pretty self-explanatory. This girl does not give one single f and we absolutely love it.
8. Hip Hop is her main influence.
Okay duh, she does look like she could be Lil Pump's sister. But Billie has been a fan of hip hop since she was 12 years old, admitting that Childish Gambino definitely changed her life. She's constantly vibing to new rappers and beats which makes us question why she isn't a rapper herself considering all other signs point to that career path, but of course that's too mainstream and obvious for old Billie.
TRENDING NOW
There's A Tuesday – Baby Blue
---
9. She wrote her first song when she was FOUR YEARS OLD.
No joke. It was about falling into a black hole – something I'm sure we all dreamt about at that age but never managed to write a song about!
10. She loves her fans.
Earlier this year, Billie announced that she has her own radio show with Apple Music's Beats 1 Radio called Groupies Have Feelings Too. The show is a chance for Billie to share the music she likes with her fans – who she calls her family – and to genuinely chat with and about them. She's also super active on social media, constantly sharing her appreciation and love for her fans. Aww.
11. Her EP name don't smile at me is literal.
Going hand in hand with the IDGAF attitude, Billie hates being asked to smile. She's even gone so far to admit in several interviews that smiling makes her feel weak and powerless. So it's quite literally the worst thing in the world when somebody smiles at her and she's forced to smile back. We kind of wish our resting bitch face was as sassy as hers though.
12. She's hilarious.
There are many reasons to follow Billie's Instagram, as we have mentioned, but perhaps the main one is because she's funny as hell. Each caption is so random that we don't know why we're even laughing at it. Plus, type in 'Billie Eilish funny' into Youtube and hundreds of results come up. Ah, we really are obsessed with this girl.