After bursting onto the scene after a whirlwind year, rising Aussie-teen sensation KIAN has finally made it across to our shores, playing his first ever New Zealand shows at Wellington's Meow on Friday and Auckland's The Tuning Fork last night. Bringing his debut EP 'Bliss' to life in a show boasting his lyrical talent, charasmatic guitar skills and charming banter to a crowd full of enthusiastic fans. The show saw him play all 6 songs from his EP as well as treating the audience to a couple of new unreleased tracks. 
Opening with latest single 'Childism' set the mood for the evening, with a quietly confident KIAN showcasing his swooning vocal talent accompanied by a blue Fender electric guitar. "I'm really glad I'm here, [New Zealand] is so beautiful and you guys are beautiful people too" exclaimed KIAN, addressing the crowd for the first time after playing second song 'Garden'.
KIAN's captivating stage presence continued to soar after ditching the guitar for 2018 hit 'Too Far Gone'. He announced that he would be performing the song solo, as his collaborative partner and "really good friend" Vince The Kid wouldn't be able to make it "because he has school." He sang the entirety of Vince's rap verses himself – showing another side to his skillset where his RnB influences truly shined through. To KIAN's surprise at the end of the song, Vince did in fact show up – via Facetime on an audience member's phone which he grabbed and made sure the crowd showed him the same amount of love.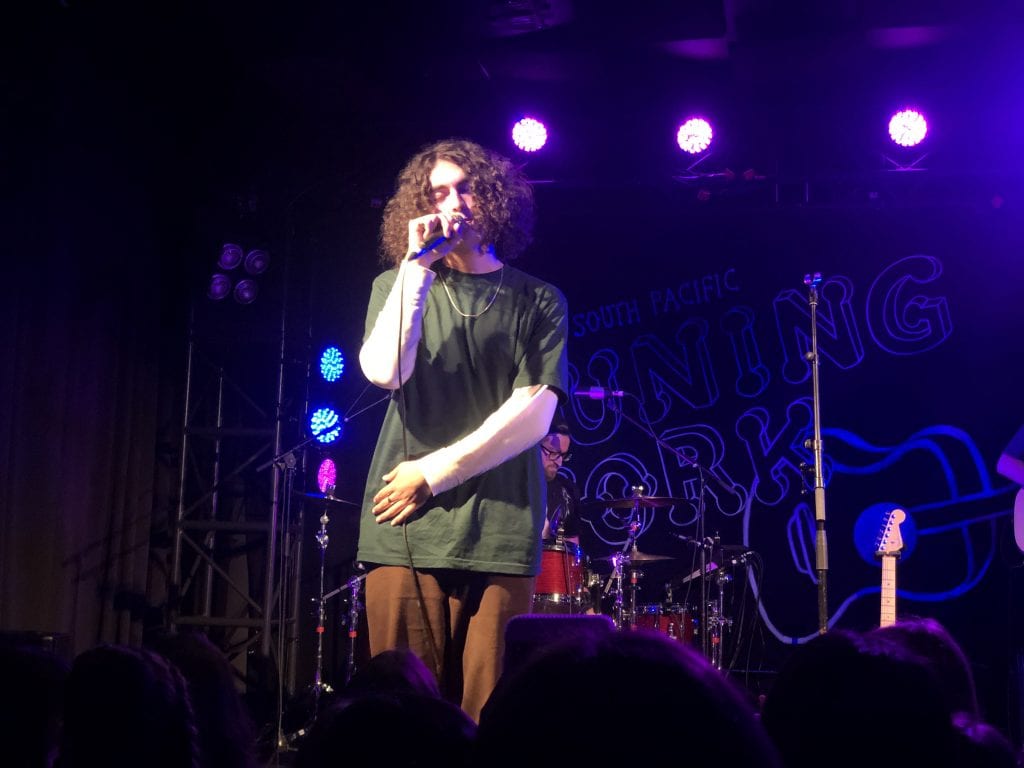 During title track 'Bliss', the crowd started an unprompted swaying of their hands at a slower part of the set before moving into dreamy interlude 'Reminisce.'  KIAN was both guitar and mic-free once more during the soulful 'Telephone' where his comical side came out to play, using hand gestures to mimic the dialling of a phone. Pacing smoothly back and forth from each side of the crowd, sometimes getting so caught up in the music that he became lost behind his own hair. It was evident that KIAN was made for touring, feeling so at home on stage with the happiness radiating off him. Towards the end of the set he wanted the crowd to know how much he appreciated their support from across the ditch – "Thank you so much for coming, it actually means a lot. This is my first ever time doing a tour in New Zealand so it's cool that people out here actually like my music. 
SEE ALSO: KIAN's 'BLISS' EP Is Here!
Fan favourite 'Summer Insecurity' was a highlight, showcasing his raw, natural ability as a performer, and once again using hand gestures, this time to simulate playing keys on a piano. His outstanding vocal talent was on full display during the bridge, with the crowd showing their admiration by cheering on all of his big notes. He then launched into two unreleased tracks 'Wasting Time' and 'Famous', which could have both easily slot onto his EP, proving that he has even more bangers up his sleeve. 
Coming up to the one year release of his breakthrough hit 'Waiting', KIAN took time to reflect on the very start of his musical journey, with a heartfelt speech about how he wrote this song when he was just fourteen years old. This was also the first time he ever thought about pursuing singing as a career. "I was scared and it was daunting and I didn't expect anything to come out of it at all", he said, "but now I'm here in front of you guys and it's a dream come true." The Auckland crowd had been eagerly waiting (no pun intended) for this moment in the show, and erupted from the very first verse, reassuring him that this is exactly what he is meant to be doing. KIAN paused during the last chorus of the closing number to play musical conductor to a choir that chanted "I'm waiting!" back louder every single time. 
Before leaving the stage KIAN thanked the fans one last time for coming out to support him, "I really appreciate all of you guys, honestly, I love you all, thank you so much. The reason I'm here is because of you guys. I was happy when my song hit 1 million streams on Spotify, now it's at like 40 million, like whoa! Shout out to New Zealand." The crowd then broke into a chorus of 'Happy Birthday' after KIAN mentioned that he was turning seventeen later that night. Although the show had ended and it was swiftly approaching midnight, KIAN jumped off stage handing out setlists and making sure he met each and every fan waiting inside the venue.
It's easy to forget that KIAN is only seventeen because of the level of global success he has already achieved. It was not that long ago that fellow teen superstar Billie Eilish was playing The Tuning Fork, and now she's already sold out the arena next door. In an age where teenagers are ruling the charts and with time on his side, there's no doubt that KIAN could indeed accomplish a similar feat. 
Setlist:
Childism
Garden
Too Far Gone
Bliss
Reminisce
Telephone
Summer Insecurity
Wasting Time
Famous
Waiting