Nas fans. If you know you know.
Headphones don't do our OG American hip-hop mastermind justice. His words are made for the stereo, and he's just released a whole album of lyrics made for volume we've been waiting years for – 'The Lost Tapes 2'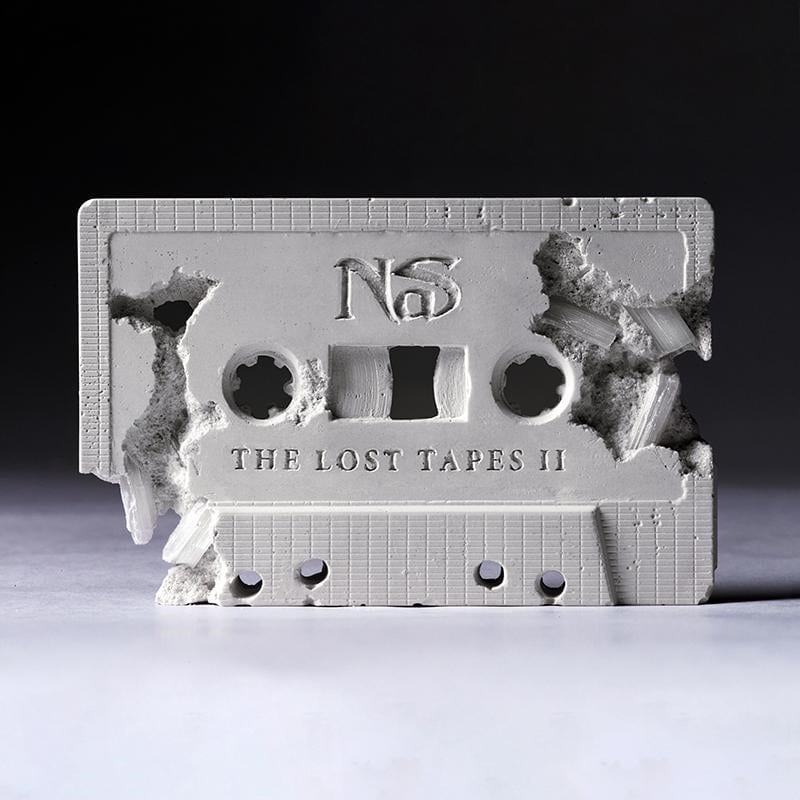 Typically, you'll know Nas from the one and only 'Illmatic', the 1994 debut album that had fans and critics praising his lyricism. Like wildfire, poetic truth about daily life in Queens began to spread through the rap community and spill out from rolled down windows. Nas soon landed in all the top charts – and you'll find many respected hip-hop artists rank him in their top 5 today.
'The Lost Tapes' came through in September 2002 and was nothing short of phenomenal. It was a mix of Nas's work that hadn't quite made his albums; the tracks that he or is producers may have deemed not good enough for release at the time of recording. The whole concept went down a treat with his fans. The idea that we were getting an inside scoop, like a movie may do 'deleted' scenes on a film's disk, of Nas's albums 'I Am' (1991) and 'Stillmatic' (2001) aired a sense that Nas would always fearlessly provide his art. 'The Lost Tapes' was 43 minutes of beautiful storytelling. If you're a Nas fan you'll know, no other rapper rhymes it better.
Now, at 45, Nas released the long-awaited 'The Lost Tapes 2' on July 19th. Critics have gone crazy. We've got the Alchemist on the production credits again, plus an added Swizz Beatz, RZA, Pete Rock Eddie Cole, Pharell Williams, DJ Khalil, Eric Hudson, Hit-Boy, No.I.D,DJ Dahi, and Statik Selektah. The album boasts special guests including Al Jarreau, Kenyon Harrold, Swizz Beatz, J. Meyers, RaVaughn and David Ranier. Quite the line-up, for quite the album.
Of course there'd be a natural comparison to the undeniable gold we were given with the original 'The Lost Tapes'; so we thought we'd take a look at some of the fire tracks on this album. In the end, it's for you to decide how you digest.
The tape begins with 'No Bad Energy', produced by Swizz Beatz and araabMUZIK. The title and lyrics both allude to the message all haters should step away from the album immediately – Nas is here to play. It's a classic Nas, roll-the-windows-down type vibe that takes us right back to how it felt back in the days of this artists first glory. A great opening statement for the next 55 minutes.
We've then got 'Lost Freestyle', which feels like the anchor of this album; being released in the teaser and having a title almost sub to the name of the entire album. Nas raps about being back. He's not lost, "Can't lose me" he states in the lryics. His rhyme in this track is out of this world, smooth, and effortlessly endearing. He refers to himself as "The illest Hennessy Black sipper with loaded semis", reminding us the confidence he has will never waiver, despite all the negative critique in the media. This freestyle certainly isn't going to be lost Nas, it's heading straight on our Spotify's 'heavy rotation' feed.
'Tanasia' is a personal favourite of mine with its oriental-type flavour. RZA's Eastern influence really shines through and there's a beat there that automatically sparks up a steady head nod. We knew before the release Nas was a big fan of producer RZA, praising his work in multiple interviews and teasing RZA's name in most of 'The Lost Tapes 2' lead up. Their collaboration doesn't disappoint.
'Jarreau of Rap(Skatt Attack)' is the standout that's being talked about the most, and has been a hard track for the critics to swallow. It's an incredibly intense technical showcase, that plays with melody and harmony like juggling balls. Nas rhymes to the beat of 'Blue Rondo à la Turk', one of Al Jarreau's sample tracks; and if that wasn't enough, Keyon Harrold adds the sound of the trumpet to the mix. There was nothing like this bend of genres on the OG 'Lost Tapes', which is perhaps what sparked the endless streams of question marks received in its reviews. Some fan comments suggested this may be a potential tribute to Nas's late father, Jazz musician Olu Dara. I'd check out the mix.
We then swing into the stunning street life narration of 'Queensbridge Politics' produced by Pete Rock, where Nas talks about the public housing project in Queens. His lyrics are solemn, the guts of it wrapped around his heartbreak for his friend and former collaborator, the late Prodigy, who died in 2017. "Before you left, I saw you, it was all love, except we needed to build more and get things correct. Now I gotta accept it, cause there's honor in death, wish you was here with us P."
Overall in the media, 'The Lost Tapes 2'  has received a few intense remarks by the critics. "Uninspired and distracted through all 16 tracks", "A lesser rehashing of Nas's former years" … and of course got a rather large negative rap from Jay Z's loyal fan base.
To be fair, It is for the critics to remember that despite the recent release date, this album is called 'The Lost Tapes' for a reason. Some of these tracks were dug up from 'Hip Hop Is Dead' (2006), 'Untitled' (2008), 'Life Is Good' (2012) and 'Nasir' (2018). Of course it's going to have hints of nostalgia without being the full blast – we are no longer in the 90's. 'The Lost Tapes 2' forms a picture around both Nas's early and current life which makes it a real interesting gem. Although most 'it' magazines are giving the new tape a harsh review, 'Lost Tapes 2' holds a community rating of 4.5/5 on HipHopDX as a thought provoking and tranquilizing album.
Nas may not have followed in the steps of suddenly cutting to a blaring bass drop mid-song or taken to reciting easily remembered chorus's for mainstream ears, but he has evolved his stories to reflect his new way of life and provided another album you get completely lost in. For long-time fans, this tape is proof Nas remains a poetic storyteller, and rap royalty he will remain.
If you know, you know.