Once again Abel Tesfaye, better known as The Weeknd, has graced us with his beautifully twisted and serenading music. After a 3 year hiatus since his last studio album Starboy, Abel's blessed us with his new full length project After Hours.
Able has been in the music scene for almost 10 years now, making his debut in 2010 when he posted his first three tracks "What You Need", "Loft Music" and "The Morning" on YouTube. Getting a shout out from fellow Canadian and all round superstar Drake, the singles started getting noticed, along with Abel himself.
Before we dive into the latest venture from the Canadian born R&B sensation, a journey back through his musical timeline will help us understand the inspiration, aesthetic and sounds of After Hours.
XO
It comes as little surprise considering Abel's past that he was able to create a new version of himself. After leaving home at 17 to live on his own in Toronto, when Abel began making music there wasn't a lot out there for people to dig up about him. He was almost anonymous, a clean slate, and the perfect person to build a completely new image. 
This is where the XO persona is born. A version of Abel born out of the new lifestyle of fame he was being invited into. This version of The Weeknd is probably his most well known persona and was one that spanned over four years and three studio albums; Trilogy, Kissland, and Beauty Behind The Madness. In fact, XO (or XO Records) is the name given to Abel's own record label, created to produce his first three mixtapes in 2011. 
Each album the XO version of Abel produced resulted in music emulating his lifestyle of sex, drugs, and temptation on the road as an artist. Along with this arose a deep internal conflict between doing wrong and being wronged, as he explored his feelings of love and lust.
Over the years there has been some debate about what 'XO' actually means. The more commonly known meaning is obviously "hugs and kisses", though if you've listened to the albums mentioned above you'll understand why it's more likely to be closer to the alternative meaning, ecstasy and oxycodone.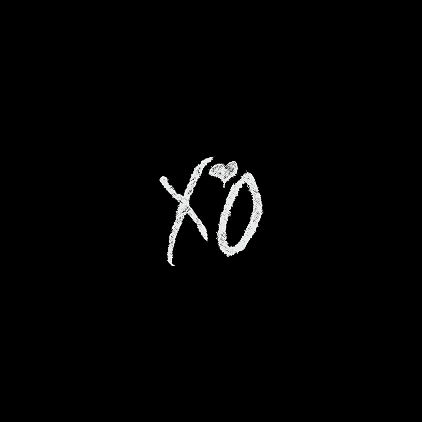 TRENDING NOW
Gino October destroys this freestyle at Mai FM
---
The XO persona didn't come out of thin air though, Abel has openly admitted that on multiple occasions he drew inspiration from childhood idols. Michael Jackson has been one of the most prominent influences for him, which was clearly evident in some of his work such as like "D.D" (Dirty Diana) and "I Can't Feel My Face", with both tracks delivering the iconic vocals and musical composition heard on almost any classic Michael Jackson track. Jean-Michel Basquiat, a New York graffiti artist prolific in the 80s (seen below), was a key inspiration for the XO's unforgettable aesthetic, the hair. A twisted set of dreads that made Able hard to miss, and what became an iconic trademark of the XO look.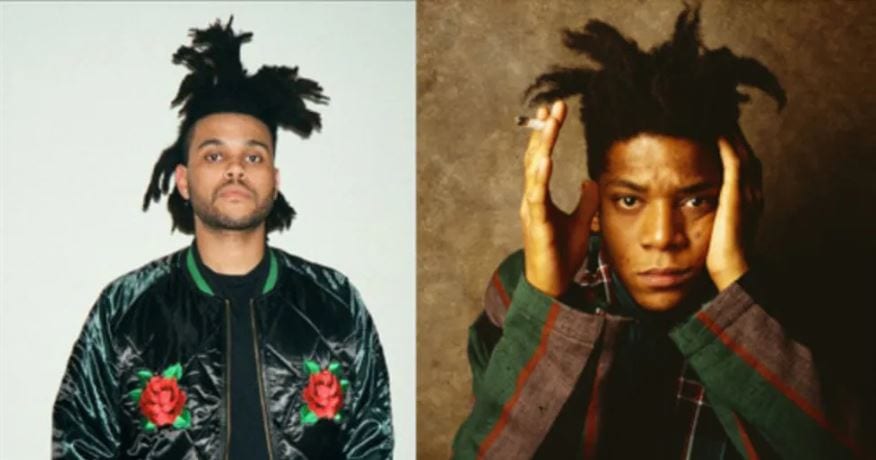 Over the three albums the XO persona touched, here are some of the top tracks that help capture this version of the Weeknd's alter ego best:
House of Balloons/Glass Table Girls – Trilogy Part I
Wicked Games – Trilogy Part I
D.D (Dirty Diana) – Trilogy Part III
Kissland – Kissland
Live For ft Drake – Kissland
Often – Beauty Behind The Madness
Tell Your Friends – Beauty Behind The Madness
If you're listening to these for the first time, or revisiting some favourites, a gentle heads up that these are NSFW. Definitely best enjoyed with headphones unless you want to risk a few raised eyebrows from people around you.
Starboy
In 2016 the XO persona of The Weeknd 'died', and with his death came the birth of a new persona, Starboy. This dramatic change came following the sudden disappearance of all traces of his XO self from social media prior to the Starboy album release, when he wiped his Instagram completely clean. In overtly symbolic fashion, the new version of The Weeknd – Starboy – breaks into the XO's house at the start of the self titled video clip, taking him hostage and finally suffocating him, before going on a rampage through the house tearing down accolades and memorabilia of the former persona.
Starboy was the face of Abel's music from 2016 to 2018 on his album Starboy and EP My Dear Melancholy. The new persona was a stark contrast to XO in many ways. Firstly, the look. Abel made the radical decision to discard a part of his look that was instantly recognisable and a personal trademark. Although, that's the exact reasons behind why the Starboy look came about. In an interview with the Wall Street Journal Abel spoke about how everyone around him told him he couldn't cut the hair because it was "his whole thing". Which, to an artist like Abel, only meant one thing – the dreads had to go. 
Abel's music and personality also took a sharp turn. To distance himself from his previous persona, he made the bold move to cancel a summer tour of Beauty Behind The Madness to focus on this new version of himself. With inspiration drawn from artists like David Bowie and Prince, a new found confidence was evident in Starboy. Pulling away from the familiarity of music we heard on previous works, Abel began to experiment with samples reminiscent of 80s synth and electronica, giving his sound an accessible pop element to it that it hadn't been there before
Artists like Daft Punk, who featured prominently on the Starboy tracklist, made an obvious influence to the music produced, giving Starboy the platform to launch this new bold version of himself. This aesthetic and persona of confidence is mostly clearly seen in the video clips from the start and end tracks of the album – "Starboy" and "I Feel It Coming". The videos depicted Starboy in bold scenes ranging from breaking and entering his old home in full leather, fur and chains, to dancing on a distant planet in the midst of its destruction in a Michael Jackson-esque outfit.
Starboy was even a superhero. In collaboration with Marvel, a Starboy comic was released that followed the story of The Weeknd's persona in the city of Alphatron, and his fight against a tyrannical criminal titled "The Chef ". 
Between the album Starboy and EP My Dear Melancholy there are over 23 tracks, but to save you listening to them all here are some of the best to come from the Starboy era:
I Feel it Coming Ft Daft Punk – Starboy
Call Out My Name – My Dear Melancholy 
Starboy Ft Daft Punk – Starboy
Reminder – Starboy
Stargirl Interlude – Starboy
After Hours
So what does this mean for the upcoming and much anticipated release of After Hours?
Well, a new look for one. Emerging at the Toronto Film Festival with a 80s looking Lionel Richie inspired aesthetic with a mo that would make Pablo Escabar proud, it's safe to say After Hours will include more surprises in terms of Abel's new look. 
We got further sneak peeks into the new character Abel has created for After Hours as he cleared his social media all over again, only to start posting teasers of his new persona in moments that could only be described as manic. Blurred and over exposed shots of him wandering the city streets in 'blinding lights' dressed in a super-villain-like red and black suit depict a creatively unhinged and wild side to The Weeknd.
An After Hours short film was also released in mid-February alongside the track. The film depicts The Weeknd smiling whilst bloody and bruised on The Jimmy Fallon show, to walking aimlessly through the subway, and finally ending with an ominous scene that has a Michael Jackson Thriller vibe to it. While this doesn't give us the full picture, it feels as if this character has been born out of years of fame and the 'damage' it has done to Abel, leading to this more manic, dark and dangerous persona we see today.
These tracks are some of our favourite from After Hours, each offering something completely different to the listener in terms of sounds, aesthetic and musical composition:
Blinding Lights: You have been living under a rock if you haven't heard this track yet. From dominating the air waves to even going viral on TikTok, "Blinding Lights" light and playful electronic sounds and kick drum will have you involuntarily tapping your foot for sure.
Heartless: This is one the hardest hitting songs Abel has released in years, and with the lyricism of Kissland coming through, we can feel him slipping back to his old ways.
After Hours: The longest of the three tracks and probably the most musically comparable to his earliest work on Trilogy, with deeply echoing drums, synths and vocal effects, Abel wears his heart on his sleeve in this track about past lovers.
After a bit of speculation, After Hours feels like Abel is coming back onto the scene with that original, peculiar and creative nature he broke out with almost 10 years ago.
The Highlights is out now.
SEE ALSO: Everything You Need to Know About The Weeknd's Super Bowl Performance