There's nothing like a BTS concert. 
After celebrating their 9th anniversary with the release of Proof, an anthology album showcasing their popular tracks over the years, it's no surprise that one of the most popular Korean artists in the globe easily filled a 55,000 capacity stadium. BTS held the concert of a lifetime with the Yet To Come in Busan concert last October 15, and what made this event even more special is the fact it was free and streamed live with almost 50 million viewers tuned in for their performances. As if that wasn't enough, they even rented out the Busan Port and Haeundae Beach where they set up a livestreaming stage for thousands more to tune in with other fans!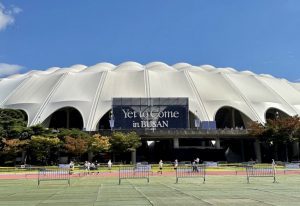 While the concert was to help South Korea in their bid for the 2030 World Expo, BTS made it their own. Merchandise booths were sprawled everywhere, right at the Busan station and all the way to the concert venues, and even in department stores in Seoul. From the wee early morning, fans were lining up outside and around the mall before it even opened, in hopes of snagging concert souvenirs and limited-edition merch. 
But that's not all! The band had even partnered with the Lotte World Adventure theme park with BTS-themed attractions and multimedia, as well as a post-concert afterparty attended by hundreds of ARMY to continue the festivities. With live DJ performances and a fireworks display to bat!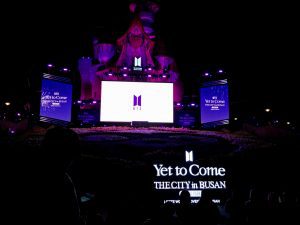 Credit: KPop Herald
For most people, these festivities would be more than enough, but of course there was more. BTS had a special museum exhibit entailing their whole journey from debut until the release of the anthology album. Unfortunately, photos inside the exhibit were prohibited, but inside was an influx of memories with portraits of their humble beginnings and their growth all over the walls of the museum. Video collages of their dance practices, props from their stage performances and music videos, and even their most iconic outfits had been displayed. It was, without a doubt, an unforgettable experience for every fan as they relived each moment that shaped BTS into the artists that they are today.  
BTS had turned the city purple, and it wasn't the first time either ever since lighting up Las Vegas during their last concert for Permission To Dance on Stage. If BTS holds a concert in your city, you would know. Having done all that for Busan, the main event hadn't even begun. From here, we take you through the highlights of the concert.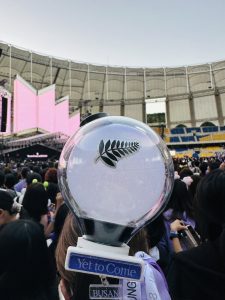 Before the concert started, thousands of ARMY from all over the world were already on their way to Busan, and the thousands that were already there had been camping out in the different activations and festivities available. Some were even hanging about outside the stadium to get a peek of the rehearsals.  
As everyone gathered inside the stadium, BTS played several of their music videos for ARMY to enjoy and hype them up before the concert, a standard practice they've been doing in their previous concerts while fans get settled in their places. But really, this was also a way of building up the excitement before things begun. The performance then started with their classic single 'MIC Drop', adorned with the signature red backdrop of the song's past performances, almost like a warning that things were about to go down. There was even a live band along with thousands of cheering fans and a whole sea of lights in the crowd, which was just an amazing sight to see. Right then and there, you knew something was up. Something was different. The energy they brought in right from the start was contagious, and that momentum rose even further as they transitioned into one of their new songs, 'Run BTS'. 
The 'Run BTS' performance was just as jaw-dropping. The choreography and the vocals, each member's role in the performance, and the remarkable back-up dancers created a complex tapestry of a performance inimitable by anyone else. In the past, 'MIC Drop' performances would always end with Suga looking at the crowd, raising his mic and dropping it. But this time he held on, and perhaps right from the start, this was a way for BTS to remind everyone watching that this was only the beginning. And if we dig even deeper, perhaps this was to symbolize that despite recent developments of the band taking a break as a group, they'll continue on as one BTS. 
Following their strong opening, they moved onto their unit performances. With their vocal line (Jin, Jimin, V, and Jung Kook) performing their comforting, yet powerful, ballads '00:00 (Zero O'Clock)' and 'Butterfly – Prologue Mix', their rendition that night sounded like a breath of fresh air. But soon after, this was followed by a fiery and intense execution of the rap line's (RM, Suga, j-hope) 'UGH!' and 'BTS Cypher Pt.3: Killer', making good advantage of their musical roots starting as a hip-hop group. Yet, this was another emotional time both for the band and for ARMY, as '00:00 (Zero O'Clock) and 'UGH!' were released just before the dreaded pandemic, and it was the first time for these songs to be performed in front of a live crowd after two years since their release.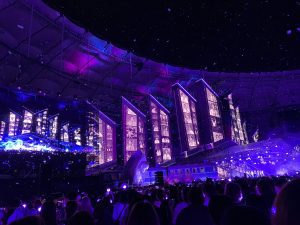 Credit: @tttaaaaaaee
Of course, BTS also chose to perform their other popular songs such as their hit No.1 English singles 'Dynamite' and 'Butter'. Things only got hotter and louder from there, as the iconic 'Ma City' made it to the setlist together with 'Dope', 'Fire', and 'IDOL' to hype up the crowd even more.  
Yet, after all that, the hype was short-lived when they played 'Epilogue: Young Forever' and 'For Youth' shortly after their ending comments. For both the band and the fans, 'Epilogue: Young Forever' is a memorable song that reminds them of the milestones that BTS and ARMY have achieved together, ever since ARMY surprised BTS by singing the chorus as a gift during the Love Yourself: Speak Yourself tour in Wembley Stadium. The gesture was so impactful that the band even incorporated a snippet of the singing crowd at the beginning of 'For Youth', a song that serves as a message from BTS to their fans that they'll be with them until the end. Perhaps the song itself was also a response to the surprise back in Wembley.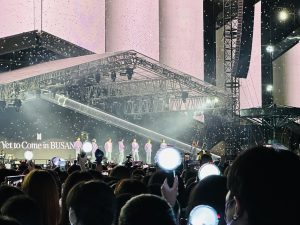 In the encore, to end the concert on a lighter and happier note, the crowd as well as the boys sang together to celebrate Jimin's birthday. Ever since the release of Proof, BTS has always reminded their fans that despite their plans of going their separate ways for the time being, there will be a lot of things to look forward to before they reconvene.  
To look back and reflect at the past, and to look forward and prepare for the future, had always been BTS' message from the very start, and the very essence of the song 'Yet To Come'. The once-in-a-lifetime concert was a signal that BTS will not stop running anytime soon. 
And that's a BTS concert for you.