It's that time of year again…every celebs' fave excuse to dress up and make the Halloweekend history books!! This year we've seen a mix of classic characters, and some super iconic recreations of viral pop culture moments.
Let's take a look at how the best celebrated spooky szn 👻
Boygenius as Ariana Grande and Pete Davidson
View this post on Instagram
Boygenius band members Lucy Dacus and Julien Baker are up first, with one of the most iconic pop culture throwbacks of this year's looks. The pair recreated the instantly-recognisable viral photo of formerly-engaged celebrity couple Ariana Grande and Pete Davison from 2019 (a.k.a the 'lollipop' pic). The look was pulled off so well (knee high boots and all), and is so different from Julien and Lucy's familiar aesthetics, that fans were deffo shocked and insanely impressed by this one.
Halsey as A Little Mermaid/Siren
View this post on Instagram
No doubt inspired by this year's live-action remake of The Little Mermaid, this Halloween Halsey put a spin on the usual Ariel look while also nodding to her track 'The Lighthouse' off 2022's If I Can't Have Love, I Want Power. Dripped in seashell jewellery, she mixed moody oceanic makeup and prosthetic gills with a mesh bohemian skirt and white frilled bralette. Halsey was also seen celebrating with her new hard-launched boyf (her literal Prince Eric), Avan Jogia.
Billie Eilish as Cat Ballou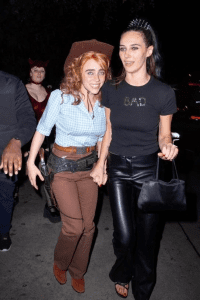 Commonly mistaken for just being a cute cowgirl, this year Billie rocked the look of Jane Fonda's 1960s Western character, Cat Ballou. Posting the inspo to her insta story, she killed it in a strawberry blonde wig, blue gingham shirt, and of course…cowboy boots. Bils also made headlines as she attended Kendall Jenner's Halloween party this weekend with friend and fellow ex of Jesse Rutherford, Devon Carlson.
Justin and Hailey Bieber as The Flintstones
View this post on Instagram
This year the celeb pair took inspo from the classic cartoon, to recreate the looks of married couple Pebbles Flintstone and Bamm-Bamm Rubble. Justin deffo raised eyebrows with his rubber 'barefoot' shoes (he really said no free feet pics), but the bright colours and fun wigs made for a super cute Halloween moment.
Ariana Grande and Liz Gillies as Showgirls
View this post on Instagram
Our favourite Halloween duo have blessed us this year with a rendition of Nomi Malone and Cristal Connors from the sexy 1995 thriller 'Showgirls'. The Victorious stars took over insta with iconic film-quote captions and their insanely gorgeous photoshoots – complete with diamante collars, bedazzled dresses, fluffy robes and flawless hair and makeup.
Renee Rapp as Pamela Anderson
View this post on Instagram
Up-and-coming musical icon Renee Rapp dressed up as a popular favourite in recent years, the incredible Miss Pamela Anderson. Recreating Pam's infamous 1999 VMAs red-carpet look, Renee nailed the pink fluffy hat, blue shadow and white corset bodice. Renee's Halloween looks also keep on giving, with her also dressing up as JB on tour and serenading actress Lola Tung on stage with a 'One Less Lonely Girl' moment
Demi Lovato as Snow White
View this post on Instagram
This year Demi turned heads in their rendition of the classic (and gorge) Snow White.
Their costume is a picture-perfect recreation, with Demi serving seriously haunting looks down the camera. With this Disney princess character being the next film to take the live-action spotlight, we love how Demi is getting us amped for our seven-dwarves/cottagecore/step-mommy issues era.
MGK and Megan Fox as Kill Bill
View this post on Instagram
Machine Gun Kelly and Megan Fox stepped out together at the Casamigos Halloween Party. The pair were dressed as Tarantino's Kill Bill characters, Gogo Yubari and The Bride, and their costumes slayed for sure. But – perhaps the biggest Halloween surprise is these two making one of their first public appearances since getting back together!
Olivia Rodrigo as a Vampire
View this post on Instagram
Fame f*cker….bloodsucker. Olivia is the perf candidate for this classic Halloween look. She is literally the Master of 2023's Vampire, it's true. Keeping it lowkey this year, she posted a cute selfie of her in fangs and a blood-red dress and lip combo.
Ice Spice as Betty Boop
View this post on Instagram
It makes sense that the star of the moment would dress up as one of the most iconic It girls to ever exist. Ice Spice donned a cute Betty Boop moment and completely nailed it, with some even noting its historical accuracy considering Boop was inspired by Black jazz singer Baby Esther Jones. Complete with fishnet stockings and a mini red dress that revealed her trademark asset, this is for sure one of Ice Spice's best looks.