With the face tats, beerbongs, durries, chilled attitude and long curly hair, there really is no-one like Post Malone. Get to know one of the most lovable and relatable AF guys in the music industry…
1. His real name isn't Post Malone
Austin Richard Post at the young age of 14, put his name into an online rap name generator, (as you do when you're a young Rockstar) and voila! Austin is now forever known as Post Malone, or as we mostly know him, "Posty".
2. He loves Bud Light Beer
If you have or haven't been to a Post Malone show let me just tell you, there's beer. Lots and lots of beer. In an interview, there's BEER. On stage, there's BEER. Before the show, there's BEER.
To encourage that love, Posty was gifted very own Bud Light beer refrigerator that gets refilled for free whenever he wants! Talk about kitchen goals, am I right?
3. He secretly loves the Jonas Brothers
In Posty's platinum hit single 'Better Now', he gives a little cheeky mention to the Jonas Brothers. The lyric goes "And I'm rollin', rollin', rollin' rollin', with my brothers like its Jonas, Jonas."
Here's a little snippet of Joe and Nick giving it a listen.
And the love doesn't stop there – with the Jonas Brothers 2019 comeback they thought it would only be fair to shout out Posty in their new hit single 'Cool'. Joe Jonas sings "Oh, I feel like Post Malone when I get home."
Who else is in love with this bromance? Imagine a track together… hmmm.
4. He's nominated for 17 Billboard Music Awards
He lands second place this year in terms of the number of nominations he received with a whopping 17 of them! If you want to watch the awards live from Las Vegas, it will be on at 12:00pm NZT on Thursday the 2nd of May.
Fingers and toes crossed for Post Malone in all of his categories!
SEE ALSO: Post Malone's beerbongs & bentleys: 1 Year Anniversary
5. He thanks his guitar skills to Guitar Hero
Some artists spend their entire childhoods taking guitar lessons. But in traditional Posty style, Austin has to thank all his insane guitar skills to Guitar Hero. Yes… the famous childhood game we all used to jam out on pretending to be famous. Posty explains, "I felt cool holding the Guitar Hero controller, so I thought no, give me the real thing."
TRENDING NOW
Gino October – New Day ft. INF
---
6. His favourite restaurant is Olive Garden
In late 2018 Jimmy Fallon and Post Malone went on a date at Olive Garden where Posty got to teach Jimmy Fallon how he orders. Bonding over free wine testing, Posty can't stop raving about his favourite food in the world, the free entrée Breadsticks. If you are lucky enough to have had tried these beauties, you'll be drooling after discovering the way Posty likes to eat them.
7. He has a tattoo of himself on his body
In 2016 Post Malone got a tattoo of himself riding a horse. He thinks its super subtle, what do you think?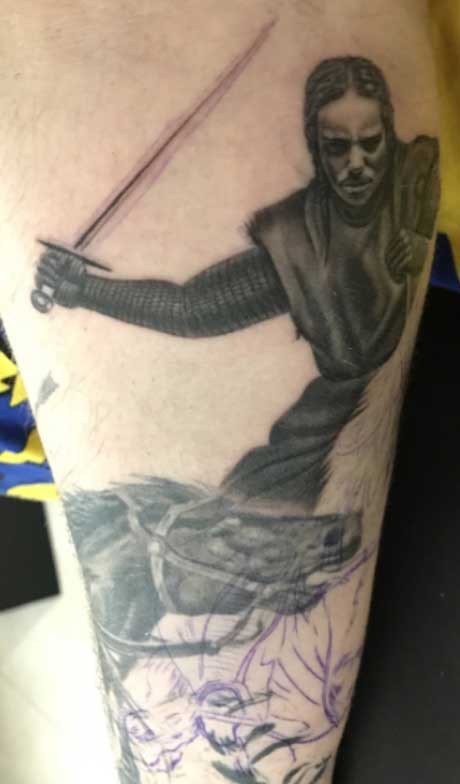 8. He featured on Ghost Adventures
12-year-old Post Malone used to ask his mum to stay up late to watch his favourite show 'Ghost Adventures'. Fast forward 10 years and he's now a celebrity guest on the show. How's that for accomplishing your childhood dream?
9. He got bullied in high school
Posty's crazy, wild and spontaneous high fashion did not begin when he became an artist. In high school he used to have his hair slicked back, shirt tucked in and even asked his step mum to iron his suit every morning before school. Kids used to throw gum in his hair, to which Posty replies "Look at me now M*****F*****s."
10. He is coming to New Zealand in 10 days!
Definitely saved the best for last that's for sure. Posty himself is heading to Auckland on the 11th and 12th of May to play his two epic shows at Spark Arena. There are still a very limited number of tickets which you can buy here.
Make sure you follow Post Malone Fan HQ (@PostHQ) on Twitter for all the latest and greatest Posty updates!