If you look past his bright blue eyes and 10 face tattoos, you start to see the purity of Post Malone's personality and his goofy outlook on life. Here are a few of our favourite quotes from the man himself.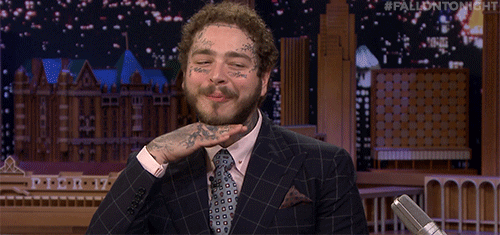 "If you don't like it. Don't f'ing listen to it." 
Posty takes us on a tour through his LA home and spills the truth about what he has to say about some haters online. Still something he lives by that we hear him say to this day.
Cheers to that!
"I've had my fair share of…..kids used to throw gum in my hair. Look at me now M*****f*****, I'm eating very hot wings."
Sean Evans from famous YouTube series 'Hot Ones' asks Post about what the kids at middle school thought about him wearing a suit to school every day. He goes further on to say "It was tough. I was an individual. And people don't like that. People don't like when you go against the norm."
For anyone who wants to understand Post Malone's personality more, fans tend to send them straight to this video. This is where you'll find all his great one-liners, infused with a consumption of very spicy wings and lots of beer.
"I don't smell bad. That's a common misconception."
The most popular ongoing joke about Posty is that he looks like he smells.
Posty made sure to shut down that rumour super quick with this impromptu Vox pop-up he did on the streets of LA (although the internet claims they were all hired actors and they are requesting a re-shoot).
just cuz i don't have a frat boy haircut and don't wear what y'all like, don't mean i stink

— Posty (@PostMalone) May 9, 2017
"It's a lot of Shania twain"
Last month in a Jimmy Fallon interview, Jimmy was interested in what happens backstage at a Post Malone concert, assuming to hear only rock n roll stereotypes, it's safe to say he was NOT expecting this.
"I'll do anything to piss my mum off. I've got a face for radio anyways."
Definitely the drunkest Post Malone interview to date, he spoke backstage at Wireless Festival in 2018 and answered some questions about his facial tatts.
TRENDING NOW
Gino October – New Day ft. INF
---
"What do I deserve to have a boo like you?"
Joining Post Malone on his Runaway Tour, Tyla Yaweh spent $140 dollars on 50 helium balloons at Reading Festival. Posty said "Did you actually buy all of these? You didn't actually buy these for me. How did you know I love minions?".
Well, we know what we're getting him for Christmas…
"You don't know what someone is going through, and you don't know how easy it is just to get caught up in something to the point where you can't stop…"
In his most recent interview with fellow New Zealander Zane Lowe, Post Malone opens up about Mac Miller and how he truly was the first person to ever believe in him. With Mac Miller passing away 1 year ago this month, Post expresses how important it is to open up to people around you who may have addictions. He continues, "You don't know what someone is going through, and you don't know how easy it is just to get caught up in something to the point where you can't stop. It's not your fault. You don't need somebody to talk down to you or say, 'Oh, you shouldn't do drugs.' You need somebody to be there to give you the support that you need as a friend or a family member. I've been there. It's f'ing hard."
"Let us party. Lettuce Party"
Check out the behind the scenes of the new 'Circles' music video. What a goof.
"You don't want people to get bored of your feet. You've gotta keep your feet popping. You gotta keep the people guessing."
Back in 2017 Posty went sneaker shopping in his socks and slides. Bless his soul…….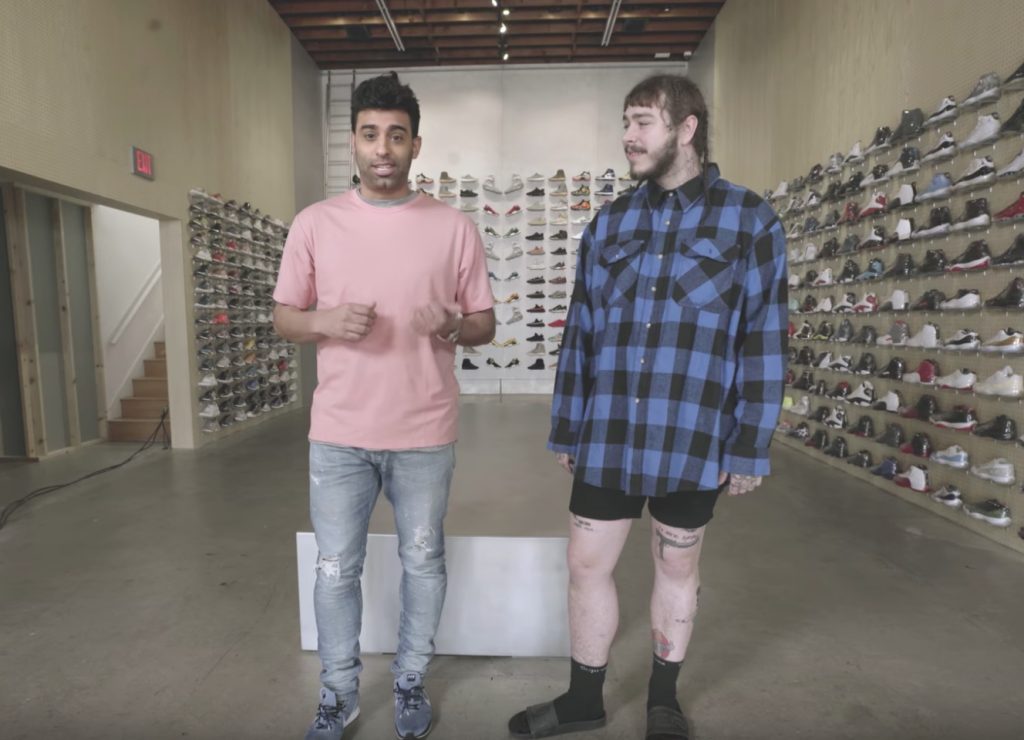 Make sure you go download, stream and buy Hollywood's Bleeding and support the precious soul that is Post Malone.