The answer is A LOT! Posty has been around the world touring his latest Beerbongs & Bentleys album. Released on the 27th of April 2018, nearly an entire year has gone by and we can't believe it.
While still managing to remain his hilarious and goofy self he has toured the world, won numerous awards, broken streaming records and I'm sure you've noticed already and dare I say it….CUT ALL OF HIS HAIR OFF!
If you want to know more about Posty's crazy antics, check them out down below!
He Ditched The Dreads
On October 6th 2018 fans went into shock as Posty cut off his signature dreads for something more short, cute and curly. Change can be hard! Completely terrified that we all would hate the new and improved look, Posty begged fans "Plz don't stop listening to my music" on Twitter. Despite the fans short mourning for the dread loss, we think the haircut makes him look even more like a Rockstar!
He Sold Out His Crocs Collab Within Minutes
Crocs – a very controversial topic in this day and age. With most of the world having an unreasonable hate towards this particular shoe, Post Malone broke boundaries and custom designed his own pair.
The first drop of the Limited Edition Post Malone x Crocs Dimitri Clog's was released on November 2nd 2018 and sold out within 10 minutes. It's probably the most iconic thing to happen to 2018 – lets be honest.
The shoe included 6 personalised Posty Jibbit charms which Posty believes is a very important part of a one's manhood. And if that wasn't enough for the shoe fans to go crazy, 10 days later he dropped a second pair! The yellow barbed wire pair sold out the exact same way. I mean, who wouldn't want to cop a pair of these bad boys?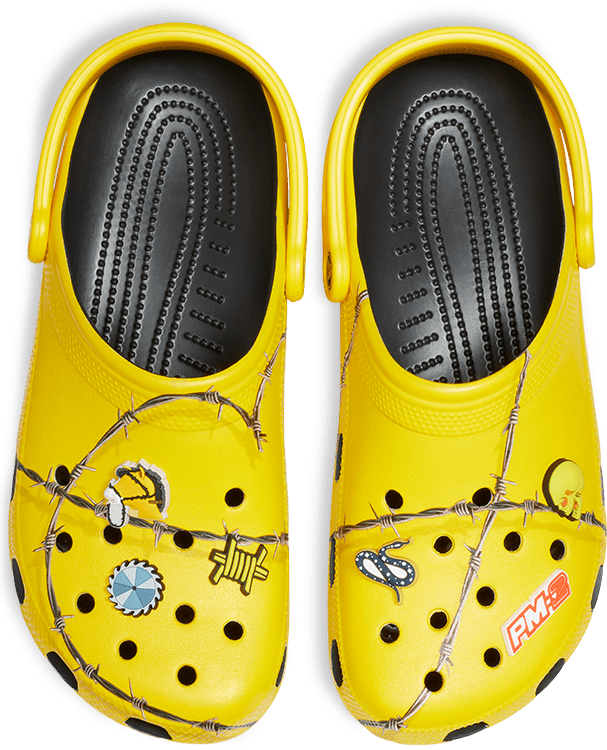 It would be safe to say that Posty has made some serious Hip Hop Croc collab history!
He Has Broken Spotify Records with BB&B
With Beerbongs & Bentleys as a hotly anticipated release on April 27th 2018, fans went crazy and broke Spotify's first day streaming record with 78,744,748 million listens globally.
Now I don't know about you but I can safely say at least 1 million of those streams were just me, as I spent the entire day with the album on repeat, blasting in my room. (Neighbours are now officially Posty fans too, oops.)
Not only that but Beerbongs & Bentleys was the first album to break 400 Million streams in just one week! A total of 411,816,710 if you want to get technical. It was also in the NZ charts for a total of 48 weeks. 6 of those weeks being at New Zealand's number 1. GO NZ POSTY FANS WOOHOO!
He Started Working in a Record Store?
If you haven't already seen it 100 times, Post Malone goes undercover in a Record Store but gets noticed instantly! If it wasn't his face tatts and his fully tatted sleeves perhaps the white polo and cap would have been convincing. His real humorous personality comes out and we see a goofy side of Posty that we all adore.
Couldn't stop cry laughing at the old man reading the lyrics to Rockstar 😂 Check out the video here!
Face Tatts Upon Face Tatts
The face tatt game is on trend right now and Post Malone is leading the movement with his bold statement pieces. With by far one of the most distinctive and recognisable faces on this planet, Post Malone has only his face tattoos to thank.
The moment when Posty got "Always Tired" tattooed under each eye we realised that he doesn't mess around. In a recent interview his explanation for the tattoo was, "Anything to piss my mum off". "It's alright, I got a face for radio anyways". (No pun intended).
He Sold Out Postyfest
The hardcore hometown fans of Dallas, Texas got to enjoy what was (or what I could only imagine to be) one of the best nights of their lives at PostyFest. Can we get a show of hands for Postyfest coming to NZ??
He Won Multiple Awards
Just to name a few – Best Rap Song at Billboard Music Awards 2018, Song of the year with Rockstar at MTV Video Music Awards 2018, and Favourite Pop/Rock Male Artist at American Music Awards 2018.
Posty also performed at the 61st Annual Grammy Awards with the Red Hot Chilli Peppers. No biggy.
Not only did he give an outstanding performance, one of Post Malone's highest career achievements was being nominated for a whopping total of four Grammy Awards! WTF!
Aged 23 and being nominated for not just one, but four Grammy's, is something he will surely be telling his grandkids.
He Released Some Catchy New Tunes
Posty's latest singles 'Wow' and 'Sunflower' have blown us all away and we STILL can't stop listening, even in 2019! Both songs made it to No.1 on New Zealand charts (No surprises there, am I right?)
He Made A New Friend
You've probably heard of Mike Alancourt – you know, the bald, 43-year-old, bearded dancer in the 'Wow' music video? Mike was flown out by Posty himself where he showed off his sick dance moves that stunned the entire internet with his incredible dance routine.
I literally can't watch it without grinning from ear to ear!
Thankfully, it's only a couple more weeks until Post will be here in NZ performing his two sold out shows on the 11th and 12th of May. Time to start learning all the lyrics (again). Stay 'posted' for more (pun intended).