Ok I know I will get a lot of hate for that statement but hear me out. Everyone, and I mean everyone, has their 'Drake Banger.' You know that one song that just brings back all the memories. Whether it was the summer of '16 with the hit 'One Dance' that just makes your body move or the classic 'Marvin's Room' that for some reason has you wanting to call your ex? Not speaking from experience of course…
Drake is just one of those artists that has a hit for any occasion, any feeling, any moment. I mean I even wrote an essay about him for my University media paper (yes, I was obsessed).  Still not quite a Drake Stan like myself? Let me convince you a little more with 5 reasons why Drake is legit the GOAT.
1. He made YOLO a thing
Ah YOLO – you only live once. My 12-year-old self would most definitely agree. Drake's song 'The Motto' features Lil Wayne and hit the charts all the way back in 2012. I mean to be fair we can't really be sure he invented the term but I'm sure I don't remember "YOLO" before this song came out. We were all probably at different stages of our lives when this song was released but you can't deny it was a hit at the house parties. There's just something about it that makes you want to drive around in a flash convertible with your mates. Not that we can all live out our Drake music video fantasies but YOLO right? Dreams are free.
2. He makes you feel a little boss sometimes
If You're Reading This It's Too Late. Enough said. That album was LIT! In fact, this album was my very first live experience with Drake. It was 2015, my second year at Uni and with the little money I had saved up during my shitty part time jobs I managed to pull enough together to book a below average hostel with my friends in Auckland and go see the man himself. To be fair I wasn't hugely familiar with Drake's music at this point, I was low-key just another fan girl wanting to get a glimpse at that cute smile and big muscles. I mean if you know you know. This album changed it all for me, I feel like I truly appreciated Drake's range when I realised even in person he just never misses a beat. Packed into the arena with a bunch of random strangers all just vibing off these new lyrics was the ultimate peak of that year for me. Not to mention the reasoning behind the album title shows Drake's ability to stick it to the man. Safe to say this album went OFF at this concert, in which it was Drake's first time performing some of the songs. I even have a black overpriced 'Nothing was the same' singlet floating around my parent's house to remind me of the good times. I left that concert feeling a little bit like a boss, so hit this album up whenever you need a little bit of that energy in your life.
Feat. A blurry pic from the greatest concert ever.
TRENDING NOW
Gino October destroys this freestyle at Mai FM
---
3. THIS iconic dance
Seriously, you can't look at this picture and not hear the song. I literally have a poster of this image on the wall in my flat… it is ICONIC. This beautiful dance was the source of thousands of memes and GIFs – if you haven't seen them yet then please do, you can thank me later. This isn't the only iconic move Drake has busted out in his many music videos. Although it is definitely one of the best dance moves he has graced us with, he most recently busted out some new moves in his music video for 'Toosie Slide', which ended up on the TikTok bandwagon (no surprises there) with many TikTok fanatics recreating the so called 'moon walk' remake. Whatever you say about Drake, you can't deny the man has moves like a 40 year old dad, cute but somewhat cool.
4. He will always get you in your feels
If you haven't listened to a slow Drake song and cried about your ex from 5 years ago then you have not lived. It's almost a right of passage as you slowly head into your mid 20's quarter life crisis and remember the good old days from your teen relationship, back when real life problems didn't quite yet exist. If you haven't jumped on the sad Drake bandwagon yet then have a listen to 'Marvin's Room' or 'Doing It Wrong' but don't complain to me if you find yourself calling your ex from year 13… you've been warned!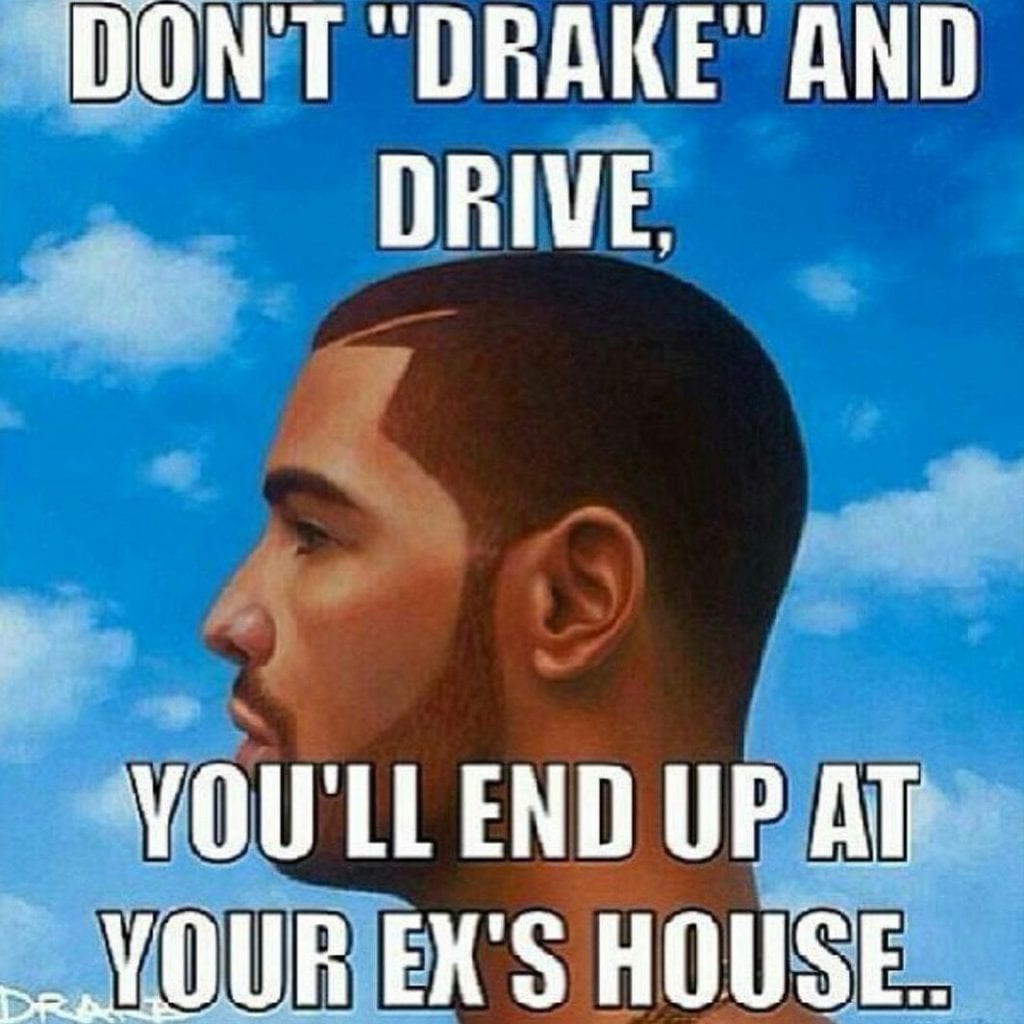 5. There is a Drake Banger for everyone, and I mean EVERYONE
With over 170 million records sold, Drake is among the World's best-selling music artists. With countless awards under his belt, I guarantee there is not at least one Drake song that you just can't help jamming out to when it comes on. I could list at least 20 off the top of my head that always get me going from 'Started From the Bottom' to 'In My Feelings' to 'POPSTAR'. He never fails to produce a hit, and you bet I've been listening to Drake the entire time I've been writing this article. Whether it's the in-your-feels kind of jam or the straight up bangers he continuously produces, Drake is ultimately the GOAT of mainstream Hip Hop (ahem… and my future husband).