Ariana Grande's last album thank u, next was a moment at the beginning of 2019, and nearly two years on Queen Ari has surprised fans with its successor Positions, which debuted at number one on the Billboard Hot 100 chart in its first week. The album features 14 tracks of sultry (read: naughty) RnB slow jams that leave no questions as to why it hit #1, but do give us some interesting insights into Ari's private life and relationships. Here we take a look at ten things we learned about our pop Queen from 'Positions'.
1. She's embracing her sexy side
Balancing out the dirty lyrics with her sugar-sweet Broadway-esque voice, 'Positions' is naughty from start to finish. Fully crossing the line into RnB, 90% of the tracks reveal just how X-rated Ariana Grande can be when she wants, which is clear right off the bat with the second track titled'34+35' – you do the math…
2. 'Positions' really was a very apt album title
Ariana Grande announced 'Positions' along with albums lead single of the same name. the video stars Grande as an incredibly stylish President with an all-female cabinet, which reveals the first interpretation of 'Positions' – she's a boss, a woman in control making all the decisions as the CEO of her empire. The lyrics, however, reflect another meaning – 'Boy, I'm tryna meet your mama on a Sunday / Then make a lotta love on a Monday'. Not only is she playing a lot of roles professionally, but she's flexible in her relationships too. We love a multi-tasking Queen!
3. She's happily in love with Dalton Gomez
Ari has been keeping her approximately 10-month relationship with LA-based estate agent Dalton Gomez under wraps for a long time now, but don't let the lack of Insta-love keep you from thinking there's anything up – 'Positions' is a love album through and through, with giddy, romantic, lyrics throughout, especially on closing track 'pov' which is about appreciating her partner for how he loves and appreciates her, flaws and all.
4. She knows a thing or two about epic collaborations 
While Grande is no stranger to collaborations in her musical career, there haven't been any features since 2018's hit album 'Sweetener'. Three out of fourteen tracks on 'Positions' are collabs, including big names like Doja Cat, Ty Dolla $ign, and The Weeknd. The Weeknd and Ariana have collaborated in the past on 2014's iconic 'Love Me Harder' and the chemistry is still there on their emotional duet 'off the table'.
5. She loves her crew
Ariana has a fierce close-knit social circle around her, and she loves to show her appreciation for her friends through her music videos. This was seen in 2019's '7 rings' where her seven friends starred in the music video donning Tiffany & Co engagement rings that Ariana Grande bought as friendship rings for them on a whim. Despite some changes to the friend group, the music video for 'Positions' still pays homage to her squad, with all her gals taking up roles in her Presidential cabinet and even a cameo appearance from her mum Joan Grande.
6. She's a spiritual person
Ariana Grande has previously talked about her belief in the law of attraction and getting back what you put out into the universe. 'Just Like Magic' is all about raising your vibrations and manifestation, singing about 'love and light'. The final line in the chorus of 'Just Like Magic' is "I get everything I want because I attract it", which is comparable to '7 Rings' – 'I Want It, I Got It'. Having had a tumultuous few years in the spotlight, it's no surprise Ariana has done some inner work to help her get through the trauma and keep her spirits high.
7. Fans are speculating there's a dig about ex-fiancé Pete Davidson 
While 'Positions' primarily focusses on the joys and anxieties of the early stages of an increasingly serious relationship, there are a few references to past partners. Although not confirmed by Ariana, fans are speculating that 'Positions' includes a little dig at ex-fiancé Pete Davidson. On the opening verse of 'Positions', she sings, 'Heaven sent you to me / 'I'm just hoping I don't repeat history.' Her singing of the word 'repeat, 'has caught fans attention because she sings it with a lengthy pause between 're' and 'peat.' Fans on social media think she is intentionally referencing Pete's name in the line. The connection goes deeper when looking back at the lyrics for the 'Pete Davidson' interlude on Sweetener – 'the universe must have my back / fell straight from the sky into my lap'. There's a good chance this is just speculation, but the jury's out…
8. Mac Miller is still in her heart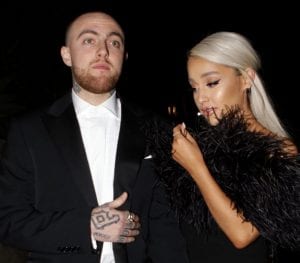 thank u, next held a lot of references and dedications to Grande's late ex-boyfriend Mac Miller, and 'Positions' is no different. 'off the table' with The Weeknd is a personal track about her fears of not being sure if she'll ever find love again since her true one has 'come and gone'. Luckily, she's revealed that that is her anxiety taking over at her darkest times and doesn't feel that way about love anymore.
9. Her hair is personal 
'my hair' is a track dedicated to that iconic ponytail, and, more specially, instructions on how to handle it – with a more metaphorical meaning underneath. "My real hair which is the humungous curly curly poof… the curls are definitely something I don't bring around that much… it's such an intimate thing" she once said in an interview. The track is all about being vulnerable and showing her partner different sides of herself. She has also revealed that her boyfriend Dalton loves her natural curls. Cauutee!
10. She's happier now 
Fans are happy to see Ariana feeling better than she has in a long time. On the album's opener 'Shut Up' she sings 'All them demons help me see shit differently, so don't be sad for me'. What's more, she revealed in an interview that "It felt nice to be creating from a more healed place." She's taken some time out between albums and clearly all of her dark periods have made her stronger, which is showing in her music where she is sounding more confident than ever.
Listen to 'Positions' below!