Going through a break-up? I feel ya hun. Brace yourself for an emotional rollercoaster. Dr. Google tells me there are five stages of grief: denial, anger, bargaining, depression and acceptance – but I would argue there's more like 11 stages, and we have a tune to help you get through each one of them. You only need three things right now: your Spotify, an enormous box of tissues and your comfiest dancing shoes. Maybe sound-proof your room too? Your house mates will be hella confused when they hear you crying and singing at the same time…
The hurt. The emptiness. You feel alone in this world. It feels like you will never get over this break up. The only thing to do right now is feel all those feels – it hurts but it needs to be done!
Key Lyrics:
"And I hope I never see the day
That you move on and be happy without me…
What's my hand without your heart to hold?
I don't know what I'm living for
If I'm living without you"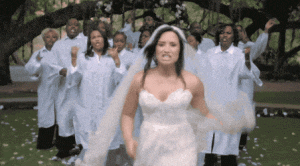 Stage two – you're in denial. You want them to stay and comfort you, but really you know for sure this person aint the one. Pop this song on when you hop into bed at night and cry yourself to sleep. There will be an end to the crying, I swear! But for now, have a listen to our boy Sam and let the tears flow.
Key Lyrics:
"and deep down I know this never works
but you can lay with me so it doesn't hurt"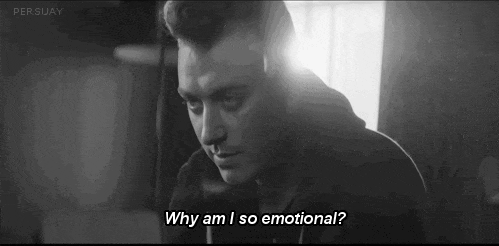 Taylor is brutally honest with the lyrics in this song. Not giving herself any slack at all! Buuut the beat is very uplifting and makes you want to jump around. It is a bag of mixed emotions really! Warning: guaranteed to make you cry-dance.
Key Lyrics:
"A new notch in your belt
Is all I'll ever be"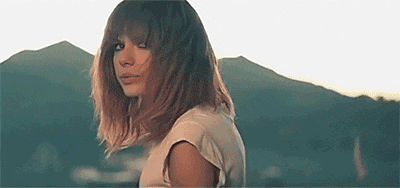 The anger stage. You're getting over the sadness and are beginning to get mad at the ex.  Posty hits the nail on the head here. The beat, the lyrics, the feelings. Pour yourself a whiskey on ice and turn the music up.
Key Lyrics:
"All this damn jewelry I bought
You was my shorty, I thought"
A break-up playlist would not be complete without this classic T-Swizzle tune. The title says it all. Blast it. Yell it. Tell the world!
Key lyrics:
"Then you come around again and say
Baby, I miss you and I swear I'm gonna change, trust me
Remember how that lasted for a day?"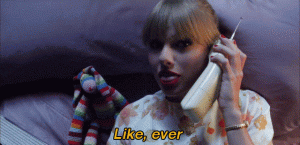 Break-ups are a struggle. They ain't easy for anyone. This song is about being emotionally wounded and struggling to overcome the pain. Make sure you have some tissues handy…
Key Lyrics:
"Got a feeling that I'm going under
But I know that I'll make it out alive"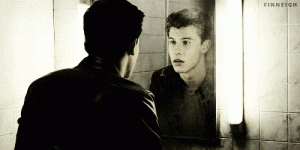 We all do it, we try to mask the pain with other things. Even Drake does it!
You go out all night partying, but then come home in the early hours and end up leaving the ex 10 voice mails to wake up to. Uh oh, not good. Don't do it again, okay?
Key Lyrics
"I need you right now, are you down to listen to me?
Too many drinks have been given to me"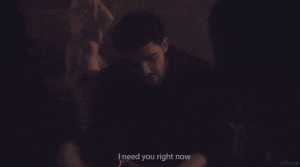 The beginning of the acceptance stage has arrived, but you are still hurting a little. Adele comes in with a tear-jerker for ya. Close your eyes, sing along, and feel your heart mending itself.
Key Lyrics:
"Never mind I'll find someone like you
I wish nothing but the best for you too"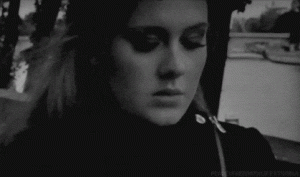 Yuussss, spread those wings, love! Ariana is comin' at us with a pop hit about getting over that break up. Get your dancin' shoes on as you are about to BREAK FREE!
Key lyrics:
"This is the part when I say I don't want ya
I'm stronger than I've been before"
We are nearly on the other side of this break up. Confidence is surging back. Such a boss tune! Makes me want to put some dark shades on, high heels and strut myself with my head held high. No surprises with the key lyrics below.
Key lyrics:
"I'm feelin' myself, I'm feelin' myself
I'm feelin' my, feelin' myself"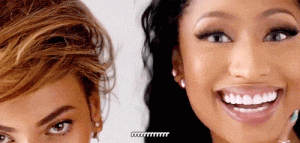 Congratulations!! You have made it through. Fly your solo flag and celebrate your single-dom. Our girl Demi has been there too and knows what's up. She's over it, we are over it and we know that they (who-shall-not-be-named) are no good for us. Warm up your vocal chords, cause Demi belts it out in this one!
Key lyrics:
"Now payback is a bad bitch
And baby, I'm the baddest
You f*ckin' with a savage
Can't have this, can't have this
And it'd be nice of me to take it easy on ya, but nah
Baby, I'm sorry (I'M NOT SORRY)"