Happy Halloween! There's so much to love about this holiday; the treats, the tricks, and the excitement of seeing what your fave artist has dressed up as this year. We all love playing the game of waiting for that Instagram post and then kicking ourselves for not thinking of that particular costume, but then also realising we couldn't actually pull it off the same because our dollar store can only go so far. So, while we wait for the important reveals for this year, we've compiled 15 of our fave artist costumes from over the years. Prepare to be spooked, astounded and just downright jealous.
1. BTS as simply 'pop culture'
Who better than the Kings of Fashion themselves to put together incredible Halloween costumes? The K-pop boys join in the holiday fun every year but their fits in 2014 were certainly ones to remember. With RM dressed as Dracula, Jin as Jack Sparrow, Suga as Chucky, J-Hope as prisoner Papillon, Jimin as Charlie Chaplin, V as the Joker and Jungkook as the Grim Reaper, the group all picked an area of pop culture history and absolutely nailed it.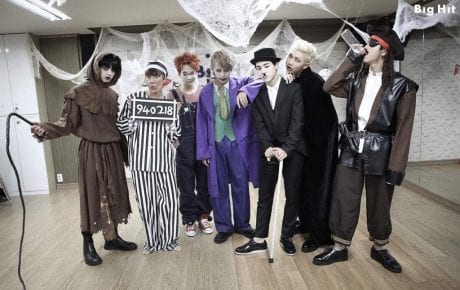 2. Drake as his dad
Hilariously, Drake looked a little closer to home when citing inspo for his Halloween costume and decided to dress up as his dad, Dennis Graham. A man with certainly a unique aesthetic, Graham has been used multiple times for visuals throughout Drake's career (he's on the cover of More Life) but this was definitely a step up.
View this post on Instagram
3. Halsey as Megan Fox
There's not one look that Halsey can't pull off. The star dons a new costume and wig every week, so you just know Halloween is her thing. In 2018, she excelled with her look of Megan Fox's Jennifer Check from horror film Jennifer's Body. Sporting a cheerleader fit, dark wig and a horrifyingly accurate Joker's smile, the star could've easily stepped right off the set of the movie.
"You're lime green jello and you can't even admit it to yourself." pic.twitter.com/V8zPIJfZjk

— h (@halsey) November 1, 2018
4. Ariana Grande and The Twilight Zone
Last year, Ariana Grande went all out for Halloween. And we're not just talking a little makeup and clothing, we're talking prosthetics that barely allowed her to breathe or eat and redesigning her entire house. Taking inspo from a season two episode of the '60s series The Twilight Zone titled 'Eye of the Beholder', Grande replicated the pig-like faces of the characters and aimed to deliver a "haunted hotel Twilight Zone hostess" look. The episode takes a look at the idea of societal norms and pushes the message that beauty really is in the eye of the beholder. Safe to say the pop star won Halloween last year.
View this post on Instagram
5. Shawn Mendes as an '80s rocker
Shawn Mendes was on tour for Halloween last year, but that didn't stop him from getting into the holiday spirit. The star surprised our neighbours in Melbourne with a full '80s rocker getup at their show and even had his bandmates and crew join in. Although it was a great look, we're glad the moustache isn't real …
80's baby !!! Happy Halloween!!!!! 🖤❤️🖤 Melbourne thank you for an incredible 3 shows. You are a wonderful place ❤️ pic.twitter.com/uekg54quWy

— Shawn Mendes (@ShawnMendes) October 31, 2019
6. Nicki Minaj as Harley Quinn
Celebrating their first Halloween as a married couple, Nicki Minaj and her husband Kenneth Petty dressed up as Suicide Squad's Harley Quinn and the Joker last year. And Minaj as Harley Quinn is definitely something we're grateful for. Rocking the classic 'Daddy's Lil Monster' shirt and stained blonde hair, the rapper owns the look as if it's just another wacky one she's invented.
7. The Weeknd as Beetlejuice
Back in 2018 when The Weeknd and Bella Hadid were 'on' in their on-and-off-again relationship, they absolutely killed Halloween by dressing up as Beetlejuice and Lydia from the 1988 film Beetlejuice. Depicting the wedding scene between Michael Keaton and Winona Ryder's characters, the two got every detail of their costumes absolutely perfect.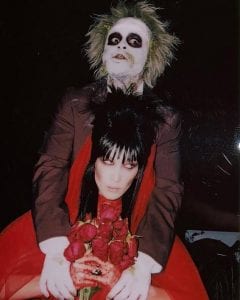 8. Demi Lovato as literally anything
Arguably no one does Halloween like Demi Lovato. The star is always three steps ahead with multiple costumes at her disposal and last year we were lucky enough to get two in a row. Starting off with a very accurate portrayal of Marie Antoinette, the star showed off her Victorian look, incredible glam and huge curly blonde wig to Instagram. "I told y'all I don't play on Halloween!! It's my time to shine," she captioned, and oh, she was not lying. The next night saw her take a completely different direction as she dressed up as the terrifying clown IT; but in her own way she managed to make 'murderous clown' a total vibe.
9. Rihanna as a Teenage Mutant Ninja Turtle
If you're anything like us, you trust Rihanna's fashion judgement with your whole life. In fact, we don't think she's ever put together a bad outfit and that includes Halloween costumes. Back in 2014, the star slayed the whole game by dressing up as a Teenage Mutant Ninja Turtle; green body paint and all. Opting for Raphael's aesthetic, Rih rocked a red eye mask, gladiator heels, a fake turtle shell and even the character's sai weapons.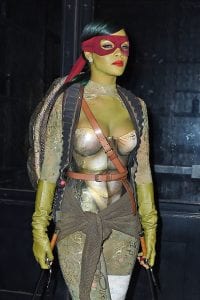 10. Justin Bieber as Will Ferrell
It's been a while since Justin Bieber showed off a Halloween costume, which is perhaps why his 2015 one is so memorable. Portraying Will Ferrell's character Jackie Moon in 2008 comedy Semi-Pro, the pop star sports an almost exact replica of the basketball uniform from the film. With a fluffy orange wig and knee-high socks that barely cover his bare legs, Bieber looks basically unrecognisable as he pays homage to one of his favourite actors.
View this post on Instagram
11. Taylor Swift as Deadpool
As per her traditional parties, Taylor Swift invited her closest friends (including Gigi Hadid and Camila Cabello) around for Halloween in 2016 and showed off her Deadpool costume. But it wasn't just any old Deadpool rental, it was THE Deadpool getup worn by Ryan Reynolds himself. Swift is good friends with both Reynolds and his wife Blake Lively, what a flex.
12. Lady Gaga as Edward Scissorhands
You know Queen Gaga was gonna be on this list; her every day attire is everyone else's dream Halloween costume. But in 2017 she really outdid herself, perfectly replicating one of the greatest characters from pop culture, Edward Scissorhands. Suited up in leather with that iconic messy black wig and those blade fingers, the star proved there is literally nothing she can't rock effortlessly.
13. Katy Perry as a sad Cheeto
No one really knows what Katy Perry's obsession with dressing up as food is all about, but it makes for a good laugh every time she does it. For 2014's Halloween, she rocked up to Kate Hudson's party dressed as a giant Cheeto puff. And not just any Cheeto, a sad one of the Flamin' Hot variety. With an orange bodysuit and a boutique Cheetos handbag, this look was certainly creative.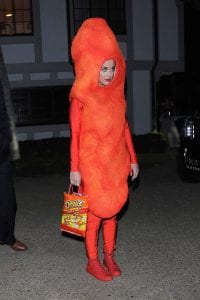 14. Joe Jonas as The Addams Family
Further proving that they're couple goals, Joe Jonas and his then fiancé (now wife) Sophie Turner dressed up as The Addams Family's mother and father Gomez and Morticia. While Turner looked amazing in all her detail as Morticia, Jonas' moustache, slicked back hair and bodyless hand on his shoulder made the look all the more better.
View this post on Instagram
15. 5SOS as 5 Seconds of Sexx
Remember the time 5SOS were an '80s glam rock band? Back in the Halloween of 2015, the band surprised their fans by completely renovating their socials to show their new look and band name 5 Seconds of Sexx. With Calum Hood turning into 'Calum Coxx' and sporting a long, black wig, Michael Clifford turning into 'Michael Magixx' and opting for a shaggy do, and Ashton Irwin (Ashton Axxe) and Luke Hemmings (Lucas Loxx) rocking straight, blonde hair; the band totally transformed and actually convinced people this was their new aesthetic.
5 SECONDS OF SEXX HAVE CUM TO ROCK YUR WORLD pic.twitter.com/GVuY3c0MER

— 5 Seconds of Summer (@5SOS) October 30, 2015
What look is your favourite?