If you're a fan of Haim then no doubt you've been in the never-ending queue to apply to become the fourth sister for quite some time now (I know I am). But it seems that spot is already taken. All it took was one dinner that turned into seven hours with Taylor Swift and they've been inseparable ever since. From red carpets, sleepovers, swapping clothes, and road trips to 4th July celebrations, group chats, waking up in Vegas, and whipping up choreographed dance routines, this is a friendship like no other.
Of course, Taylor has no shortage of BFF's, but the Haim sisters have made their way into her inner circle quicker than it takes an ice-cream to melt in Auckland summer humidity. It was only a matter of time until they collaborated on a song, and 'no body, no crime' from Taylor's latest album evermore is everything we knew it could be and more. In a recent interview with EW Taylor explained, "We can't figure out why we hadn't collaborated sooner. We've toured together, played live together, choreographed dances like we're at summer camp, but it took a song about avenging your friend's murder to give us the idea to take this step. Long story short, I'm the fourth Haim sister now, confirmed."
To celebrate the release of 'no body, no crime', we decided to take a long look back at the underrated friendship that turned into a sisterhood overnight.
March 16, 2013 – Haim predict their friendship
In a now deleted misogynistically charged interview, Haim were asked to comment on "who Taylor Swift will date next" – and their response (the only right answer to a gross AF question) was, "come out with us, and we will party, and we will be together as girls and be merry and we don't need guys! Girl power!"
January 23, 2014 – It's official! Haim got the follow on Instagram
The true tick of approval. Later that same year Taylor also followed the band on Twitter.
October 29, 2014 – An online friendship blossoms
We're doing a little awkward celebratory dance at this first ever interaction!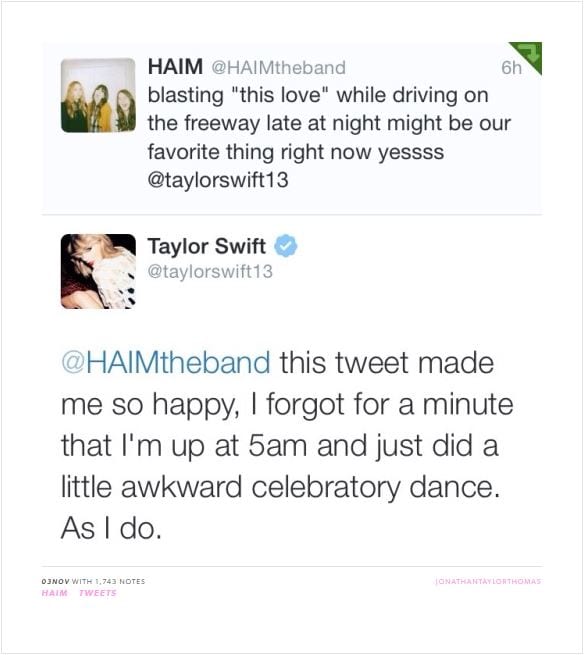 Unknown – When a simple dinner turned into seven hours
We must have missed some DM action because before we knew it, they had decided to meet up. And one simple dinner turned into seven hours of "just laughs".
Haim talking about how they became friends with Taylor pic.twitter.com/5Sn7KKVWhb

— Taylor Swift News (@TSwiftNZ) February 7, 2015
November 23rd, 2014 – The most important polaroid picture to ever exist
Periodt.
TAYLOR, LORDE, SELENA, KARLIE AND HAIM ALL HUNG OUT LAST NIGHT AFTER THE #AMAs OMG all my favs in one photo 🆘🆘 pic.twitter.com/AtSrYBSthC

— Taylor Swift News (@TSwiftNZ) November 24, 2014
December 13, 2014 – Getting the invite to the birthday party of the year
You know you've made it into Taylor's inner circle when you've got the bday invite alongside Jay-Z and Beyoncé, nbd right?!
Karlie, Haim, Jay-Z, Beyonce, JT and Sam Smith at Taylor's 25th birthday party last night! #HappyBirthdayTaylorSwift pic.twitter.com/Za0EtNFGlS

— Taylor Swift News (@TSwiftNZ) December 13, 2014
December 15, 2014 – Bringing a whole lotta choreography and sexy back
Two hangs in one week? Definitely BFF material.
View this post on Instagram
January 9, 2015 – Scott Swift approved
Meeting the parents already! Always a good sign for any type of relationship.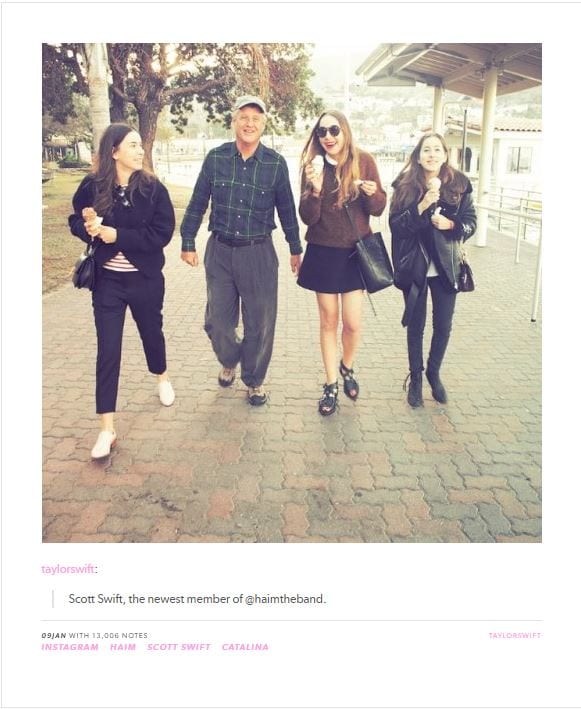 January 11, 2015 – Girl power at the Globes
Nothing better than a girls night out, as Taylor, Haim and Jamie King all hit the red carpet at the Golden Globes to support homegirl Lorde and her nomination.
Haim, Jaime King, Lorde and Taylor on the red carpet HQ #GoldenGlobesAfterParty pic.twitter.com/aYeXClu7Pa

— Taylor Swift News (@TSwiftNZ) January 12, 2015
January 23, 2015 – "THAT bikini photo"
Vacay! The girls jetted off to Hawaii and did some whale-watching, beaching, pap-avoiding and wore matching Bill Murray sweatshirts. Why? Because they can. It was also on that same trip that we learned that Taylor Swift does in fact have a belly button.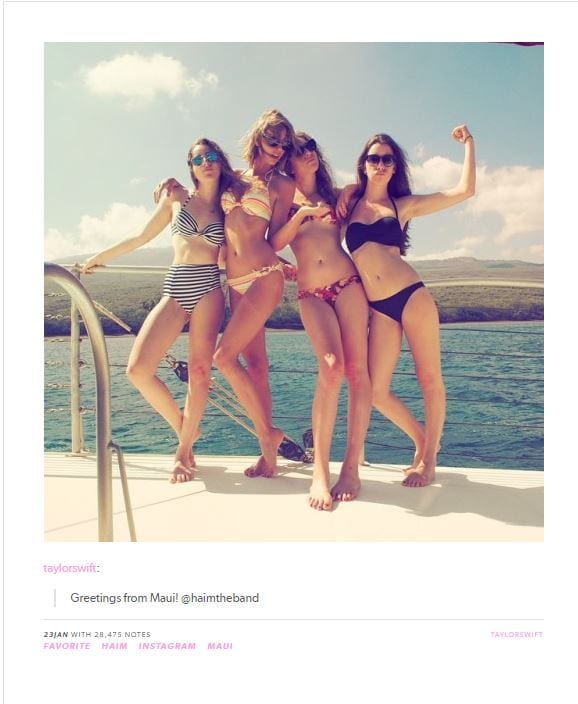 Feb 1, 2015 – Road tripping around North America
Rejoice! Taylor announced Haim as an opener on the North American leg of her 1989 World Tour. (Don't mean to brag but I'm gonna take some credit for putting this idea out into the universe).
@taylorswift13 @HAIMtheband Petition for Haim to open up the 1989 tour starts now

— Taylor Swift News (@TSwiftNZ) October 30, 2014
March 8, 2015 – International Women's Day
Taylor, Haim, Selena Gomez and Ellie Goulding all hanging out together on International Women's Day? Please and thank you.
Taylor hanging out with Ellie, Selena and Haim! ☕️ pic.twitter.com/9UBiwxKpHe

— Taylor Swift News (@TSwiftNZ) March 8, 2015
March 14, 2015 – When the "wolf pack" was formed
"Happy Birthday, Este!! Ever since you, Alana, and Danielle adopted me into your wolf pack, life has never been the same." – Taylor on Instagram
TAYLOR UPLOADED THIS CLIP OF HER AND HAIM SINGING THIS KISS BY FAITH HILL FOR ESTE'S BDAY AND IT'S ON REPEAT pic.twitter.com/RMtlnAb1Dp

— Taylor Swift News (@TSwiftNZ) March 14, 2015
March 19, 2015 – On the same wavelengths
This moment was too important not to add in.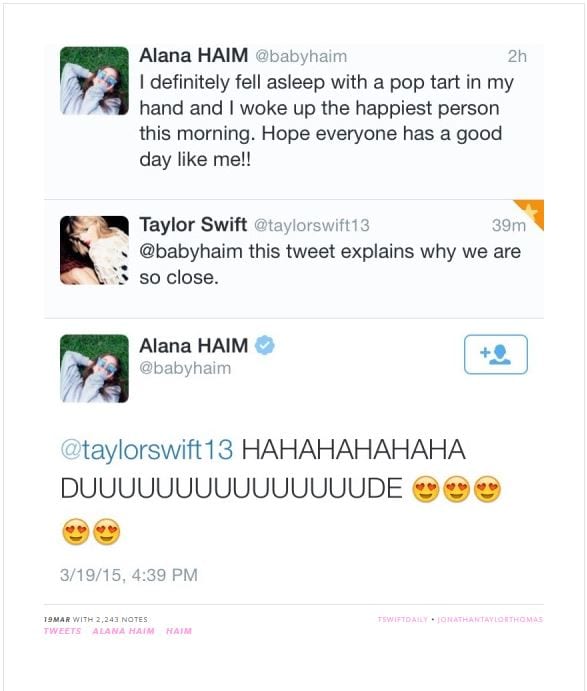 July 4, 2015 – One of many July 4th parties
When you think of July 4th you don't think of fireworks or turkey, you think of the A+ content we get each year from Taylor Swift's Rhode Island getaways.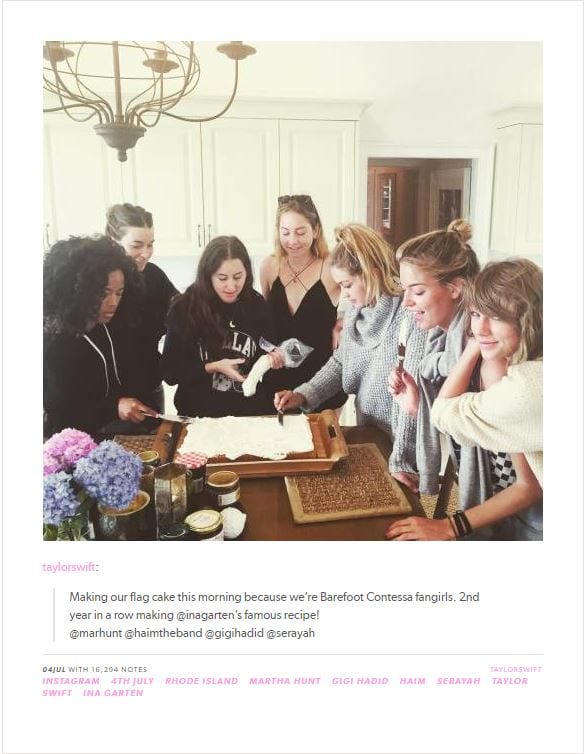 September 29, 2015 – It's getting hot in herre
Haim wrapped up their run on the 1989 World Tour in style, with some choreography worthy of multiple flame emojis thanks to Nelly's 'Hot In Herre'.
BUSTING LOOSE bc Tay, Nelly & HAIM threw it back 2night w/ 'Hot in Herre' #1989TourStLouis pic.twitter.com/LJiJvaNegm

— Taylor Nation (@taylornation13) September 30, 2015
April 16, 2016 – Bleachella
Another milestone for Taylor (attending her first ever Coachella), with Haim right by her side.
Taylor with Lorde, Austin, Serayah, Kennedy, Haim, Jack, Martha, Brit and Ben at Coachella! pic.twitter.com/1Eg2W6WUf3

— Taylor Swift News (@TSwiftNZ) April 16, 2016
May 2, 2016 – The "your buzzcut and my hair bleached" night
So much went on this night that if you know, you know. And of course Haim were right in the thick of it. #GetawayCar
Taylor with the beautiful @HAIMtheband girls tonight! #MetGala #ManusxMachina pic.twitter.com/wnsltsD1oc

— Taylor Swift News (@TSwiftNZ) May 3, 2016
May 3, 2016 – The night after
Matching onesies?! If they weren't already at level 13 on the friendship scale they definitely are now.
"After the after party is.. Well.. This. @HAIMtheband" – Taylor's Instagram post feat HAIM, onesies and pizza! 🍕 pic.twitter.com/QREhnhGP7v

— Taylor Swift News (@TSwiftNZ) May 3, 2016
May 3, 2017 – Taylor returns to social media to support Haim
A social media hiatus will never get in the way of Taylor cheering on her faves.
Taylor has come out of her social media hiatus by posting about @HAIMtheband's new single #WantYouBack on Instagram!
(Note: 13 second mark) pic.twitter.com/9GmsWAWUow

— Taylor Swift News (@TSwiftNZ) May 4, 2017
June 24, 2017 – Danielle taking no BS from the media
Just cause Taylor is on hiatus doesn't mean her friendships are.
nice try, creating a story that doesn't exist. Good work on the clickbate headline tho 👍

— HAIM (@HAIMtheband) June 23, 2017
December 1, 2017 – Wearing each other's merch
Haim, of course, were also some of the lucky ones who received a cardigan.
Taylor is wearing @HAIMtheband's Christmas merch! 🎄🎅🏼https://t.co/vJUyA0sPKL pic.twitter.com/WCKQ3Tsy2m

— Taylor Swift News (@TSwiftNZ) December 1, 2017
June 6, 2018 – Yes, they are still friends
Taylor avoiding the public eye during the reputation era cast some doubt on whether they were still friends. But when asked during an interview with Grazia UK, Haim set the record straight. Also, did Este foreshadow 'no body, no crime'?!
"Affirmative, we are still friends with her," says Este. "I don't even know where the whole squad thing originated from," says Danielle, "But we just saw her [reputation] show and it was great." "Just make sure your phone is charged," interjects Este, "You'll want to make sure you take videos of everything. It's like a feast for the eyes. She fucking killed it. She MURDERED it!"
June 30th, 2019 – Having each other's back, always
Looks like Scott and Scooter could be next on Este's hit list…
📲 IG | Danielle Haim voices her support for Taylor via Instagram story #WeStandWithTaylor

"sometimes i'm reminded how fucked up and slimy this business is. this is one of those times – LET @taylorswift13 BUY HER MUSIC BACK YOU FUCKING ASSHOLES!!" pic.twitter.com/ZkB0VlL6zb

— Taylor Swift News (@TSwiftNZ) July 1, 2019
August 10, 2019 – When "Drunk Taylor" trended on Twitter
2018 and 2019 saw little Tayhaim content but we did get this cute gem. But where is baby?!
View this post on Instagram
December 11, 2020 – A date at Olive Garden every Tuesday
Taylor set out to write a murder mystery after becoming obsessed with true crime podcasts, and who better to get on board than Haim, "I had named the character Este, because she's the friend I have who would be stoked to be in a song like that."
Our dream of singing on a COUNTRY FOLK SONG with the one and only queen of storytelling, miss TAYLOR SWIFT is our second Hanukkah present to you! AND ITS A MURDER MYSTERYYYYYY. We think he did it…… @taylorswift13 pic.twitter.com/TsW1pl2CZa

— HAIM (@HAIMtheband) December 11, 2020
Bonus – "Dude"