NO WE ARE NOT CALM. Because we can now officially say that 'Lover' is out THIS MONTH! 
It feels like only yesterday everybody was calling Taylor Swift's seventh studio album 'TS7' and now in just three weeks time we will be holding it in our hands. A LOT is going to happen in the coming weeks, so we're here to get you up-to-speed on everything we know about 'Lover' so far, just ICYMI.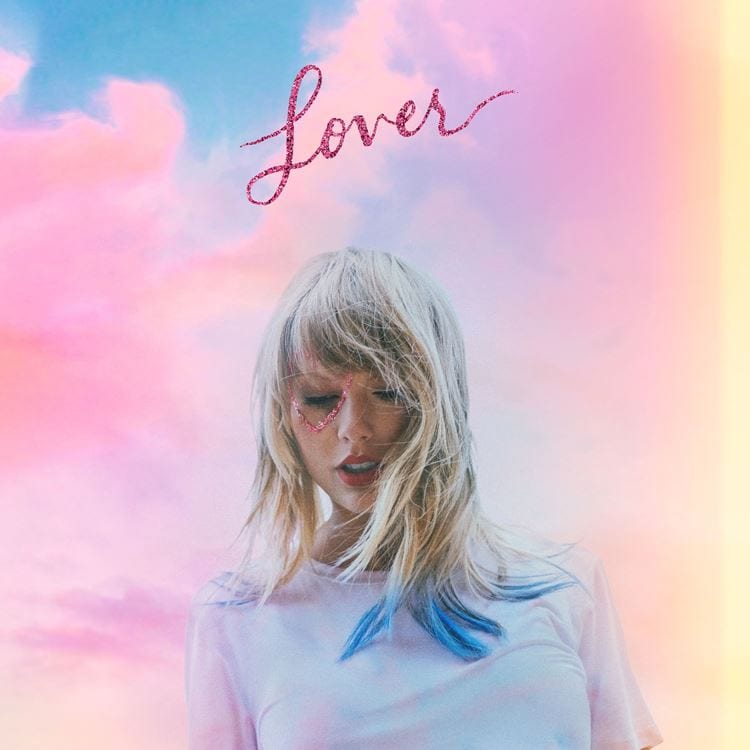 "For a healthier option, Lover will be out on August 23rd."
Queen of Easter eggs left fans in a frenzy after posting a tweet that the albums name was hidden somewhere within the 'Me!' music video ("you'll hear it once and see it twice"). It's been said that swifties could put the CIA out of a job, and it wasn't long before their magnifying glasses 🔍 had already spotted the word 'Lover' lit up as a neon sign as well as the word being written larger than others in the lyric video. And if they needed any more confirmation that they were onto something, the lyrics 'babydoll when it comes to a lover' was the icing. Taylor then confirmed suspicions on an Instagram live she held on June 13th (her fav number of course) where she announced the cover art and release date for 'Lover'. The date 23/08 also adds up to the number 13 #extra. 
Shout out to all the 'Kaleidoscope' and 'Home' stans, you may have lost this round but there's still the rest of the tracklist to go.
More songs than ever before
During the same Instagram live, she also revealed that there will be a whopping 18 tracks – this is the most she has ever had on any of her albums. So far we have heard 3 of them, which means after doing some quick maths, there are 15 left. FIFTEEN (if you know, you know). 
She began working on the album in November 2018
Taylor told Entertainment Weekly that she started working on the album quickly after finishing up her reputation Stadium Tour at the end of last year. She spent three months solidly writing and recording it. Fingers crossed we get in-studio footage again this era, because those 'reputation: making of a song' clips were a blessing. 
For the first time ever, she has a feature on her lead single
He needs no introduction… the one, the only, Brendon Urie from Panic! At The Disco! The pair teamed up for the self-love anthem 'Me!' accompanied by a technicolour dream video. Over the years, Brendon has revealed multiple times how much he would love to collaborate with Taylor, and his dream came true. 
Brendon's Academy Award should also be in the mail by now for his answer to this fan question just the day before the release of the song.
Some of the album was worked on in New Zealand!
YES. You heard that right. Kiwi producer Joel Little injected his magic into not just one but both of the first two 'Lover' singles 'Me!' and 'You Need To Calm Down'. And according to the song credits on the 'Me!' vinyl, it was part-recorded at Golden Age West Studio in Auckland, NZ. Joel spoke to Billboard about the process of getting to work with Taylor, "Getting to work with her is like the holy grail for pretty much every pop songwriter. I was absolutely sh*tting myself before our first session, but it went great. We just clicked creatively right away and it was so easy, like we'd been writing together for years. I couldn't believe it." There's no word yet on whether they've worked on any more songs, but if they have, they too will be absolute bangers. 
It has themes of romance but it's not all love songs
Taylor described it best via Instagram live – "I think that the idea of something being romantic doesn't have to be a happy song. I think that you can find romance in loneliness or sadness or going through a conflict or dealing with things in your life. It just kind of looks at those things with a very romantic gaze." She also told EW, "You get some joyful songs and you get the bops. There's also some really, really, really sad songs, but not enough to where you need to worry about me." Personally, I can't wait to lie in a puddle of my own tears to the super sad ones tbh. 😭
Boy wonder Jack Antonoff makes a return
All it took was one sneaky post on Instagram and the swifties had their biggest hunch confirmed – Jack Antonoff returns as a producer on 'Lover'. He posted a collection of photos he took in June and if you didn't slide all the way through then you would have missed a very poised Taylor Swift striking a pose in a studio in the ninth shot. Last week Taylor revealed on her Instagram live that she has worked on a "vast part" of the album with Jack and we got our very first taste when she dropped the emotionally-charged promo single 'The Archer' out of nowhere. 
Peep a look at all of the songs they have worked on together below, from movie soundtracks, to fan favourites on '1989' and 'reputation', prepare yourself…
It will make a political statement 🌈
"I definitely think there are political undertones in the new music," Taylor told German publication DPA. And we first see this in her second single 'You Need To Calm Down' where Taylor stands as an ally advocating for the LGBTQ community. With lyrics such as 'shade never made anybody less gay' and a video featuring all of the queer icons we know and love such as Todrick Hall, Laverne Cox, Ru Paul, the Queer Eye cast and more. The song also includes a shout out to the LGBTQ group GLAAD as well as ending on a call to action to sign her Equality Act petition which is nearing an incredible half a million signatures.
There will be 4 deluxe album journals
In classic Taylor style, a standard issue just won't cut it, so make sure you check out the 4 deluxe editions each with varying content available exclusively at JB-Hifi in New Zealand. Each version contains a 'Lover' CD with two bonus audio memos from Taylor's songwriting sessions, a poster, a lyric book and a journal with exclusive entries from her life's diaries including first-draft lyrics, photos and blank pages at the end. You can pre-order them here or we're hooking you up with the chance to win ALL 4 of them in our giveaway here!
She will drop a collaboration with fashion designer Stella McCartney
Although the duo have been fairly tight-lipped on this, we know that Stella has heard 'Lover' in its entirety and that their collaboration is inspired by the music. Taylor said, "she's been a friend for a long time and also just a woman that I respect so much. There's so much whimsical imagination and romance to the clothing that she designs." Taylor has been wearing some of her recent designs, including her gorgeous BAFTAs cinderella-style ball gown and Wango Tango rainbow sneakers.
There are still many clues which are yet to be solved 👀
Taylor's gone all out this era laying Easter eggs not just in her music videos but also in the clothing and jewelry she wears, her social media posts, merch designs, lyrics and more. She's said multiple times that the 'Me!' music video is so full of them that some eggs won't be hatched until months after she's gone on tour. And let's not forget that denim jacket she wore on the cover of EW covered in pins that could mean who knows what?!?!?! Some of them feature the likes of artists BFF Selena Gomez, Aussie legend Troye Sivan and even chart-topper Drake… potential collabs or just a cute shoutout? 🤔
There were five holes in the fence…
And no one can ever take that away from us!