The boys are back home! It's been a whirlwind few years for Drax Project, who have gone from busking on the streets of Wellington, to opening for Ed Sheeran in Auckland for three huge shows, and recently opening for Christina Aguilera and Camila Cabello in Europe. They're finally back in New Zealand for two epic shows, one in Auckland and another in Christchurch. We went along to their sold-out show at Auckland Town Hall on Saturday night and we walked out even more in love with this Kiwi band than we were before.
The show opened with two Kiwi support acts. Paige, a young NZ-born singer-songwriter who has received a special shout out from Billie Eilish and, earlier this year, opened for George Ezra and Nina Nesbitt. And Fortunes, an R&B electro duo who recently completed a tour of NZ and Australia.
9:30pm came around and the lights went down. The crowd roared as the boys walked on stage and kicked off the show with a pumped-up performance of 'Sidebit', accompanied by floods of bright pink and purple lights. Everyone's hands were in the air for the next song as everyone sung along with lead singer, Shaan Singh, "I wanna bless the rains and dance away like Toto wherever I go". It was immediately clear that this crowd was going to be loud!
After all the shows they have performed, in New Zealand and overseas, their stage presence can certainly be felt and they are completely themselves up there. Matt Beachen, on drums, hitting constant beats that would make any regular person drop to the ground in exhaustion. Ben O'Leary, shredding the guitar and often echoing smooth vocals in to our ears. Sam Thompson, bassist and back-up vocalist, strumming a combining sound of jazz and pop alongside Shaan, who also plays the saxophone.
SEE ALSO: Everyone's Catching Feelings Over Drax Project's Debut Album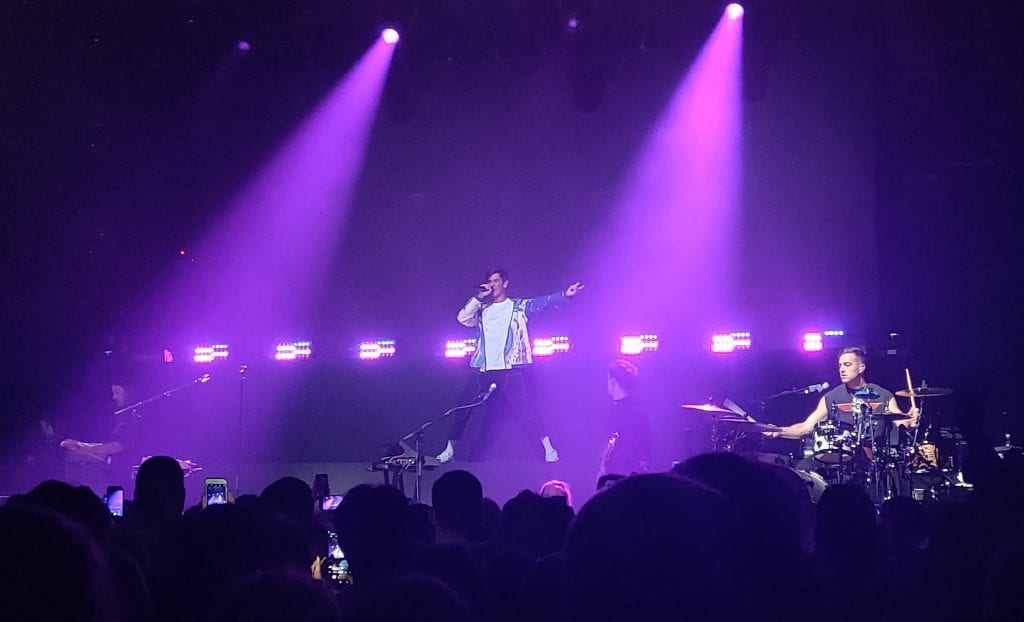 The stage was three-tiered with stunning visuals and colourful flashing lights, making the show not only magic for our ears, but also for our eyes. Shaan would frequently run across and jump on to different levels, giving this sold-out crowd full sight of his performance.
While the boys treated us with all our fave tracks from their most recent EP 'NOON', like 'Toto', 'Prefer' and 'Woke Up Late', and older tracks like 'City Limits' and 'Cold', they made sure these homecoming shows would be special.  Numerous brand new, unreleased tracks were sprinkled throughout the setlist, such as 'Holiday', 'Brain' and 'Relax', likely from their yet-to-be-released album which fans are patiently waiting for! While it can be risky playing new songs that fans don't know, this was not the case for this crowd. Every time a new track was introduced the crowd would respond with cheers and were ready to dance along (or get on each other's shoulders). Talking about their new track 'Holiday', Shaan told the crowd how the song is about missing someone, but to be able to live your dreams you have to be away from them. We are so happy that these hometown shows could bring them closer to their family and friends they would be missing.
Drax Project also played their regular covers of 'Pony', 'Latch' and 'Cry Me A River/Higher Ground', which went off perfectly with the fans. Closing the show with a cover is not something you usually see, but their performance of 'Cry Me A River/Higher Ground' is classic Drax Project style. With Shaan starting on the keys, hitting insane Justin Timberlake-level vocals, dropping in with the iconic sax, and the rest of the band accompanying him with a perfected and extremely hyped jam on their instruments.
Not only did the boys keep telling us how happy they were to be home, you could see and feel it through their entire 1 hour and 15 minute set. Shaan mentioned during the show that "it's been a long time since we've been back home" and that they have missed fish and chips, something that every Kiwi has experienced while travelling. Even though they're garnering worldwide success, they are still Kiwi boys at heart. The floor was shaking at Auckland Town Hall and we can't wait for the boys to shake up the world with whatever music they drop next.
Tickets are still available for their show in Christchurch on Friday 2nd August, get your tickets here so you don't miss out on the party!
Setlist:
Sidebit
Toto
Only Us
Pony (Cover)
Natural Selection
Cold
Holiday
Prefer
Brain
City Limits
Latch (Cover)
Hollywood
Relax
Pieces
Savage
Woke Up Late
Catching Feelings
Smart Love
All This Time
Cry Me A River/Higher Ground (Cover)