Over the past year, Taylor has finished up her record-breaking reputation Stadium Tour, made an appearance at a couple of award shows, and begun filming the blockbuster movie CATS – but has she had time to fit in creating a brand new album? Her highly devoted legion of fans think so. Taylor Swift fans have put the FBI out of a job overnight since her recent splurge of daily Instagram posts. With theories so wild some have even made attempts at analysing the coding on her website for clues.
Now to the regular person, Taylor posting on Instagram would merely signal normal millennial activity, but with the end of her "reputation" era, it's been a very rare occurrence for her to post anything via social media – apart from a New Year's Eve party pic and selfies on the set of CATS. So when she started changing up her aesthetic and posting dreamy technicolour photos of palm trees, stairs and fences, her fans insisted she was hiding cryptic clues to TS7. Don't forget during the last album cycle when her devoted fans thought her sixth album would be themed around either the solar eclipse, skylines or roses. The evidence almost stacked up but in the end they were completely wrong – unphased however, they're back for round two. And Taylor herself along with her cat Olivia Benson have been keeping up with these insanely elaborate theories…
View this post on Instagram
Swifties… who can really blame them? Taylor's been in on this game too, teasing that she's "even more excited about the next chapter" during her acceptance speech at the 2018 AMAs when taking home Favorite Pop/Rock Album for reputation.
Perez Hilton has claimed that Taylor told him in-person that she plans to release new music before her thirtieth birthday (13th December 2019). She's also been spotted leaving a recording studio more than once in the past couple of months…
July 2018 + January 2019
Taylor seen at Electric Lady studio in NYC 👀 pic.twitter.com/dB2pXDJMR0

— Taylor Swift News (@TSwiftNZMedia) January 19, 2019
Here's the first post that started the frenzy, with eager fans awaiting the release of Taylor's seventh studio album, captioning the photo with 7 palm trees is just plain torture. 🌴
View this post on Instagram
So fans did some digging…
The hidden palm tree references EVERYWHERE. My brain is exploding pic.twitter.com/NZUYc98HKD

— Rep Tour Dublin 𝔯𝔢𝔭𝔲𝔱𝔞𝔱𝔦𝔬𝔫 Fan account since 2010 (@Swiftness13) February 24, 2019
Taylor has also been known to sneakily wear clues from her next album on clothing during current eras – "Shake It Off" lyrics during the "Red" era, a snake necklace worn during the "1989" era and now palm tree patches on her jacket from the "reputation" photo-shoot. If this wasn't intentional then it's just straight creepy.
OH NO SHE DIDNT pic.twitter.com/broSS2ZjU8

— shan🇬🇧 (@ShanSwift22) February 24, 2019
It doesn't help when Taylor's BFF Martha Hunt gets in on the palm tree action. Coincidence or just plain trolling? No need to guess how lit their group chat is right now.
View this post on Instagram
One clever fan also discovered that the filter Taylor used on her photo of Olivia was called 'palm springs.' This is just getting too complex… Side note: Coachella?!
she used a filter called PALM SPRINGS…. i'm losing my mind pic.twitter.com/CU8Wv3YI31

— megan | "actual sunshine!" (@yeehawtaylor13) February 27, 2019
At least Swifties have a sense of humour 😂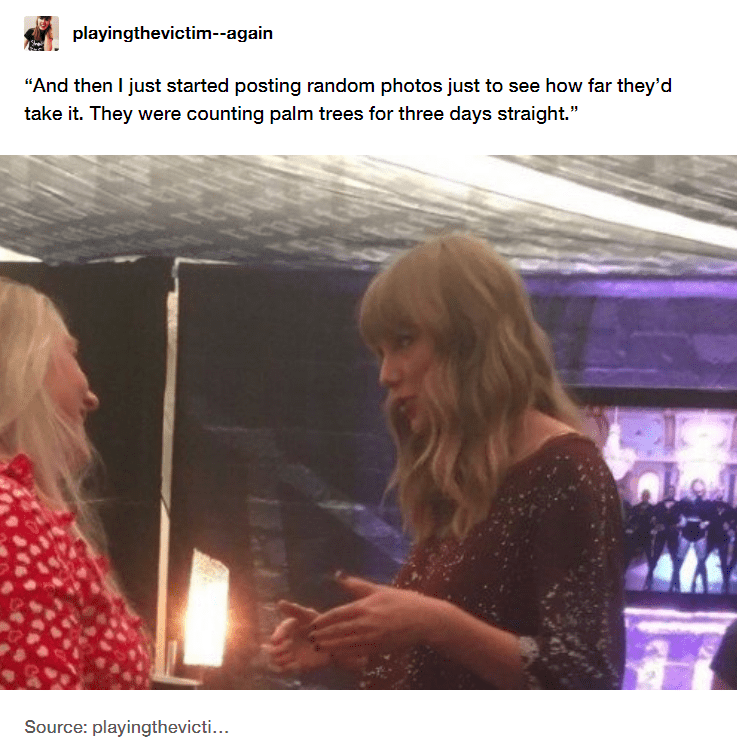 Since then, she has posted almost daily with captions as simple as one emoji – very unlike Taylor who always seems to take pride in her witty descriptions. She even liked this post on Tumblr complementing her new "feed coming together."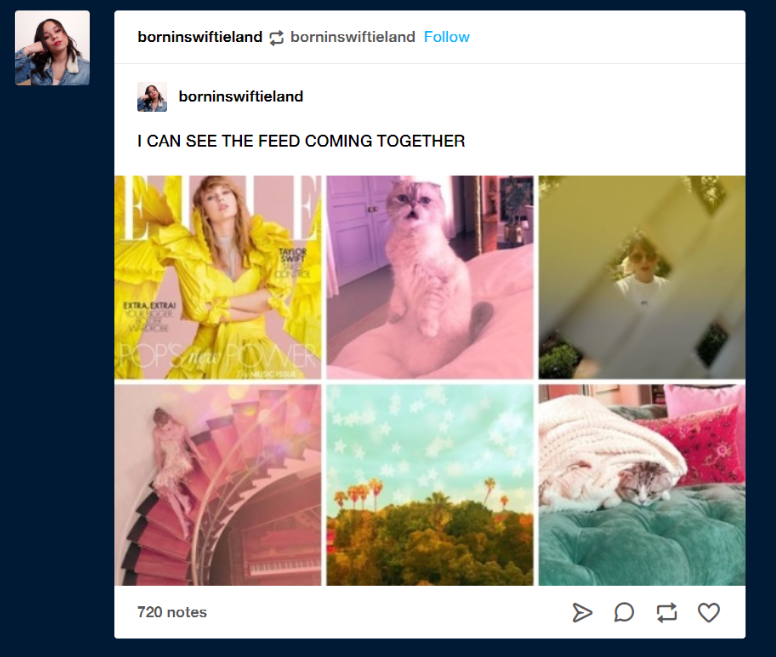 Taylor's uncharacteristic nature to post on Instagram more than once a week has lead fans to believe that she is secretly posting a countdown to a major announcement. In the past, Taylor has often used Instagram to subtly tease new projects, starting with her "Red" era. Her fans were not as vigilant back then, so you can understand that they now over-analyse every crumb that they are fed. This theory, however, may have been recently debunked – due to the fact that Taylor went an entire day without posting what fans would have thought to have been the photo symbolising "4 days to go".
Is @taylorswift13 counting down to new music? 🤔 #TS7

▪️ 8 holes in the couch
▪️ 7 palm trees
▪️ 6 steps up
▪️ 5 fence holes pic.twitter.com/Zy1VnlG32O

— Taylor Swift News (@TSwiftNZ) February 26, 2019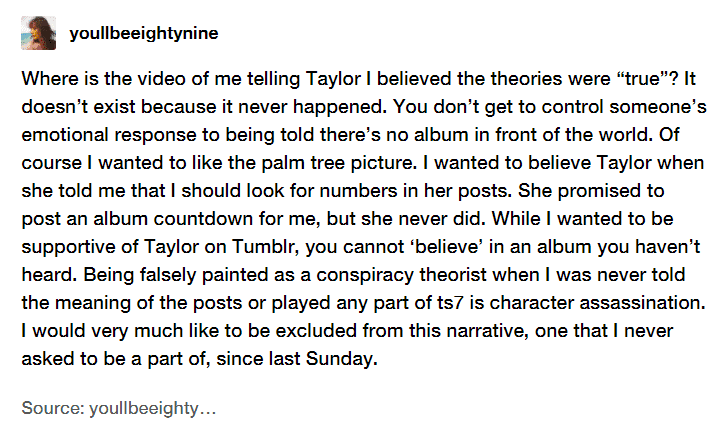 But some fans are not giving up…
TAYLOR SWIFT REALLY THOUGHT SHE DID SOMETHING pic.twitter.com/jRuHSbxHCx

— 𝐯𝐞𝐫𝐨𝐧𝐢𝐜𝐚 (@soitfuckingoes) February 27, 2019
ELLE HAS FOUR LETTERS THE COUNTDOWN IS BACK ON

— Jemima Skelley (@jemimaskelley) February 28, 2019
Theories have also surfaced surrounding some dates stamped on Taylor's official 2019 calendar. Those dates are: April 13th, May 13th, July 13th, August 13th and October 3rd. However, we know that Taylor's been inseparable with the number 13 since she came out of the womb, so this one could just be an innocent decorative element.
#TS7 So Taylor Swift's 2019 calendar has specific dates stamped off.

Is she really telling us the next lead single release dates is in May? Her next album is coming October 3rd.

What's happening @taylornation13 pic.twitter.com/vVHhMD2MvQ

— Ᏸen (@TS7Track3) November 18, 2018
There's also a mysterious flower over the date of March 2nd. Holy s**t – that's this weekend!
GUESS WHAT? MARCH 2ND IS MARKED IN THE CALENDAR

TS7 IS COMING ADJUST YOUR WIGS pic.twitter.com/HqBHoA5EhW

— Josefina. (@BeFearlessBeYou) February 25, 2019
Speaking of flowers, in her recent photo peeking through the fence she is wearing a shirt with illustrations of forget-me-not flowers on it. Forget-me-nots are known to bloom in April. This would tie in with the first stamp on the calendar on April 13th.
The shirt shes wearing says "Myosotis Sylvatica" and its a flower plant that blooms in April pic.twitter.com/tve8MMe7HB

— 🌴🌴🌴🌴🌴🌴🌴 (@catastrophe_zz) February 27, 2019
It's just been announced that Taylor will be receiving the "Tour of the Year" award for her reputation Stadium Tour at this years iHeartRadio Awards on March 14th. Now we all know that Taylor loves to use awards shows as a platform to make a statement – whether that be a surprise announcement, premiering a music video or throwing down a killer live performance. So who knows what she has in store for when she makes a "special guest appearance" to collect her award.
She's also just graced the cover of the April issue of ELLE UK looking stunning in a bright yellow Gucci dress. In the mag, she discusses the "Power Of Music and Writing The Ultimate Pop Song." Although there is no talk of TS7, you can feel her gearing up for new music with this transitional between-eras dialogue which she has often done in the past. With the release of the mag out on stands on March 7th and the iHeartRadio Awards a week later one thing is for certain, she's definitely re-emerging herself back into the spotlight. But why…
a magazine cover on stands a week before she's due to make some kind of appearance at an award show. a complete overhaul of her instagram page and daily posts. actual published words out of her beautiful brain and mouth. pic.twitter.com/fWNv6a90dE

— 🌼 danielle 🌼 (@sevenpalmtrees) February 28, 2019
— Taylor Swift News (@TSwiftNZ) February 27, 2019
The fans are ready for new music, but also equally realistic if their theories don't come true.
omg guys i cant believe we won????? 😩😩😩 pic.twitter.com/bzzYXB93fw

— liz khalifa (@AstoundingSwift) February 27, 2019
we are:

⚪️ straight

⚪️ bi

⚪️ gay

🔘 boo boo the fools

because:

⚪️ we watched gay movies

⚪️ our parents raised us like this

⚪️ we're catholic

🔘 we came up with a bunch of theories and all internet tabloids made articles about it and we were wrong

— mercy the fool (@alittleofswift) February 27, 2019
But the other half of my brain is like are we gonna look back at this in five years and be like "remember when we thought Taylor was gonna drop new music when she was just trying to step up her Instagram game?" 😣

— SmilesForTaylor (@SmilesForTaylor) February 26, 2019
And others are just fed up with Taylor's playful mind games.
hello 911? i'm being cyber bullied by a pop star pic.twitter.com/wEnVTCK4uB

— don't jaim me (@tay13bae) February 27, 2019
Nobody:
My bank account when Taylor announces a new era and tour: pic.twitter.com/TrIyClpM7k

— Abbs (@swiftlycleann) February 28, 2019
Even if all of the fans theories prove to be wrong once again and Taylor is just enjoying experimenting with her Instagram theme, they can take comfort in the fact that at the very least, she knows they are waiting.