Girl power, in all it's fantastic glory, has been rumbling under the foundations of the pop world for decades. As more and more female artists rewrite the very narrative that's been set to destroy them, the archaic and misogynistic tropes we constantly see in the music world slowly begin to fade as they make room for an equal and inclusive aerosphere. From breaking moulds to speaking up and fighting for change, women in pop are no longer afraid to hold anything back and they're no longer apologising for their strength, aptitude and courage, but instead commemorating it.
In celebration of International Women's Day, we take a look at some of the best feminist moments from our favourite pop queens over the years.
Trigger warning: sexual assault, violence
1. Halsey sheds light on sexual assault in her 2018 Women's March speech
The annual US Women's March began in 2017 as a way to protest the offensive remarks ex-president Donald Trump made about women, and the following year saw it celebrate its first anniversary with Halsey opting to recite a harrowingly personal poem on sexual assault. 'A Story Like Mine', written in Halsey's trademark poetic style, saw the star reflect on her own experiences with rape, abortion, toxic relationships and miscarriages and demand the need for change. The speech went viral, with many praising Halsey's continuous activism and feminism, and it also led to many other women coming forward to share their own stories.
2. Taylor Swift wears the names of her six albums for her 2019 AMAs performance
In the thick of the battle of Taylor Swift trying to claim the rights to her music back, the star made a statement during her medley performance at the 2019 American Music Awards. Receiving the Artist of the Decade award, Swift starts her show by wearing a simple white men's shirt with the name of her six albums (under Braun's hold) written on them in a prison-esque font; with Speak Now and Fearless strategically placed across her chest and back. She then jumps into a snippet of her hit from Lover 'The Man' before delivering possibly one of the best shows of her career.
3. Rihanna takes charge with her explicit video for 'B**tch Better Have My Money'
When the music video for 'BBHMM' dropped in mid-2015, a lot of people were visibly outraged due to the graphic content and lengths Rihanna went to, but they seemed to all kind of miss the point. In the essentially seven-minute-long short film, the star is seen kidnapping a rich white woman and holding her hostage as she waits for the woman's husband to pay her the money he owes. Based on her own personal experience where her accountant cheated her out of her own money, Rihanna takes a page from the male-dominated crime films we constantly see and flips the script to put herself, as a Black woman in America, in charge. While gruesome, the video is empowering and only solidified the star as a feminist icon.
4. Lorde refuses to perform at the 2018 Grammys
The only woman up for the Album of the Year award at the 2018 Grammys, Lorde reportedly refused to give a performance due to the Academy only offering her a joint show with others despite offering the male nominations each a solo spot. Instead, the star took a stand and declined and turned up with a poem from American artist Jenny Holzer stitched to the back of her dress that takes a stab at the world's political and social climate.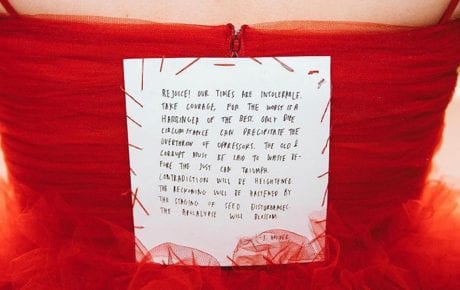 5. Billie Eilish shuts down body shamers with her short film 'NOT MY RESPONSIBILITY'
A young female artist who has existed in the zeitgeist for only a few years – and been body shamed for the entirety – Eilish finally made a statement by producing a short film that takes a look at the art of not only a woman's body, but her one she struggles to love. As she slowly sheds layers of her iconic baggy clothing, Eilish's voiceover gives a speech about the double standards that women constantly have to live with in society and calls out anyone who ever makes judgements about how a woman chooses to dress and present themselves. The video originally was shown at her live gigs on tour but has since been released to the public and gone viral.
6. Lady Gaga takes the stage with group of survivors for 'Til It Happens to You' Oscars 2016 performance
Earning a nomination for her co-written track 'Til it Happens to You', an emotional song created for the documentary 'The Hunting Ground' which shines a light on sexual abuse on college campuses in America, Gaga delivered an incredibly moving performance at the 2016 Oscars. Sat behind a piano, the star puts her all into the performance and is joined by the aforementioned survivors from the documentary as they all stand together in solitude. Gaga, who has been vocal about her experiences with sexual assault in the past, sends a huge message and receives a standing ovation and a lot of teary eyes from women in the audience.
7. Nicki Minaj defies the male gaze with the music video for 'Anaconda'
Throughout her lengthy career, Minaj has made monumental strides for women in hip hop but perhaps one of her best moves was with 2014's hit 'Anaconda.' Sampling Sir Mix-A-Lot's infamous 'Baby Got Back', the rapper puts herself and her sexuality in control by celebrating body positivity and fighting back at male objectification. In the music video, Minaj is seen controlling male gaze tropes by surrounding herself with curvy women, playing into male fantasies before destroying them, and giving Drake a lap dance on her own terms. A massive stride for female sexuality that has flowed into not only hip hop but pop music today.
8. Selena Gomez celebrates female strength with Puma collection 'Strong Girl'
Perhaps no one is better suited to be the PSA for strength than Gomez, which is why it makes sense she would create a collection aimed at supporting the power of young girls and women. Teaming up with Puma in 2018, the star created an athleisure line that aimed to help women live their truth comfortably, boldly and passionately, all while feeling as though their body shape has been supported and celebrated. Quoted as being a "balance of femininity and modern edge, sport and fashion", the line aims to appeal to every woman's taste and remind them how incredibly resilient they are.
9. Katy Perry delivers an ode to womanhood on 'What Makes a Woman'
Off her sixth and latest studio album Smile (an album that details the triumphs and hardships of the star's life as of late), final track 'What Makes a Woman' is a beautiful celebration of women everywhere. Written for her newborn daughter, the track amplifies the idea that a woman isn't a stereotype, an idea or the object of a man's desire, she is simply whoever she defines herself as. Perry has a handful of female empowerment tracks on her belt, but this one, paired alongside a humble acoustic performance that features a heavily pregnant Perry, just might be the most special.
10. Ariana Grande celebrates female sexuality with her alter-ego 'Super Bunny'
While sex positivity is a staple for Grande's tracks now, back in 2016 the world was visibly shook when the star donned a latex bunny suit in promotion for her album Dangerous Woman. The first of her albums to properly celebrate female sexuality and own her own power, Grande created 'Super Bunny'; an alter-ego that allowed her to not question or doubt her choices and quote "be one bad b**tch." The first of many feminist moves, 'Super Bunny' helped not only Grande but her fans feel empowered and build a generation of fearless women.
SEE ALSO: The Deconstruction of the Female Pop Star