The Super Bowl Halftime show is one of the most iconic stages in the world. Past years have seen not only legendary performers take the stage (Prince, Beyonce, Lady Gaga), but legendary pop culture history unfold live (Janet Jackson's unfortunate wardrobe malfunction and Katy Perry's Left Shark). Considering this is the first year since the pandemic that the Super Bowl's live audience is expected to be back in full swing, there's no doubt this year will be huge. 
Pair this with the fact that once-in-a-lifetime talent Rihanna is headlining – there is a lot to unpack ahead of the Feb 12th performance (Feb 13 for us!), and we are here to tell you all you need to know!! 
WHAT WE KNOW
It's Her First Live Performance in 5 Years
The last time Queen RiRi took the stage was to perform the hit collaboration, 'Wild Thoughts' at the 2018 Grammy Awards. Shining alongside fellow performers Bryson Tiller and DJ Khaled, Rihanna brought the energy, performing in a perfect, sultry synchronicity with her talented dance troupe. Though this number holds a special place in our heart, we cannot wait to see her take the stage once more to honour her own incredible musical catalogue.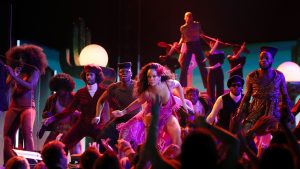 The Documentary
It's no secret Rihanna has had a documentary in the works for a while now. Director Peter Berg has been working with the star for six and a half years – covering her rise to fame, entrepreneurial success, and now family life. It's still unclear when this project will be confirmed for release, but we are SO ready.  
Luckily for us, there's reports that the 'Umbrella' singer has signed a multi-million dollar contract to produce an Apple TV+ documentary around her Super Bowl performance, revealing the journey behind her long-awaited comeback to the stage. All of this behind-the-scenes content is guaranteed to have us shook, considering fans have been waiting patiently for over half a decade to indulge in new Rihanna content! 
She's Celebrating Culture
Rihanna has a turbulent history with the Super Bowl, drawing global attention when boycotting the 2019 event after NFL player Colin Kaepernick was fired for kneeling in protest during the national anthem. In the past, RiRi has publicly said she would decline any opportunity to perform at the world-class event, posing the question: "Who gains from that? Not my people".  
It appears in 2023 the star has changed tact, and is planning to catalyse positive change from the inside. In an interview with Entertainment Tonight, she's made clear her plans are to "incorporate a lot of culture" into the show. We are all for Rihanna using the Halftime stage to make a statement calling for more celebrations of diversity.  
View this post on Instagram
She's Excited for the Challenge
Rihanna has been vocal about enjoying the privacy and peace of family life, since having her first child with fellow musician A$AP Rocky in May 2023. However, powerhouses like Rihanna are destined for opportunities like this. This is "bigger than anything I've ever done," the singer said in a recent interview. "If I'm gonna leave my baby, I'm gonna leave my baby for something special."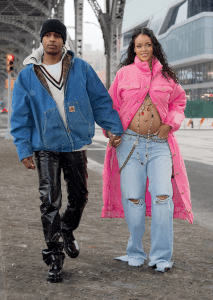 WHAT WE'RE EXCITED TO SEE
The Outfit
Rihanna is the biggest style icon to many – which comes as no surprise when you look at the success of Savage x Fenty (now worth one billion dollars valuation) and how dramatically she transformed the landscape of maternity fashion in 2022.  
In the Halftime performance trailer, Rihanna is spotted in a Saint Laurent black halter jumpsuit with a silk-lined neon green furry coat layered overtop, styled with hypnotic, gravity-defying braids, bright glam and a neck full of diamonds. Fans have been left wondering whether they'll see this revisited on the stage, or perhaps in tandem with other looks – as it's common for performers to use layering to quickchange outfits for the Halftime performance. Knowing RiRi is sought-after by luxury brands like Dior, Gucci and Off-White, the world is waiting to see what her and long-term stylist Jahleel Weaver will select for the big day.  
In celebration of the Super Bowl, Savage x Fenty have also released a limited edition collection titled 'Game Day', featuring loungewear, bandanas and varsity style apparel. Our personal fave is the t-shirt saying: 'Rihanna concert interrupted by a football game, weird but whatever'.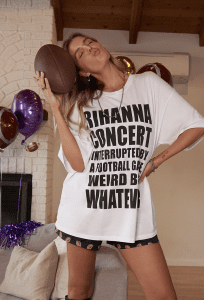 The Setlist 
This is a tough call, considering the Halftime show is infamously on a time crunch of 12-14 minutes. As we know, Rihanna has too many iconic hits to name…'Where Have You Been?' (appropriate), 'Don't Stop The Music' (please), 'Desperado' (yes, we are). With eight studio albums and over a dozen number one hit singles, Rihanna is the 10th most successful artist in Billboard Hot 100 history. What we can say is – Rihanna will be spoilt for choice, and us fans will be spoiled either way.  
New Music
2022's 'Black Panther: Wakanda Forever' heralded the return of Rihanna to the music scene, bookending the soundtrack with the powerful ballad 'Lift Me Up' and the emotional closing track 'Born Again'. Despite insisting a return to the stage doesn't automatically mean new music, Rihanna has hinted that a special project is in the works. She's also been spotted leaving the studio in late 2022. Even if we aren't graced with more new tracks on February 12th, there is the potential that RiRi uses the stage for an exciting announcement. We can only live in hope! 
Special Guests
Partner A$AP Rocky is the number one pick when speculating who RiRi might bring on-stage. The pair worked on her remix of 'Cockiness (Love It)' together in 2012, and A$AP also opened for her 2013 Diamonds World Tour. Frequent collaborators Eminem and Drake are also fan-favourite guesses re: special guest appearances, with both boasting incredibly successful collaborative anthems with the queen herself (see 'Love The Way You Lie', 'What's My Name?' and 'Work'). Regardless of whether she takes the stage solo or shares the spotlight: this performance is going to be iconic.  
WHERE TO WATCH
While you will need access to ESPN to watch the full extravaganza live (or access to a local sports bar), Super Bowl performances are known to make it to YouTube in full pretty quickly so keep your eyes peeled. Likewise, apps like Twitter, TikTok and Instagram will have your second-by-second updates. For us, the action kicks off Monday 13 Feb at 12:30 PM.
In the meantime, stream Rihanna's top tracks below, and tweet us your predictions for RiRi's big comeback! (@umusicNZ)