It's officially SIX60 season!
Returning with their first music of 2022, SIX60 have finally dropped their new single 'Before You Leave.' With a back-to-basics sound and approach, the new single sees the 5-piece in a renewed and refreshed place, with Matiu's vocals addressing the new state the world finds itself in, as well as his fresh perspective as a new father.
"A lot has changed since our last album," Matiu says. "There have been highs and lows. My biggest change though was becoming a father. You always hear when you have kids that your life will change forever and you really can't understand it until it happens. One day you think you have the world figured out and then the next you realise how little you actually know. I felt the overwhelming urge to pass wisdom on and what knowledge and experience I have acquired onto my newborn daughter. She's still a bit young to have a conversation, so with the help of the boys we tried to put it all into this new single."
Castle St, the new album from SIX60, is out October 7
The band's fourth album Castle St is due to arrive October 7th and will feature 10 brand-new tracks. Written and recorded in their studio in Dunedin, the band were finally able to spend time in the same room together after a long lockdown and opted to make their new album live, in-person, in the studio together, performing all instruments and vocals themselves and hailing back to their formative years as a college house party band.
"We are very excited to share the new music, give over the single and get everyone ready for a new album. Our music never really feels finished until it's been experienced by our fans. Some of the early feedback we have gotten is about how live the new music sounds. That's really a product of how we made it. The lockdown that cancelled the last tour really forced us to spend significant time away from each other for the first time in a long time, so when we finally got back together it almost felt like being a new band again. . It really lets you feel the breadth and spirit of SIX60. An album that is real takes a lot of love and trust by the people involved and adding our fans into that circle is a really exciting next chapter." 
Castle St is available to pre-order now here.
SIX60 Saturdays

Announces Supporting Line Up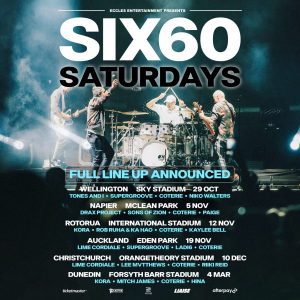 The supporting acts for SIX60 Saturdays have been announced, featuring local favourites such as Drax Project, Kora, Niko Walters and Rob Ruha. Iconic 90s NZ crew Supergroove with Che Fu are also set to make a special comeback and International acts Tones and I and Lime Cordiale will be popping over to our shores for the summer.
If you haven't scored tickets yet, find them here.