England saw one of the worlds most remarkable stars born, 25 March 1947.
Here's 10 things you may not have known about the dynamic artist that has a truly phenomenal talent for bringing everyone, from every path, together with his sound.
1. His real name is Reginald Dwight
Yep, believe it or not! He changed his name to Elton Hercules John in 1972. Apparently this was because of his love for Blues legends, Elton Dean and Long John Baldry. (It's unconfirmed if the Hercules middle name was inspired by the Roman God of hitting things…)
2. You'll forever find him in shades
Not because he's hiding the traces of a big night the evening before – he does genuinely needs glasses for vision purposes, and expensive ones too might we add. In 2010 Elton John reportedly told the BBC that he didn't enjoy spending money on high-tech gadgets, preferring to invest in his wardrobe. He said he owns "a quarter million pairs of glasses." Sound investment?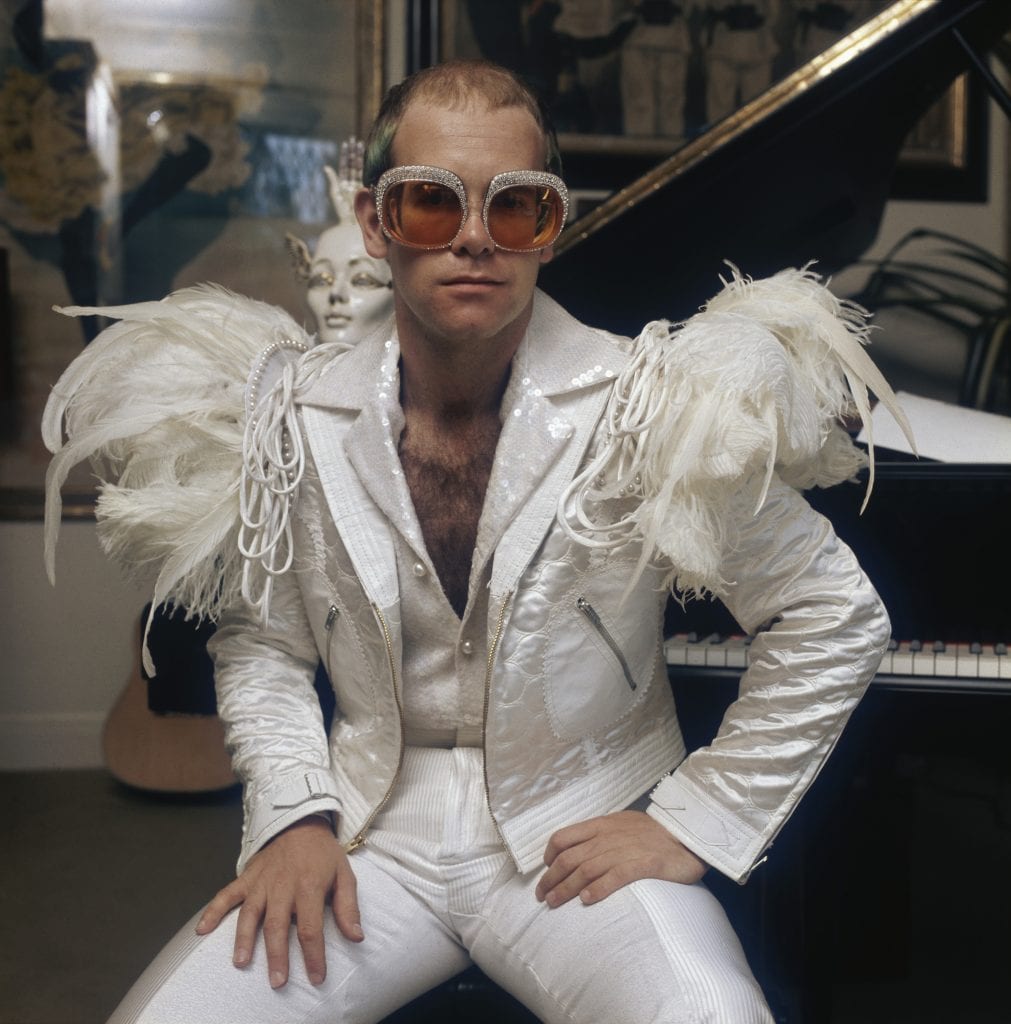 3. He believed music to have a healing power
A famous circulating quote by Elton: "Music has healing power. It has the ability to take people out of themselves for a few hours."
4. He openly loved whoever he wanted to love at a time that would have been very hard to do so
Announcing he was bisexual in 1976, and openly gay since 1988, he was a part of one of the first UK couples in his generation to get a civil partnership in 2005, marrying partner David Furnish in 2014.
5. He'd never thought he'd have children
And now he has two sons, Zachary and Elijah.
"If you'd had said to me 10 years ago I'd be sitting on your show married to the man I love and have two beautiful children I would have said, 'You put acid in my drink," Elton told Ellen DeGeneres. "But life throws you challenges and life throws you curveballs — and great curveballs. These two children have come along at a time I never thought I'd have children. They are the greatest thing in our lives."
6. He's coming back to us!
Sir Elton John will return to New Zealand for one final time in February 2020 on his recently announced Farewell Tour! His first ever show on our shores took place at Western Springs Stadium, Auckland on October 29, 1971.
Elton said: "New Zealand, I can't wait to be with you again. It's now 48 years since my first ever New Zealand concert."
SEE ALSO: Elton John's Extravagant Style Choices Throughout The Years
7 . He doesn't own a mobile phone, and he hates them.
He doesn't like people 'ringing him two times a minute' he proclaimed on the Jimmy Kimmel's show.
8. He holds the record for selling the biggest record of all time
His tribute single 'Candle in the Wind' rewritten in dedication to Princess Diana, sold over 33 million copies worldwide and is the best-selling single in the history of the UK and US singles charts.
9. He started the Elton John AIDS Foundation
John lost his friends Ryan White and Freddie Mercury (the lead singer of Queen) to AIDS in the same year. He began EJAF in 1992 to support innovative HIV prevention, education programs, direct care and support services to people living with HIV.
10. He literally does it all and wears it all.
A world known singer, pianist, songwriter and composer, also occasionally acting in films. We get it John, you have total right to look outrageously cool when you wear regency wigs and Donald Duck costumes, tiaras, corsets, boaters, braces and loafers. Of course he was wearing a brilliant hot pink sparkly blazer when he shook hands with her majesty, the Queen.
Never change, Elton!
SEE ALSO: Best Elton John Songs: 20 Essential Tracks By The Rocket Man