Whatever People Say I Am, That's What I'm Not (2006)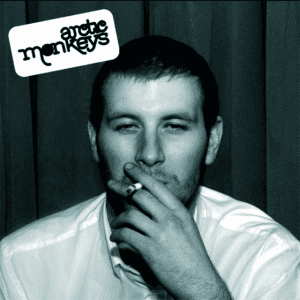 The first album from Arctic Monkeys is a powerhouse of raw energy driven tracks that make up for a fast-paced listen. With a title like Whatever People Say I Am, That's What I'm Not, you would be expecting something of a confident aesthetic, and the band delivers with an overtly unapologetic introduction to a bold and almost cocky attitude that you can't help but love. The iconic album cover embodies this theme as well, with some controversy over whether it reinforced a message that smoking was okay. The story goes that the band paid their friend Chris McClure to get drunk, go out to town for the night and then return at 2am for a little photoshoot, and the result is history.
The album was released in 2006 and has the 'to the point pep' that illustrates the sounds of indie rock in the 2000s. It was so significant in defining the era that it was the fastest-selling debut album in UK chart history and the second fastest-selling debut indie record in American history. The band was pioneering in using the internet to promote and market its music, and this led them to blasting pace success. It's all about the punch on this album, and the first two songs overdeliver as openers to introduce you to the sound of the band. 'The View From The Afternoon' kicks it off with pounding drum fills and scraping power chords on the guitars. The drum volume on this album is what really adds to the punch as they match the riffing guitars.
My favourite element about Arctic Monkeys at this point in their career is their ability to sprint with the riffs and then pull back at a second's notice for a breather, before launching back into a bit of thrash to really nail the point home. This is perhaps the most quintessential element of the garage rock sound that the band fosters here. The end of the song does this as it drops away to silence at just over a minute left in the run time, and one could be forgiven for thinking it's all over, before suddenly we are back on the rocket and heading for the stratosphere. It builds back quickly, and the accompanying line nicely reflects the sound "anticipation has a habit to set you up," which the song ironically just did.
A short breath between songs and then it's a ripping clash of guitar and drums which introduces the banger single, 'I Bet You Look Good On The Dance Floor', which rose immediately to the top of the UK Singles Chart when it was released in 2005. This is the ultimate rock-pop hype song. With tones that scrape and thrashing drums, it's really all about the cool cat lines from Alex Turner that get the crowd going. The themes portrayed in this song paint an image of a night out, getting up to some antics, and of course we can all relate. Many of the tracks paint images of the night life of adolescence, as if the guys have just discovered the next best thing to grace human experience after the humble sleepover. The simplicity of the record really speaks to the whole vibe, fresh, easy going, and most importantly fun. All the neat shorter cuts feature power chords and simple riffs, which make for a stylistically fun and easy listen. Production is a little rough round the edges, to give it that edge which further appeals to the aesthetic of bending the rules and being free.
Other highlights include 'Red Light Indicates Doors Are Secured', which is a song that features a little lick that sounds like the theme for a mischievous vigilante in a western film … it builds this feeling of pushing the boundaries. Then 'Mardy Bum' rings of summer, with the major notes awash and the rocky beat creating that softer rock appeal. This one really sounds like its paving the way for the likes of Sticky Fingers and other surf rock staples. My personal favourite is actually 'Perhaps Vampires Is A Bit Strong But…'. It's the grating guitar effects paired with the high-hat-quick-step that amps up the attitude, before dropping intermittently to release the isolated vocal of Alex Turner again. It highlights the confidence of his demeanour, the character aggressively expressing his dislike to the people around him, stating "'Cause all you people are vampires, and all your stories are stale." Solid and punchy once again.
Overall, it's an album that invites a dance, bit of energy and leaves you wanting more tunes to build that healthy confidence to approach any social situation. The band was quickly compared to the likes of the Strokes and Oasis – which is of course, much kudos to them.
Favourite Worst Nightmare (2007)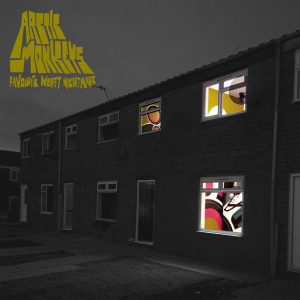 Brian! See ya later innovator! How can I not start the revision of this album without beginning with the jet-fuel powered 'Brianstorm', which should be well placed in any Arctic Monkeys starter pack. This thing is just so good; it's so commanding of attention with its intense drumming from Matt Helders, who opens the track, followed swiftly by a grating guitar that pulls you in. Very quickly into a listen of this album, you can hear that the band has tightened their sound. Their second album was released in 2007, and it sounds favourably familiar. However, it steps it up in production value, and tempo was somehow taken up a notch again. This was the first album where new bassist Nick O'Malley featured, following the departure of founding member Andy Nicholson. Nicholson was quoted to be leaving to pursue a solo project; additionally, he was not enjoying the sudden rise to fame. The way this album was recorded was clearly tighter, everything feels a little cleaner, which is nice to the ears. Perhaps this played into their 2008 accolade at the BRIT awards, taking out Best British Album.
The mood remains confident, but still the tasteful kind. More hype and rocky vibes all around. The second single from the LP, 'Fluorescent Adolescent' was debuted at the Johnathan Ross Show, where the band famously dressed as clowns. The song features a more upbeat, playful rhythm and it's often a fan favourite for this reason. 'D is for Dangerous', and 'Balaclava' are great examples of this too. In 'D is for Dangerous' we get treated to a great little breakdown with high-hat ripples and a bassline that washes gently, easing you into the building guitar lead, with some feedback creeping in as well. All leading to the iconic line "You should know you're his favourite worst nightmare." The album title appears in full, and those moments are always so rewarding as a listener.
Overall, beat is one of Arctic Monkeys' strongest muscles in their early career. Their beat was so solid that they managed to secure a place headlining the Glastonbury Festival in June 2007 – which of course aired on television, giving them even more exposure. 'Balaclava' features a great isolated bass and drum finish, which really pulls the track together for its cheek. The album also features keys for the first time. The keyboard appearances throughout the album embellish some of the melodies. It adds to that contrasting effect that Arctic Monkeys always go for. The album also features some more dramatic cuts, which in hindsight may lend itself to what was to come. 'Do Me A Favour' is an absolute standout in this style, leaning into a full progression, including a stepped up vocal from Alex. He really takes the emotion to the next level, in an almost plea, which is nice for a change.
This second album really solidified Arctic Monkeys among the mainstream as potential legends as they held their largest shows to date at Old Trafford Cricket Grounds. With 55,000 people each night, the band could boast support acts including the legendary Amy Winehouse. Critics compared it to Oasis' legendary record-breaking shows at Knebworth House in 1996.
Humbug (2009)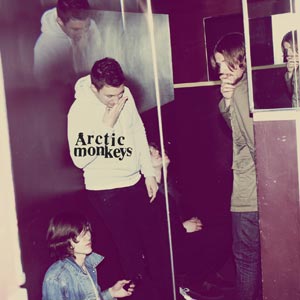 On the band's third album, we get a clear evolution in their sonic landscape. Things slow down (but as fans know, Arctic Monkeys always like to include at least one stand-out slower song on each album), and the mood switches from boisterous bashing and dealings to restrained mischief. Instrumentation is spiced with elements that blends genres; we get hints of synth and keyboards, which create a wavering psychedelic feel at points, and percussion features from xylophone, glockenspiels, and shakers too, allude to softer rock. By notoriety, the keys are a significant change, as Alex was initially taught to play piano by his father when he was younger and then he continued to take professional lessons, but he never believed the skills would be used in his own composition.
One of the best effects in use are the reversed guitar sounds on 'Cornerstone', which sound reminiscent of 'Tomorrow Never Knows' by The Beatles. Other classic tropes like reverb is used to lean further into this sound. The bass is consistently good on this record, slowly seeping in a sludgy fashion which adds to the ominous vibe in songs like 'My Propeller.' It's deep and adds that layer of tension that really pulls you in. With the second song 'Crying Lightning' it's even more prominent, just cementing the twisted themes that creep into this record. The song is certainly one of the highlights, illustrating this adolescent who seemingly has a vendetta against the simple pleasures of others. Nonetheless, it's unapologetically catchy. Turner really delves deep into his writing ability here, showing off with potent stories that take many unique directions, and his voice is often varied in that it shows off his hushed, more subdued approach to singing.
Other hits include 'Potion Approaching', which features a marching drum beat and lyrics evoking intimacy; "yours is the only ocean that I want to hang on to." Then of course, we get the breakdown which drops the tempo nicely, adding some twangs from the guitar and leading into the track's signature line, which clearly references a love interest that is intoxicating at the least. The pace change is a perfect heady transition that leaves you feeling a little less than sober at the conclusion of the song.
Overall, this album has retrospectively been seen as one of the more important releases as it showcases the band's stylistic explorations that would go on to characterise later releases. The band has said they listened to Cream, Jimi Hendrix and Nick Cave while writing this album, so you can see some of the inspiration seeping through in the result, leaning into the more alternative sounding stylistic choices.
Suck It And See (2011)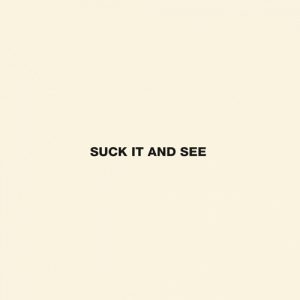 This is an interesting segue from the Humbug album, as Suck It And See moves towards a more softer rock sound that is reminiscent of their first album but tends to be lighter in touch. The guitar tones drone to give it less edge compared to the first two records. It's as if the band went back to something a little more familiar, but still wanted to explore. The album was released on the 6th June, 2011 and was available for fans to listen online before deciding whether to purchase the album or not. This is a real testament to the times and the way that music was promoted; synonymous of Radiohead's infamous release of In Rainbows online for free in 2007. Music distribution changed over the course of Arctic Monkey's career, and they really capitalised. In general, the band never fell into the stagnation trap, they have always progressed their sound and the way they handle themselves, a joy to look back on such success.
What is really noteworthy with this LP is that Turner leans into a softer vocal lead. Perhaps this best represents the more emotional and slightly candid lyrics found in this album. Themes of self-doubt like on 'Reckless Serenade,' "I've been trying to figure out what it is I need, called up to listen to the voice of reason, and found his answering machine." Its more vulnerable than the Arctic Monkeys have been before, while still retaining that broody nature to not quite bare all, and it's still fashionable to be a little vague about the real emotions being experienced by our storyteller. The tempo even slows down on most cuts to really bring an introspective kind of feeling about the tracks. All the musical elements are there, just mellowed out a bit. The album feels like a Summer Saturday or Sunday morning in Brighton, while the first two records are certainly the height of the night life in Birmingham. More notable rocky songs that OG fans will gravitate towards will be 'Brick by Brick.' This song leans into that rhythmic beat that draws your ears ever closer to those headphone drivers. What's cool about their atmosphere building in this song is the vocal backing, which adds to the coolness of the song with various vocal ranges, highlighting the "ahhhs" as a real natural riff to get washed away with.
Stepping it up again with 'Don't Sit Down, Cause I've Moved Your Chair', we get one of the most satisfying breaks of any of the songs in the band's cannon. Building with a twangy, meddling lick that sounds like a very dark western, we make our way to a clear peak before dropping into the throbbing lead beat. It's all about the thick bass guitar backing this one up. A great dedication to pace that hits the sweet spot, it doesn't muck around. The song gets to the point. Again, the Arctic Monkeys have a muscle for this, flexing the ability to keep things short but sweet. It's more about the gravitas with Arctic Monkeys, it sounds dramatic at times but it's also quirky enough to feel playful.
Take 'Library Pictures', where the count down is just Alex teasing the hell out of the listener who desperately wants to head back to the 'War Pigs' sounding drone of that lead guitar break. 'Black Treacle' is the final catch to highlight here, with its pop-rock formula all on show. It's all about the easy beat, a simple structure, and balancing the soft with the harder sounds. The resolve that signals the threshold of the chorus is simply uplifting enough that it becomes an appealing sound for any listener, whether accustomed with the traditional pillars of 'rock' or not. You see, I think Arctic Monkeys have cleverly struck a sound that is accessible enough for new comers while still having roots strong enough to keep the die-hard fans fed.
AM (2013)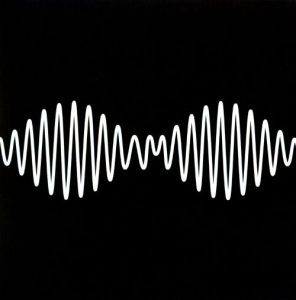 Arctic Monkeys' most commercially successful album to date, which sent them international, was AM. This piece defined the indie rock scene in the early 2010s as it topped the charts in over a dozen countries. It represents the band mastering the sludgier sound they were chasing since their evolution with Humbug and features attention stealing hooks and riffs that are difficult to forget. It opens with 'Do I Wanna Know', a chart topping single, with a boom clap beat that is simply unwavering. Not much accompanies the rhythm section during the verses, but it does a great job of building up the tension so that we get this emotive, evocative mood. "Do I wanna know, if this feeling goes both ways" sets a clear narrative of the lover's interest, still longingly pending for emotional rescue. 'R U Mine' is another absolute banger, the band has a thing for continually being able to open albums with a double-barrelled attention hook, and we always take the bait don't we! This one drags you down, with a steadfast and heavily laden guitar lead. It's slightly distorted, but full in sound, so it satisfies your senses.
This album seems to occupy a space that sees Arctic Monkeys really refining that signature sound. It took elements from all the releases they'd had to date and created this hybrid. With splashes of their driving riffs and tight beats, they compile the trademark themes of confidence and adolescence, combining it with the slightly dark and off-kilter sound from Humbug. This album tends to lean into the insecurity of a relationship with a potential love interest. Many songs teeter on the more vulnerable sides of our broadening Alex Turner, who is clearly finding the balance between overtly displaying raw feelings and subtly hinting at them through various monikers, motifs, and symbols. This album uniquely creates recognisable riffs and sounds that are founded on simplicity – which is really the masterclass in pop-rock. Chord progressions that delight, instrumentation that doesn't overbear, and a balanced production that allows each element to be heard with clarity and purpose.
AM has established itself as the quintessential watershed moment in the band's discography. We get such a strong track listing here, a classic "no skips" playback as the self-proclaimed AUX manager would say. And in classic Arctic Monkeys style, we get the slower and more ballad type songs, which stand out on their own merit. 'Number One Party Anthem' is a tender song that feels like reminiscing on a memory. We get another special cut with 'Mad Sounds', which is my personal favourite. The song really feels sentimental and appreciates the simplicity that is the smaller things in life. Lines like "Mad sounds in your ears, makes you wanna get up and dance" feel so comforting, and it creates beautiful imagery in the mind. 'I Wanna Be Yours' is the final song on the album, and sees it out with a clear message of longing. It very much feels unresolved for a closer, and perhaps that is exactly what it does so well on purpose. It asks questions and feels a little lost in our character's story.
It's quite the note to leave it all on; it's softer than the beginning of the album, almost representing surrender to all the effort portrayed throughout the album, and it's a nice tender way to conclude. The band has since won countless awards and been nominated for five Grammys on this one.
Tranquillity Base Hotel and Casino (2018)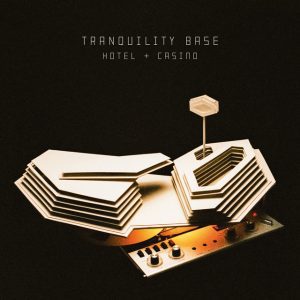 It all changes again on this record. Immediately, the band introduce us to a new Arctic Monkeys with some quirky percussion, a smooth bass line, and keys. Lots and lots of keys. The keys are the hallmark of this sixth album from the group. 'Star Treatment' sets this all up in a five-minute excursion to a jazz whiskey bar in the 1970s, it's laid back, very linear in progression, and has this air of sophistication – in fact the whole album does. This is the first album which is co-produced by Alex Turner. His investment into the production of the album pays off in the form of eccentric story telling. The band once again push the boat out on this record, looking to keep evolving, and they don't fail.
Tranquillity Base Hotel and Casino was released on 11th May, 2018, and kept to the same release success streak as their previous albums, shooting to number-one at debut in the UK. The entire piece was written on a Steinway piano in Alex Turner's home in Los Angeles in 2016. It departs from what we have heard to date, diving headfirst into jazz, lounge pop, and glam rock. Some fans will be very surprised by this sound, as it's so fundamentally different from their bashful beginnings; however, it's executed with restraint and careful consideration. Embellishments in the instrumentation are made throughout to give that Monkeys touch, and this elevates it to more of a film score sound.
Lyrically, this album gets interesting, and in fact I think it's the highlight. The wording is often cryptic and unclear and Turner has admitted to making it this way on purpose so that it's not so obvious. This has resulted in more of a poetic sound. With many of the early demo vocal recordings from Turner's TASCAM 388 eight-track recorder, his voice does sound a little cosmic and 'Ziggy-Stardust' like, which matches some of the lines about space; like on 'American Sports', "So when you gaze at planet earth from outer space, does it wipe that stupid look off of your face?" The fourth track which bears the same name as the title of the album, opens with the line "Jesus in the day spa, filling out the information form" really creates some interesting imagery in the minds of any listener.
 It's this kind of vivid lyricism that resonates with audiences. It's different and most importantly, memorable. The song paints this tale of a hotel clerk in an unlikely hotel based in space. It's an oddly idyllic scene and does make me feel like I could be listening to the soundtrack of a Wes Anderson film. The album starts to reveal itself as a concept album, having focused on a particular theme that builds out characters for each song. Each song plays a part to illustrate this hypothetical hotel on the moon.
The minimalist use of guitar is noteworthy. We get some diversity from the presence of the acoustic guitar on the song 'Four Out Of Five', where the organic strums give the chorus more body. Overall, with any inclusions of guitar, Jamie Cook does a tremendous job of playing in such a way that does not overbear, but takes opportunities to shine where appropriate. During 'She Looks Like Fun,' Cook lets his axe free, adding licks that feel Beatle-esque, and similarly on the follow-up 'Batphone,' we get this tone that is incredibly synonymous of Revolver era fab four.
Going back to the keys, 'Science Fiction' is another song that heroes the instrument, but this time in the form of vintage synthesisers. This song features perhaps the most idyllic lines that pay homage to the very thing that Alex Turner is trying to do; "I wanna make a simple point about peace and love, but in a sexy way where it's not obvious." The candid nature of these words lightly reference the premise of creating a concept album.
These words also outlined how Alex was disillusioned from exclusively writing love songs and wanted to find a new direction and angle. He was unfortunately suffering from writer's block following the release and critical acclaim of AM and it took the 1963 film 8 & ½, directed by Federico Fellini, to inspire Turner, through the relatable story of a film director struggling from a similar creative block.
The album finishes with a fan favourite, 'The Ultracheese', which is a true ballad. This one doesn't disappoint, as it leans into nostalgia and the bittersweet feelings that accompany it. It goes full circle with hopeful piano and mentions motifs like nightlife, friends, and memories. "I still have pictures of friends on the wall, I might look as if I'm deep in thought." With key notes left open to emphasise the mood, it's quite the cabaret moment. And closing out, it's just Turner's "ooo's" that leave you hanging off his last line, "but I haven't stopped loving you once."
The album leaves you to think about what you've just heard, and the most special quality about that is that it invites you to revisit the conceptual hotel and decipher the stories, perhaps to indulge in a fantasy for a little while. It's escapism at some of its best.
SEE MORE: Check in to the Arctic Monkeys' Tranquility Base Hotel & Casino
The Car (2022)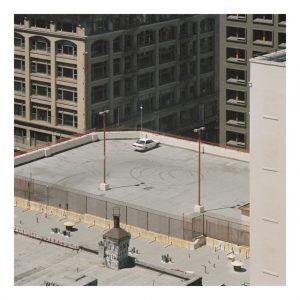 After another reasonable gap, we got the follow up to Tranquility Base Hotel & Casino four years later, on October 21, 2022, with The Car. It's got a simplistic title and album cover, which does pique your interest. What's the story about? Where do I find said vehicle? Do I need to be in a car to get the full experience? Of course, in Arctic Monkeys fashion, it's not clear on the outset what it's all about, it must be a little cryptic. After a few listens, I have certainly noticed quite a series of illustrating lines and certain passages that require more analysis – and perhaps that's what I like instantly about this record. Once again, the band has provided a piece that certainly offers more value as you listen repeatedly.   
This album leans further into the sound that debuted on their 6th studio album. The Car features more classical instrumentation, as well as some unique synths and hand drums. My favourite elements have to be the warbling bass and organ sounding keyboard that features on tracks like 'I Ain't Quite Where I think I am' and 'Jet Skis On The Moat'. This particular instrumentation adds a soulful silkiness to the album, seeing the Arctic Monkeys merging genres once again. Piano is still a hero on this LP, with a return of the ballad-esque keys from Turner, sounding like he's paying homage to greats like Elton John.
The second single 'Body Paint' features a resilient piano addition to the hook. Of course, this only marries well with the classical strings which transition us halfway through the song to the single-noted guitar breaks that characterises the bridge. This gives the song an opportunity to release the energy it has built up. The genre blend continues with the slick guitar licks found in this album, on songs like 'The Car' and 'Big Ideas'. It's got that progressive rock atmosphere, as instruments patiently wait their turn to shine. In fact, this whole album has a great balance of instrumentation. It takes the jazz route, to build a foundation for the timely rock elevations in the mood, and then ebbs to the classical when it needs to emphasise any moments in a more dramatic fashion. For this technique, the album has many grand passages. Tempo is kept on a tight rein, but it rewards the listener with some splendour moments.  
Otherwise, my favourite song still remains as the lead single, 'There'd Better Be A Mirrorball', which features a really smooth jazz introduction with well-balanced drums from Matt Helders, who approaches the kit with the most appropriate force to only complement his band mates. It's where we get our first reference to The Car with the line, "so if you want to walk me to the car, you ought to know I'll have a heavy heart." Which sets a mood of emotional turmoil already. The strings slide in at the three-minute mark, giving way for a more dramatic build reminiscent of a James Bond theme. Even the song subject about a mirrorball being present wherever our character is going sounds incredibly bittersweet. It seems sentimental, in a yearning for something joyous kind of way. From this, it sets a tone for the album that remains consistent for the duration of the piece. It's affluent, reflective, and carried out with much finesse.  
 We still haven't addressed this damn car though. When music journalist Zane Lowe asked about vivid memories in a car, Turner responded by saying it made him think of some fond memories traveling in a car with his father and listening to big band and swing music. You can therefore see the inspiration, as this album does sound like a bit of swing. At times, Turner gives us a Robbie Williams Swing When You're Winning era falsetto, which goes nicely with the sound signature. It's refreshing to hear this style, with a contemporary use of synths to give rise to a more digital refinement that appeals to a wider audience. It has inherited a more lavish tone from the previous record that is perfect for those settings that invite introspection. Therefore, it does sound like the kind of album you could chuck on while lapping up a state highway at night.
The album does invite much more inquisition and it will be something that gets unpacked over time. Overall, this is another sophisticated LP from the Arctic Monkeys, one that is clearly composed with care. It is quite the dynamic mix of styles, which makes for an engaging listen. It is paced well enough that it's an appropriate LP to spin for those more subdued moments in life. The band has clearly invited you to sit and have a listen as they use this album as their vehicle to deliver more insight into their world.   
Review: Arctic Monkeys 'The Car' – The Film Score for a Film that Doesn't Exist