Although many may define him as a rapper (including his Wikipedia page), his roots, talents, influences and consistently evolving sound firmly suggest he is more than just this cookie cutter label. Keeping company with rock legends such as Metallica, Aerosmith, Red Hot Chilli Peppers and Ozzy Osbourne – Post Malone is consistently showing that while his comfort zone may lie in hip-hop, his taste is suggesting his final destination could lie somewhere within rock royalty.
Like many before them, modern day artists are continuing to push boundaries when it comes to defying genres and 24-year-old prodigy Post Malone is one of the decades savviest adopters. Behind the face tats, grills, dreads (r.i.p.) shoeys and fast cars is Austin Post, a talented and humble guy who can shred on guitar just as well as he can spit some bars.
He taught himself how to play the guitar after clocking expert mode on Guitar Hero.
And since then he's never seen without one. The self-taught guitarist learned by watching YouTube videos of other artists and dreamed of one day becoming a musician himself, he told the Huffington Post, "it took a long time, because I used to suck (…) you just gotta stick with it." He began by teaching himself songs like 'Smoke On The Water' and 'Master of Puppets' and was listening to musicians from Iggy Pop to Megadeath. The first cover he ever uploaded to YouTube was of Bob Dylan's 'Don't Think Twice, It's All Right' in 2013, "that's my guy, I love him, he's super cool, he's a genius (…) he just pioneered a lot of different sh*t."
Post missed out on becoming a member of metalcore band Crown The Empire due to one of his guitar strings breaking mid-audition, but it was just a case of bad luck, "there's always gonna be setbacks, there's always gonna be knockdowns, there's always gonna be people telling you, 'Hey, you suck!' If you really love it, keep on going." His perseverance and hunger to not give up earned him a spot in four different bands simultaneously, prompted him to relocate his life to LA and eventually propelled him into an overnight success with the drop of his song 'White Iverson' on Soundcloud.
His music icons Johnny Cash, Bob Dylan, Elvis Presley and Kurt Cobain are with him forever… literally.
Post has honored their legacies by getting their faces tattooed, "without these guys I wouldn't even be making music." From Johnny Cash and Bob Dylan on his arms to Elvis Presley, Kurt Cobain, Dimebag Darrel, John Lennon, Stevie Ray Vaughan and George Harrison on his hands.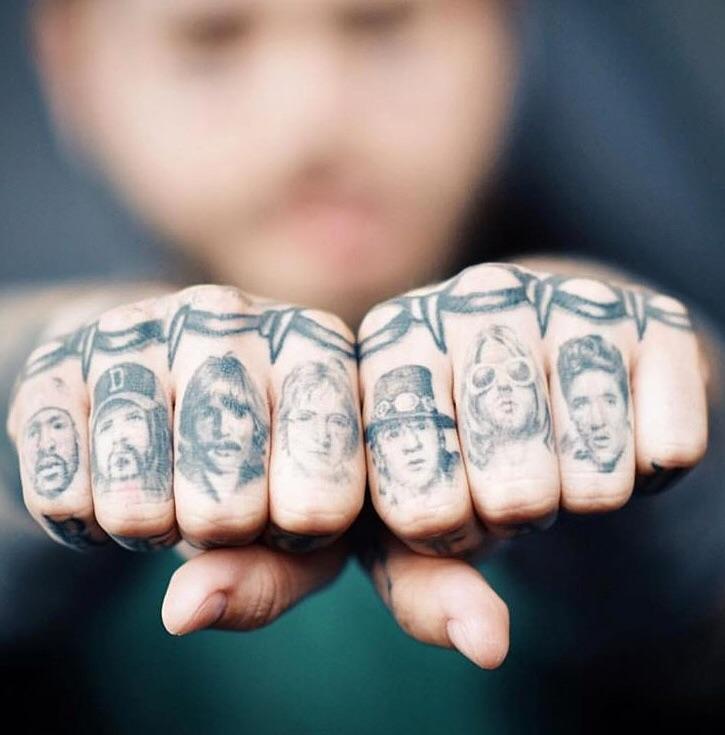 SEE MORE: Nardwuar x Post Malone
He knows his sh*t.
Post is a diehard music fan, and his vast knowledge of rock, folk and country is commendable. He grew up listening to artists from Hank Williams Snr to Pantera and his day to day can see him go from jamming' to songs like the Talking Heads 'Psycho Killer', to 'Fly Me To The Moon' by Frank Sinatra. He also pays homage to Jim Morrison through lyrics, "she ask me light a fire like I'm Morrison", in 'Rockstar' and Kurt Cobain in 'Goodbyes', "me and Kurt feel the same, too much pleasure is pain."
On stage he's smashed a guitar or two in his time, given a shout out to the late Tom Petty, covered Metallica's 'Nothing Else Matters', and most recently, Sublime stepped in as his backing band at his Bud Light Dive Bar Tour in NYC where they performed their 1996 hit 'Santeria' together.
He's performed with some of the best rock legends of all time.
As versatile as they come, Post has collaborated with many artists including a remix with our very own Lorde, but the closest he's been to not just feeling like a rockstar but actually being one is at the 2018 MTV VMA's when he performed alongside Aerosmith. Post performed his own single 'Rockstar' and then surprised the crowd by bringing out the band, including frontman Steven Tyler, to perform their hits 'Dream On' and 'Toys In The Attic'.
Earlier this year he did the same again but at the 61st Grammy Awards with the Red Hot Chili Peppers. Post's full talents were on display, starting the medley solo with an acoustic version of his song 'Stay' and ditching the guitar for 'Rockstar', he ended the performance by bringing out the Chili's to play their latest hit 'Dark Necessities'. 
Ozzy Osbourne also had zero hesitation jumping on track 'Take What You Want' on his latest album Hollywood's Bleeding. And clearly he was ecstatic with his decision as Post revealed in a recent interview with Zane Lowe that Ozzy told him it's his "favourite sh*t" he's done "since Sabbath." Rapper Travis Scott also features on the same track, a song only he would think to make, further showcasing his unique sound.
His sound is constantly evolving…
Post dropped his third studio album Hollywood's Bleeding in September and his new subdued sound is a far cry from early rap singles 'White Iverson' and 'Congratulations'. The pop-rock jams 'Circles', 'A Thousand Bad Times,' and title track 'Hollywood's Bleeding' express his persistent reluctance to not be pigeon-holed into the rap genre. That's not to say there isn't also his standard trap collaborations. They come in plenty, alongside nods to both soul and house music.
Living by the philosophy "it should just be music, you know?" sounds fairly laid-back but Post is determined to not alienate any listener. He told GQ "I've met so many people that'll say, 'I listen to everything except for this, or this,' And I think that's stupid. If you like it, you should listen to it."
The Beastie Boys, Run-DMC, Rage Against the Machine and Tribe have all proved that the conventional approach can be rejected. Post's versatile songwriting and wild adaptability is currently simmering on the edge, and is ready to boil over as soon as he decides to turn up the heat. But for right now he's still trying to discover who he is (like anyone in their mid-twenties) and the direction his sound should go. He may have only just kicked off his career but from the speed he's going he's likely to go from feeling like a rockstar to actually becoming one.
(And having a crowd catch him next time when he stage dives…)