In 2019 alone, Taylor Swift's been crowned the AMAs Artist of the Decade, scored multiple Grammy nominations, released her 7th studio album, got a third cat, and today she is celebrating another huge milestone – her 30th birthday. 
Back in March, she wrote '30 Things I Learned Before Turning 30' for Elle Magazine – "It's weird because part of me still feels 18 and part of me feels 283. I've heard people say that your thirties are 'the most fun!' So I'll definitely keep you posted on my findings on that when I know." Tbh all we really want in life is for Taylor to keep having fun and we can't wait to see what she gets up to in the next decade.
It feels like only yesterday when she released 'Fifteen' and '22', and after just jammin' to those two songs right now we decided to compile a list of 30 Taylor Swift Songs To Listen On Her 30th Birthday, cause why not? (In no particular order of course – otherwise we'd be here for at least three business days). 
Christmas Tree Farm 🎄
Taylor Swift wrote, recorded and performed this song all in the space of one week and you can't even text me back.
Dear John
Still thinking about this tweet from Alana Haim.
Hey Stephen
Praying when she re-records her past albums that she keeps that infamous chuckle in the last chorus.
Lover
IDK what I want more, for it to win the Grammy for Song of the Year or for someone to ask me to marry them so I can play it at our wedding. Bonus: watch below.
I Did Something Bad
This song makes me want to go to the closest supermarket and buy spare AA batteries for the TV remote just in case it dies during turning the volume up on my 13th millionth viewing of the reputation Stadium Tour on Netflix 🔥🔥🔥
Eyes Open
Remember when she debuted the live performance of it at the Speak Now World Tour in Auckland? Literally going down in New Zealand history.
Delicate
Has been missing from some of Taylor's recent setlists – add it back on plz.
I Knew You Were Trouble
One time I got whiplash from dancing to this song. True story.
Style
Tbh the reason why 1989 is the most awarded pop album of all time.
Out Of The Woods
Will always hold a special place in New Zealand's heart 💚
Fifteen
Guys I don't mean to alarm you but Taylor Swift was 15, FIFTEEN YEARS AGO.
Shake It Off
Has truly kept confetti cannons in business, let's be real. 🎊
LWYMMD
Y'all will never forget the exact time and place that you first heard the line "Oh! But she's dead." The music video is a theatrical masterpiece that I'm still watching daily to find any Easter eggs we may have missed. 
A Place In This World
A tear just fell from my eye imagining Taylor re-recording this underrated gem with her matured vocals.
Cruel Summer
TAYLOR ALISON SWIFT IF YOU'RE READING THIS MAKE IT A SINGLE‼️‼️‼️
Holy Ground
The locals almost found out about it again this year but it still remains one of Swiftie's best kept secrets.
Enchanted
If a species from another planet ever came to Earth and asked to speak to our leader I would play them this song. Also, to this day I stand by my statement that the 'Wildest Dreams/Enchanted' mashup is one of the best things she's ever done, period.
22
If you haven't danced to this song on your 22nd birthday do you even Swift? Literally a rite of passage one must go through no questions asked.
New Romantics
A bonus track that went on to become a single and a fan favourite. Still singing it proudly.
Never Grow Up
I swear it was only yesterday when 20 year old Taylor Swift was the youngest person in history to win the Album of the Year award at the Grammys. 
Fearless
If you haven't captioned a photo on Instagram with "capture it, remember it" have you even lived?
Love Story
Thinking about Billie Eilish saying "f*ck yes!" during this song for Taylor's Artist of the Decade performance and I couldn't have said it better myself. Taylor also revisited the castle a couple years back and it's all the feels, etc.
Our Song
If you've ever been the passenger side DJ and not put this song on what are you even doing with your life.
Death By A Thousand Cuts
I asked the traffic lights if my party invitation to Taylor Swift's 30th birthday bash got lost in the mail and they said "I don't know".
State of Grace
Red curtain: drops
Me: SCREAMS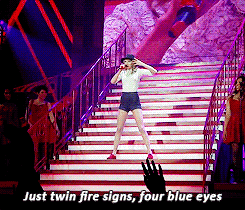 YNTCD 
Queen of marriage equality, gay rights and supporting the LGBTQ+ community. You can sign Taylor's Equality Act petition here.
Long Live
Can't listen to this song without crying a full face of makeup off, hbu?
The Moment I Knew
Taylor FORGOT that she wrote this song the other day on Tumblr so clearly she's in a much better place now than the birthday party she described a few years back. 💔
Beautiful Ghosts
Yes, you're absolutely right, I will be sitting through the entire end credits for the 'Cats' movie just to hear this song I've already heard before. 👍
All Too Well
Were you like "WTF where is 'All Too Well'?" I can't even say "saving the best for last" cause this isn't a ranking remember. 
SEE MORE: Tayla x Taylor: The Duo We Didn't Know We Needed