It's been five years since the release of Hozier's breakthrough self-titled debut album, and life for the Irish musician has never been the same. The success of his eponymous first album was unplanned and a shock to everyone involved, including himself. It received huge critical acclaim and went on to reach audiences worldwide, largely due to the stand out single "Take Me To Church." In a short period of time, Hozier went from mellow gigs in tiny pubs around Dublin to global superstardom – appearing on TV shows such as Graham Norton, SNL and The Tonight Show with Jimmy Fallon, receiving a nod from the Grammys, and performing on stages around the world in sold-out venues constantly doubling in size.
Not one to let his newfound fame sidetrack him from his musical vision, Hozier uses his songwriting talent as a tool for social activism rather than aiming for a #1 hit. The intuitive and passionate maturity of his songs brought his political views to life in front of a mainstream audience. He tackled issues of anti-gay violence in Russia with "Take Me To Church" as well as raising awareness for domestic abuse on track "Cherry Wine." He has also been a vocal supporter for a Yes vote in 2015's marriage equality referendum, has taken part in fundraisers in the fight against homelessness, and sang at the Stand for Truth protest rally during Pope Francis' visit to Ireland in August 2018.
The threatening sophomore album can be intimidating for most artists, especially after such a roaring debut, but Hozier's 14-track follow-up uniquely titled "Wasteland, Baby!" proves he has a lot more to say. The pace of this record feels more urgent in addressing his socio-political concerns and connects on a deeper level with intimate moments of sincere storytelling. Hozier self-produced the entire record alongside collaborators Markus Dravs and Rob Kirwan, and explores a diverse range of sonic theatrics – from intimate, soulful ballads to dark and moody gospel melodies. It is evident in his sound that he has always been heavily influenced by the blues genre – but what sets him apart and garners him billions of streams is his ability to mix in quintessential pop hooks and an R'n'B flow.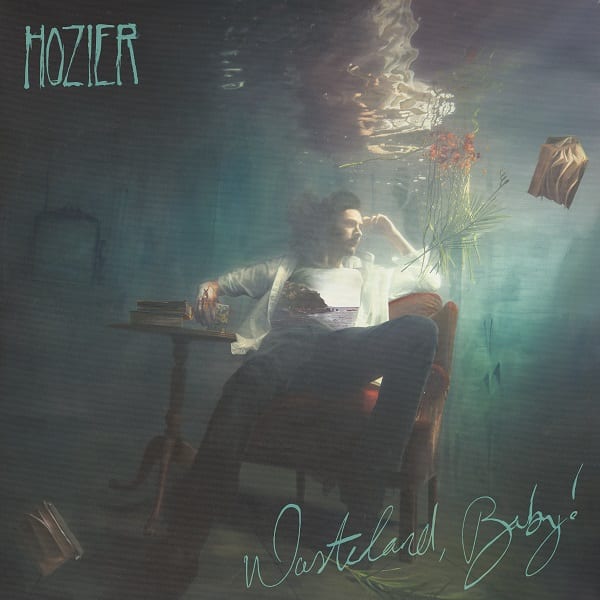 The album title "Wasteland, Baby!" is a direct reference to the Doomsday clock moving two minutes closer to midnight – his lyrics are an honest commentary on the impending doom creeping in from the world at large. The self-described "news junkie" has always put his activism at the forefront of his art since the beginning of his career, his sophomore album is no exception. He felt little pressure for any of his new material to live up to the commercial hype of "Take Me To Church," telling The Irish Times – "I just really want this material to be heard. Everything else is a bonus."
The album erupts with lead single "Nina Cried Power" which is a spirit of protest to the xenophobia and "worshipping of greed and cruelty" that we see daily in the news and media. He collaborates with gospel queen and civil rights activist Mavis Staples to conjure another politically charged chorus. Their impeccable vocals are complemented by the legendary Booker T. Jones' hip organ beats. Jones lends his fierce organ playing throughout the album (on tracks such as "Sunshine" and "Be") injecting it with a distinct funk vibe. The song is a tribute to the legacies of the freedom fighters who have fought for social activism over the years, giving lyrical acknowledgement to Nina Simone (who inspired the title), James Brown, Patti Smith, John Lennon, Marvin Gaye, Billie Holiday, Bob Dylan and more. It is a painful reminder that the work these artist/activists initiated is still ongoing – Hozier's rallying cry hopes to bring awareness to a cause and inspire continued action in today's generations.
SEE ALSO: 10 Things You Should Know About Hozier
"Almost (Sweet Music)" opens with delicate guitar, showcasing Hozier's softer, folk side on the album. He narrates a tender personal sentiment using various song titles and referencing famous jazz musicians such as Chet Baker and Duke Ellington. His catchy, carefree lyrics add a layer of sophistication and when the dreamy choir kicks into the chorus the song really propels itself into a joyride. Ballad "Movement" is a quiet and sensual gospel-pop moment with animated lyrics galore, whilst "No Plan" reverts back to the gritty, modern blues tempo Hozier is known for. The most intellectual and undiluted lyrics on the album come from "Nobody," ("I'd be appalled if I saw you ever try to be a saint, I wouldn't fall for someone I thought couldn't misbehave") a song about celebrating life and love. "To Noise Making (Sing)" looks to inspire its listeners to turn up the volume of their vocal chords no matter their singing ability – "You don't have to sing it nice, but honey sing it strong. At best, you find a little remedy, at worst, the world will sing along." Darker and elegant folksy moments come in the form of "As It Was" and "Shrike."
"Talk" is a pessimistic blues track surrounded by gloomy guitars which tells the classical Greek tale of lovers Orpheus and Eurydice. The judicious lyrics, "I won't deny I've got in my mind now all the things we could do, so I'll try to talk refined for fear that you find out how I'm imagining you" intertwines itself around Hozier's sleek and effortless vocals showcasing the sensual nature of the song. Bluesy rock song "Be" has underlying political themes referencing humanity's horrifically flawed past and the stomping bassline, theatric handclaps and raw vocal heartache of "Dinner & Diatribes" tells of a weak at the knees admirer pining for his imaginary lover. "Would That I" sees Hozier fall deep into a spell of love as he intimately harmonises alongside angelic acoustics which transforms into a blaze of echoing melodies as the chorus reaches its climax. The gospel-tinged lovesick "Sunlight" builds momentum into the latter half of the album before concluding with the dainty slower-paced title track. "Wasteland, Baby!" wraps up the subtle recurring themes throughout the album by touching on real-world chaos and how love can triumph even in the doom and gloom of it all.
Hozier has finessed his craft even further on his second album "Wasteland, Baby!" and found a way to express his artistic tensions with sophistication and maturity, to an audience that is captivated by every word he has to say.
Hozier returns to New Zealand for the first time in four years playing Auckland's Spark Arena on Sunday 28th April. See the songs from "Wasteland, Baby!" come to life in this one-off not-to-be-missed epic show. Snap up your tickets here before they're gone.