It's no secret that attending one of Taylor Swift's surprise album listening parties is something only dreams are made of. We're super jealous of anyone that's been lucky enough to receive an invite, because by the end of the day you basically level-up to BFF status!
𝙮𝙤𝙪 𝙖𝙣𝙙 𝙢𝙚 𝙛𝙤𝙧𝙚𝙫𝙚𝙧𝙢𝙤𝙧𝙚 pic.twitter.com/6jcy6HmP0C

— "𝐝𝐚𝐧𝐢𝐞𝐥𝐥𝐞 𝐫𝐢𝐠𝐡𝐭?" (@swiftsgolden) August 7, 2019
It All Started with '1989' 
The very first secret sessions were held back in 2014 at Taylor's homes across the US & UK with fans having no idea what they were in for…
Takes Internet Stalking To A Whole New Level
Ever heard of #TayLurking? Fans have revealed that Taylor herself told them that her camera roll is filled with screenshots of their posts when she scrolls Tumblr, Twitter and Instagram for hours at a time. Some posts even go as far back as to a year before the actual session date!
Taylor told us she's been screenshotting some of our profiles starting 18 months ago. She LURKS. They see EVERYTHING.

— "BOBBY!!!!!!" (@swiftieboston13) August 5, 2019
She Bakes For Them
No like, for real! From chocolate chip cookies to blue and pink rice krispie treats, the secret ingredient is definitely love and the bakers are gonna bake, bake, bake.
Yes Her Cats Are Real
They are just walking casually around the house like they don't even know that they are some of the richest felines in the world. Apparently Meredith is a bit more shy so went into hiding, but attention-craving Olivia stole the show in a few quick snaps. 😼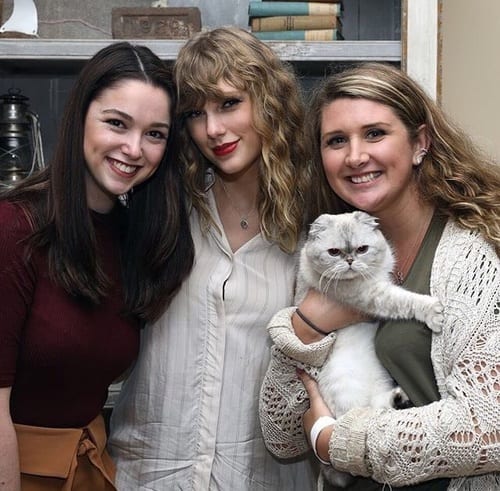 Somebody Stole The Soap
But Taylor was a good sport about it. Rumour has it, some toilet paper and a scrabble tile were also MIA.
Which one of you #1989SecretSessions kids took Taylor's soap? 😂😂 – Taylor's interview with Alan Carr airs tomorrow! pic.twitter.com/WDMUYtEDAY

— Taylor Swift News (@TSwiftNZ) October 23, 2014
How Heavy Are Grammys?
Well, Taylor Swift has 10 in total so see how many you can hold,  maybe an Album Of The Year in each arm? And a Best Music Video in between that? What about a Moon Man? Makes for a sick photo prop!
#1989secretsessions @taylorswift13 I STILL CANT BREATHE pic.twitter.com/r7iT03KhPo

— Danny (@intheusualways) September 21, 2014
The Secret Sessions Have a Big Reputation
So much so that for her next album 'reputation' she turned them into a tradition. 500 more fans from around the world were hand-selected by her to hear the album an entire month before anybody else.
Who's That Sitting Next To You? Oh, Just The Haim Sisters
As if you didn't already feel like one of Tay's besties, her friends such as Jack Antonoff, Cazzie David, Ruby Rose and more also tag along to the party.
She Knows Your Name
And basically everything about you. Yet still introduces herself as Taylor as if she's not the biggest popstar on the planet.
I never had a Taylor notice online before yet Taylor picked me for the secret session, she knew my name and remembered me from the 1989 tour… TAYLOR WAS SECRETLY LURKING ME I AM NOT CALM

— abigail 💗 (@swiftslittlefox) August 4, 2019
If You Don't Leave Until 5am Does It Count As A Sleepover?!
If you're leaving when the sun is coming up then that totally counts.. right?! At her Nashville secret session for 'Lover' the last lot of fans didn't leave until around 5am. Taylor spent around 12 hours meeting fans all the way from Australia to Uruguay, the US, Taiwan and more! 
I SPENT THE NIGHT AT TAYLOR SWIFTS HOUSE AND I FINALLY MADE I OUT ALIVE AT 5 AM

— "vivian!!!!!" 🏹 (@allyouwantedts) August 5, 2019
You Get A Sh*t Tonne Of Swag 😍
She makes sure you definitely don't leave empty handed. Along with a photo and the memories, you also get a one-of-a-kind keyring/pin as well as merch galore!
That's all the merch my mom and I got at the London Secret Session #Londonsecretsessions pic.twitter.com/qVGSyn1QLB

— 🏹🐍 OMG YOU ARE JAVIER, RIGHT?? 🐍🏹 (@tattshold) August 5, 2019
And from the sounds of it Taylor is only going to meet more and more fans in this intimate setting for every album cycle, she told Vogue Magazine in her recent interview, "They've never given me a reason to stop doing it. Not a single one."