Summer's just around the corner, and we couldn't be more excited. After the year we've had it's fair to say everyone's hanging out for the warmer weather, cool water, sandy beaches, and perhaps the most exciting – the feel-good festivals. As one of the few lucky countries able to go ahead with festival season, it's the perfect time for everyone to come together and for our local talent to shine. Below is your Summer festival guide, starring some of hottest gigs and acts from around the country.
Rhythm & Vines: 29th – 31st December 2020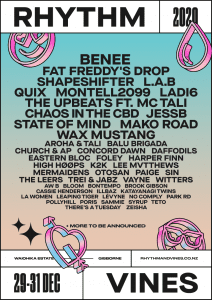 One of the nation's biggest and longest running festivals Rhythm & Vines is back for its eighteenth year. Selling out already in early 2020, 20,000 Kiwis are heading to Gisborne to bring in the new year, with BENEE headlining alongside a variety of acts including L.A.B and Montell2099. Taking the top billing spot on the nation's biggest festival at just 20 years old is a mighty and well deserved achievement – we can't wait to see rising star BENEE working the main stage this Summer.
https://www.rhythmandvines.co.nz/
Rhythm & Alps: 30th – 31st December 2020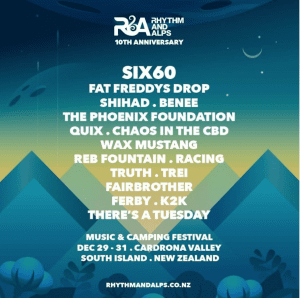 The South Island will be heating up this New Year's Eve too. The first of the NYE festivals to announce their line-up, Rhythm & Alps is an artsy electronic mecca that quickly adapted to the new circumstances that promoters found themselves in earlier this year. BENEE will be sweeping the stage on the 30th while Six60 bring in 2021 on the 31st December in what we can assume will be a show stopping performance. With an eclectic mixture of prolific kiwi bands (Shihad, Fat Freddy's Drop) and some of the country's highest profile DJ's (Quix, Trei), Wanaka is set for one heck of a show to send out 2020.
Northern Bass: 29th – 31st December 2020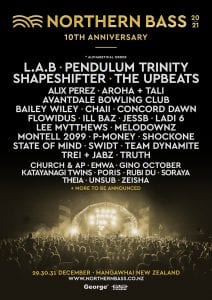 Holding its own in the electronic and hip hop realm, Northern Bass seems to grow each year. Melodownz and Gino October are going to be bringing the vibes to the Northland Festival this NYE as they perform alongside a variety of Kiwi talent including SWIDT, Church & AP, The Upbeats and many more. There's still a second line up in the works, so keep your eyes out for even more heavy hitters headed to Mangawhai this New Year's.
Bay Dreams The Mount & South: January 3rd & 5th 2021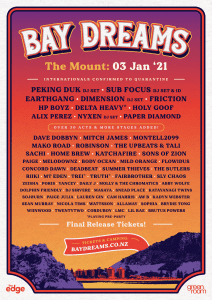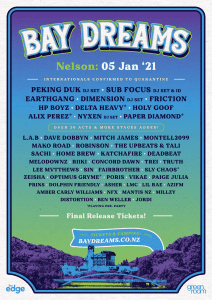 Another big name in the festival realm, Bay Dreams has just announced its full line up for two massive show days happening in Mount Maunganui on the 3rd January and down South in Nelson on the 5th January. With an adjusted line up due to travel restrictions, the final result stars some of our best national treasures alongside several international acts (!!!). Melodownz and Sachi will be throwing it down in both the North & South at the biggest one day festival in New Zealand. With this much talent going down in one day, Bay Dreams is a festival you don't want to miss – and there's no reason to with a festival happening in each island now!
Six60 Saturdays Summer Tour: January and February 2021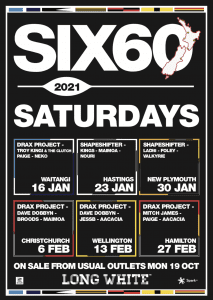 The famous Six60 Saturdays have returned for another Summer. Taking them around the country across January and February 2021, Six60 are embarking on a six date national tour in some of the best outdoor venues our country has to offer. Every show is a mini festival in itself, each with their own stellar support line up – their good friends Drax Project will be joining them on four out of the six dates as well as other big names like Troy Kingi, Shapeshifter, and Dave Dobbyn in the mix.
Jim Beam Homegrown: 20th March 2021
What a way to end the festival season! Alongside Kiwi legends, Sachi will be bringing the energy to a stellar line up of New Zealand greats both old and new, from The Black Seeds to P Money. With the addition of their sixth stage, 2021 is set to be their biggest festival to date. Different genres will be going down on each respective stage, so there really is something for everyone, whatever you're into. Homegrown is a Wellington Classic not to be missed and is the perfect way to wind up the amazing Summer festival season that has been, so get your tickets while you can.